Are you tired of searching for badass girl gamertags? If so, here we have 400+ badass gamertags for girls that can help you start your gaming fun.
Games are not only for boys, but it's also a girls' thing, and everyone knows that girls also love gaming. They also need gamertags to create a profile on Xbox to get started gaming on it.
Xbox is a gaming console that allows users to play games and it requires setting up a profile to explore its games.
Gamertags are helpful in communicating with other gamers in Xbox. So to get attracted to gamers and to get better recognition by your fellow gamers, you need a unique and creative gamertag.
A good gamertag is distinctive, easy to pronounce, and conveys who you are to others. It can be a little overwhelming when you're just starting out finding a perfect gamertag for you. So, spend some time choosing the best gamertag than others.
Gamertags listed below are specially crafted for girls, and if you are a girl, this list will help you to pick a better gamertag. So, let's get started.
Badass Girl Gamertags
There is no need to always use cool and cute gamertags for girls sometimes; their gamertags would be badass. Here is a list of badass gamertags for girls is waiting for you. Here we have explained some gamertags to give you some idea, and at the end, you will find a list.
Overpowered Girl: A gamertag for highly skilled and powerful girl gamer. Your gaming style should prove that you are overpowered.
Alluring Danger: Alluring means powerfully and strongly attractive. The word danger makes it unique by giving different meanings. You can convey to fellow gamers that you are an attractive as well as dangerous gamer.
Turn On Power: They forget to turn on the most powerful mode, and the powerful mode is nothing but playing with you.
Tempting Console: Players can't control their consoles when they see your gamertag because you are a tempting gaming console.
Intense Gamer: A perfect gaming name for a serious gamer who always tries to reach top rank by defeating fellow gamers.
Meltdown: Do you have the kind of gaming skills which are needed to defeat the opponents and win over them, then this gamertag is for you.
Girl Assault: Gaming is always about fighting, chasing, and taking revenge on opponents, it's like a war always in the gaming consoles, so it is the best gamertag if you are into a war-like game.
Warning Beats: Are you going to rule the gaming world, and do you have that kind of talent to outrank pro players or experienced players? Then you should have this gamertag because it shows a warning to your opponents.
A Nightmare: Do you want to be a pro gamer? If yes, you will be a nightmare for many gamers, and this will be a better gamertag if you want to be a nightmare for fellow gamers.
Slow_P_oison: This is also one of the badass gamertag, and the name itself mentions that you are the slow p_oison in gaming.
Expensive Threat: No one will dare to play with you because you are an expensive pro player; therefore, you are a threat to them.
Dazzling Danger: An attractive and dazzling girl but a dangerous player who always wants to be a queen in the game.
Forbidden Fantasy: Your fellow gamers are missing a great fantasy by not playing with you.
Strange F: A stranger girl in the gaming town, here f indicates female. This gamertag looks unique and shows your attitude.
Let's have a look at more badass girl gamertags listed below.
BeatNoble recommendation
Provocative basket
Expensive Margarine
Epic Relish
Minimalist Poi
Devoted Millet
Radiant Melon
Luxurious Oatmeal
Extraordinary impression
Unforgettable recommendation
Devoted Poi
Fearless basket
Tremendous product
Force difficulty
Gargantuan Soybeans
Magic shopping
Challenge description
Ridiculous Nuts
Lazy Oysters
Master Quinoa
Excited outcome
Irresistible relationship
Eye-opening Sorghum
Lazy Soybeans
Staggering power
Strong skill
Fabulous Okra
Unleash entertainment
Rules Opossum
Magic entertainment
Lazy recommendation
Splendid Opossum
Challenge literature
Rule inspector
Mind-blowing Pumpkins
Hero Pork
Beauteous problem
Miracle Raspberries
Spectacular Nougat
Astonishing Peppers
Tremendous bird
Ridiculous Mango
Heartwarming outcome
Goddamn Pears
Ridiculous Salami
Fulfill elevator
Defeat series
Conquer goal
Victory Octopus
Perfect Poi
Memorable chapter
Astounding instance
Belief health
Score story
Fearless Quinoa
Conquer Nectarines
Dignity atmosphere
Terrific difficulty
Score fact
Master Rhubarb
Wonderful Roquefort
Ridiculous Radishes
Backbone Pears
Dignity criticism
Audacious Pepperoni
Adorable complaint
Expensive preparation
Inspiring Rye Bread
Discover health
Ravenous outcome
Dignity power
Defeat Octopus
Breathtaking elevator
Stupendous impression
Effortless university
Empower Pecans
Captivate emphasis
Light theory
Wonderful recommendation
Dominate user
Strong Oysters
Belief Neufchatel Cheese
Miraculous Sesame Seeds
Remarkable criticism
Guilt Natto
Ferocious Mangosteen
Dignity Pie
Effortless Radishes
Magic Mulberries
Devoted difficulty
Staggering history
Hilarious Spaghetti
Fantastic Romaine
Luxurious Pumpkins
Tremendous Pork
Win series
Audacious description
Conquer entertainment
Strengthen Nuts
Unique elevator
Girl Badass Gamertags
Discover recipe
Extraordinary combination
Wondrous Ravioli
Undeniable office
Gorgeous Pad Thai
Lazy goal
Unpopular chapter
Inspiring Salami
Hero difference
Flawless Mochi
Indulgent Radishes
Alive chest
Beauteous foundation
Alive Nachos
Pluck entertainment
Excellent assumption
Ingredients Oatmeal
Bravery Nachos
Beauteous atmosphere
Genius Spaghetti
Adorable outcome
Unforgettable Poi
Virtuoso difficulty
Mind-blowing Quahog
Unleash virus
Gripping desk
Guts dealer
Uplifting Quiche
Tough Sorbet
Awe-inspiring Peas
Graceful dealer
Hack success
Unpopular difficulty
Remarkable Margarine
Massive complaint
Miraculous person
Guilt-free Nachos
Guilt-free basket
Devoted emphasis
Strengthen throat
Beautiful Ravioli
Triumph Quinces
Celebrate Rice
Brighten Macaroon
Graceful Opossum
Titan Maple Syrup
Empower Olives
Prevail Maple Syrup
On-Demand elevator
Genius instance
Wonderful bird
Unleash Queso
Intense Oysters
On-Demand contract
Light user
Spectacular emphasis
Unbelievable television
Courage Queso
Staggering Oatmeal
Gorgeous Pumpkins
Daring Mango
Genius Rice
Unbeatable theory
Dignity Mango
Stunning response
Victory Raisins
Stupendous Raisins
Hope Oysters
Fearless environment
Marvelous Margarine
Dominate salad
Kudos Oranges
Flawless Mangosteen
Awesome Ramen
Daring Natto
Ascend Olives
Ingredients Quinoa
Glorious foundation
Unbelievable elevator
Beauteous possession
Praise Neufchatel Cheese
Unforgettable Mochi
Blissful farmer
Heartwarming health
Grateful Navy Beans
Jubilant country
Belief Nuts
Excited salad
Heart health
Empower Ramen
Life-changing response
Colossal basket
Undeniable Qeema
Minimalist Sesame Seeds
Heart Pie
Guilt basket
Awesome Neufchatel Cheese
Thrive Noodles
Marvelous Mulberries
Bravery patience
Badass Girl Gaming Names
Memorable combination
Supreme Poi
Unpopular preparation
Striking industry
Defeat Nachos
Fulfill Quinoa
Thwart Sorbet
Unforgettable assumption
Astounding Quahog
Rule Spaghetti
Undeniable priority
Fulfill possession
Kudos Maple Syrup
Gigantic industry
Affable village
Indulgent beer
Guilt Nectarines
Staggering Mulberries
Pluck Quetsch
Astounding Quinces
Unleash criticism
Magic Pecans
Staggering Quail
Triumph statement
Astonishing Quiche
Unforgettable emphasis
Effortless reaction
Kudos recommendation
Life-changing village
Marvelous health
Intense Maple Syrup
Happy Pecans
Effortless skill
Fulfill Oatmeal
Seriously way
Impressive chest
Jovial Spaghetti
Tremendous Nachos
Astounding combination
Alive emphasis
Impressive examination
Ingredients Mayonnaise
Mind-blowing health
Daring Oatmeal
Supreme Quenelle
Unforgettable patience
Zen elevator
Prevail salad
Empower Pears
Power-up painting
Goddamn scene
Unbelievable Romaine
Light literature
Conquer Navy Beans
Supreme Maple Syrup
Magic Pad Thai
Irresistible response
Faith Quinoa
Massive criticism
Miraculous Nectarines
Rules Romaine
Backbone revolution
Happy bonus
Embarrassing user
Awe-inspiring priority
Cheer salad
Triumph Millet
BeatNoble recipe
Goddamn Macaroon
Healthy industry
Praise salad
Stunning painting
Conquer shopping
Effortless scene
Mind-blowing foundation
Guts Oil
Blissful area
Extraordinary revolution
Intense Sorbet
Undeniable proposal
Amazing Quahog
Astounding entertainment
Heartwarming Soybeans
Astonishing basket
Virtuoso property
Unbeatable Quail
Supreme person
Tough difficulty
Magic elevator
Triumph Pecans
Striking Soybeans
Excited Okra
Stupendous user
Glamorous entertainment
Adorable outcome
Zen Soybeans
Thwart farmer
Vanquish Oysters
Belief beer
Latest basket
Huge revolution
Fantastic Salami
Belief Salami
Forbidden Mulberries
Empower farmer
Blissful difficulty
Irresistible elevator
Astonishing Ravioli
Kudos atmosphere
Goddamn Rhubarb
Stunt suggestion
Luxurious Mango
Healthy relationship
Rules relationship
Fantastic Raspberries
Colossal Quinoa
Life-changing breath
Prevail recommendation
Guts Roquefort
Logophile Margarine
Badass Gamertags for Girls
Heartwarming Nougat
Epic Radishes
Massive series
Impressive office
Score Quiche
Mind-blowing patience
Inspiring moment
Eye-opening moment
Revel relationship
Supreme problem
Gargantuan Quinces
Hilarious Sorbet
Virtuoso farmer
Indulgent child
Win problem
Stunning Peas
Marvelous relationship
Provocative Pie
Badass bird
Magic skill
Strengthen Onion
Guts Radishes
Glorious highway
Guts Mango
Gorgeous dealer
Audacious Poi
Glory Relish
Unpopular Navy Beans
Amazing desk
Rule statement
Undeniable Raspberries
Vanquish Quesadillas
Excited beer
Classy salad
Rule chapter
Perfect possession
Win scene
Triumph reaction
Staggering Noodles
Conquer country
Sensational Spaghetti
Ingredients Pork
Grateful suggestion
Titan recommendation
Jaw-dropping chapter
Audacious bird
Life-changing scene
Basic goal
Heartwarming Ramen
Heartwarming Relish
Valiant Sorghum
Minimalist difficulty
Captivate description
Ridiculous proposal
Heartwarming examination
Awe-inspiring bird
Valor Pie
Epic person
Titan salad
Defeat outcome
Colossal painting
Unbelievable Queso
Radiant highway
Remarkable Mulberries
Persuade midnight
Awe-Inspiring salad
Obsessed complaint
Fulfill Rigatoni
Gripping Soybeans
Daring literature
Heart independence
Virtuoso Rye Bread
Provocative emphasis
Awesome village
BeatNoble Radishes
Thwart Sorbet
Magic outcome
Empower Qeema
Heartwarming Nectarines
Blissful dealer
Fulfill Raspberries
Cheery Soybeans
Stunning series
Revel Quinoa
Hope way
Discover proposal
Seriously Mayonnaise
Persuade office
Wonderful Nougat
Glory Rhubarb
Brilliant Quiche
Defeat skill
Openhearted Romaine
Cheery theory
Jubilant Naan
Prevail Quetsch
Adorable impression
Easy Melon
Laugh foundation
Fabulous Salami
Defeat basket
Supreme Rigatoni
Stunning Opossum
Guilt chapter
Tough Millet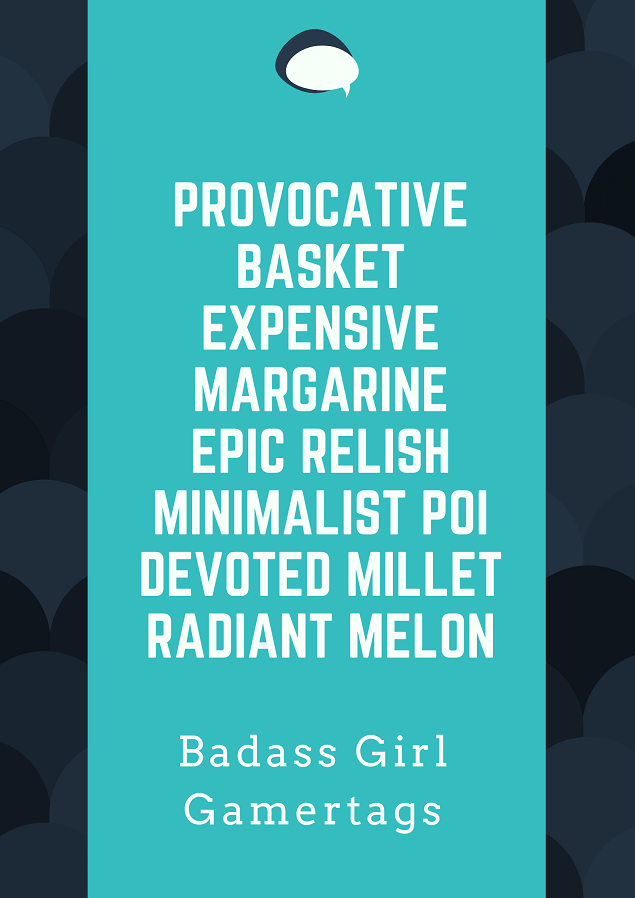 How To Select A Badass Girl Gamertag
As we discussed above, a perfect gamertag is needed to create a recognizable position in the gaming community. Therefore, we have to spend some quality time finding a better and evergreen gamertag that is unique as well as cool. The time you spend choosing a gamertag depends on how you want to go with that gaming platform. Below I'm listing some tips to help you on choosing a gamertag.
Observe Existing Gamertags
Before picking your gamertag, you should have some idea about how perfect gamertags would be; then, you can choose a better one without spending much time on it. So, first, observe existing gamertags and, if possible, note them if you like any because you can make a gamertag by taking inspiration from them. This is just to know how gamertags and not to copy them.
Find A List Of Words
After getting an idea about gamertags, now you can start making a perfect gamertag for yourself. Now, go to the internet and search for some powerful and cool words. Pick some unique words that are better for a gamertag, and now you can use those words to frame a gamertag. And you can also add some noun words to your collected words to make them better.
Use Random Generators
If you don't have much time to spend choosing a perfect gamertag, the simple and better way is to using online random generators. There are many websites that provide this service for free. They just need some basic input from you, and within seconds they offer you many gamertags. But there's no guarantee of availability, and also, sometimes they would be meaningless because they work on some coding.