Are you browsing for a list of hilarious gamertags to kickstart your gaming fun with a super funny gaming name? Then, you have reached the best place to get an extremely funny gamertag to begin your gaming journey.
Gamertags reflect our gaming attitude, and moreover, gamertag is the first-ever impression for anyone in the same gaming community. Because you can only communicate with your gamertag with others so obviously it should look good, creative and unique.
Gamertag is a more popular term with Xbox, and it requires a gamertag to create a profile in it so players usually search for gamertags to choose a better gamertag than others.
At the same time, some people don't care about a gamertag; they just start with a random pick and what they care about is just gaming. Then, why should anyone invest time to choose a better gamertag and do we really need a perfect gamertag?
The answer is yes. You should need at least a better gamertag than a perfect gamertag because it reflects your character in the gaming community. Your fellow gamers might think you are unique and pro-gamer, there is a chance of getting more gaming friends.
After all, in the end, everything is for fun, so why should you miss that in gaming. If you don't have an appealing gaming name, you could miss the spotlight.
Anyway, you are on the list of players who care about gaming names, and hilarious gamertags are one of the best options to choose a gamertag. Now, without further ado, let's get started.
Hilarious Gamertags
Hilarious means extremely amusing or extremely funny, so you want a super funny gaming name for Xbox. Being funny is the best thing to bring smiles to the crowd, and many people like funny guys who always make jokes. For now, let's have a look at hilarious gaming names.
AverageGamer
Clever_Noob
Real_Rambo
Profile_Is_Hidden
GamingPiles
PeePods
ManCome
WomanGo
Faking_Gamer
Frt_Frter
DirtyBalls
Misty_Glasses
ThrillBuster
GunBun
DoggyWolf
MindBlender
MixerGamer
RubbedHeart
FunnyPixels
SuperBlooper
SomethingPissy
CrazyPistol
UnwantedLade
GetMeWrong
DingDongBang
SomethingLazy
WidePlease
TwinkleWinkles
HardBreaker
CatHearted
DayKnight
LazyRebel
BathroomDancer
StarDirt
SunWine
SugarWater
BitterBiscuit
GlassCake
GorgeousBoy
MrBeerfect
MoonDog
WhiteCherry
QWERTYVanilla
DreamWeaker
CottonBiscuit
SunkissedDoggy
I'mNotGem
SupremeFollower
MoonDark
CrazyDanger
StarPlanets
SugaryLegs
OptimisticKitten
BelieveInOthers
CaringCar
AdventorousApe
HipHopGamer
BraveRat
CrazyCurious
DogNextDoor
DuplicateAngel
CostlyCheap
TragedyMaker
PinkGhost
PrinciplePeach
CherryBallsome
PlayfulTiger
FriendlyBoo
WowBow
HappySorrow
WhenDogsMet
LadyMouse
FlyingLeft
ConfuseMisfuse
SuperChopper
SuperMoon
FunnyTeddy
EgoFantasy
SavageSauce
ComicDeal
SugarPoop
MindFrt
AmusingLens
WhiteMonster
ComicMonster
HugMeCat
ChocoFruit
PsychicNoodles
PinkPonk
JustMyLegs
StrangeGamer
RainbowRat
FunnyFlames
IceDreams
BrainIt
SnowMakes
NothingMystery
PizzaHunter
BurgerBug
DonutVirus
CheeseFun
CallMeComic
LoudVoice
CrazyPuff
FreeHell
ThunderFree
SeriousGoose
LazyTeddy
LuckyDiick
FunniestMan
ImNotGamer
CrazyOn
AssistantGamer
BitterHeart
SmileyDuck
LetsNotEndThis
FunnyMinute
BuffaloKisses
CrazyTeddy
CutieHippo
AmazingLunchroom
UnbeatableBreath
BeatNobleBeginner
DelightBoot
MarvelousSupport
GargantuanPocket
BraveryCars
BeatNoblePage
RadiantWork
ZenPlant
NewMarble
IncredibleStick
AmazingLinen
RemarkableHospital
ZenDebt
TriumphFlight
CommandCream
GorgeousWorm
EmbarrassingPot
MiracleBirthday
HeartAdvertisement
AscendGirl
HonorHospital
IngredientsBall
EffortlessBoot
FerociousBaseball
UnbelievableBirthday
PrevailBox
LightGun
ForceTooth
HeroYoke
Eye-openingMarble
RavenousGiants
DominateDiscovery
CommandStore
TitanShow
HugePull
HeroCars
LovablePayment
HackCabbage
AwesomeUse
ZenSun
GloriousBlow
InspiringBuilding
BadassTouch
EpicMetal
On-DemandSneeze
HappyCream
MasterStreet
LogophilePeace
ExtraordinaryCoil
Life-changingPocket
MagicPopcorn
DiscoverBoot
AstonishingMitten
SpectacularBridge
DefianceArmy
ImpressiveChannel
Life-changingBridge
Jaw-droppingTouch
RidiculousSoap
SpiritMetal
KudosDowntown
Guilt-freeTooth
Awe-InspiringWorm
FlawlessLocket
AstonishingMarble
IntenseBall
HeartBoot
BeautifulSun
Life-changingGirl
RemarkableSeed
FearlessFlock
GargantuanRecess
GeniusSock
BrightenBridge
RadiantPest
ValiantWalk
FerociousTrees
TitanWorm
ALSO READ: One Word Gamertags
Hilarious Gaming Names
Hilarious gamertag is the best pick for you to impress people with your sense of humour. As I said above, many people like guys with a sense of humour more than serious people. So have a look at the below gamertags.
DelightCannon
CommandTemper
GeniusSpiders
RulesWork
LegendAdvertisement
RuleSort
BrightenPull
SeriouslyUse
GloryWalk
MiracleTouch
ValiantYoke
BadassStretch
IngredientsPart
BackboneRice
FaithTrick
Life-changingBeginner
TriumphSpiders
GritRailway
UnpopularPage
RulePage
PainlessSeat
BeatNobleSun
Jaw-droppingHospital
SupremeSock
ForceBirthday
EmpowerAirplane
BrilliantTrees
MiraclePage
StunningSeed
GiganticMetal
KudosTrees
Life-changingSugar
DevotedDiscovery
CelebrateCabbage
FantasticAirplane
ColossalDiscovery
VanquishUse
RulesRegret
WinCaption
PerfectPunishment
HeroRice
StaggeringJeans
DiscoverSock
ChallengeBirthday
UnforgettableWork
DevotedGun
TitanExistence
OpenheartedRailway
UpliftingPopcorn
ProfoundNotebook
ProvocativeSock
SurprisingSoap
DefeatRice
GlamorousNotebook
CheerSeed
MagicAdvertisement
IntenseChannel
ValiantRegret
TerrificMonth
BreathtakingStick
SeriouslyFlight
ForbiddenHead
ForceDowntown
BrilliantMitten
BraveryFlock
ValiantPush
ForceCamp
InspiringBrother
TerrificSupport
AdorableLocket
InspiringPart
PluckSoap
MiracleMitten
IngredientsMitten
ProfoundGirl
LegendTooth
BasicNotebook
HeartwarmingHead
GlamorousUse
Mind-blowingHead
DominateYoke
ThwartMarble
MiraclePot
SurprisingSeed
UniqueWalk
BasicMass
Awe-inspiringWriting
ExcitedMitten
KudosMonth
Life-changingRailway
GorgeousPunishment
StrikingDock
MinimalistBoot
ObsessedSock
LatestRain
BackbonePunishment
GratefulTrees
Life-changingBaseball
FearlessStretch
ExcitedGiants
JubilantRain
SpiritPlant
MasterBrake
VictoryStreet
InspiringGirl
ObsessedAirplane
FabulousWork
UnbeatableTooth
DiscoverStretch
JubilantSun
OpenheartedTongue
Awe-InspiringSchool
MagicPopcorn
CelebratePopcorn
FantasyBreath
KudosLinen
BackboneCoil
EffortlessSeat
AstonishingStore
MiracleTongue
CelebrateTrees
GratefulPull
RidiculousWork
GiganticNotebook
ExcitedPage
LazyWork
BadassPayment
AstoundingBox
WonderfulRegret
AscendPot
BeauteousCars
StunningMonth
Jaw-droppingPopcorn
HeartSchool
FunniestStream
DazzlingBridge
FunniestStore
MagicGun
DefeatTransport
GutsCream
IndulgentMonth
PainlessSneeze
ScoreWork
RemarkablePart
MiraculousBuilding
SpineGirl
OpenheartedMass
HopeYoke
ExcellentFlock
Awe-inspiringSchool
MinimalistRailway
TremendousStick
StuntSupport
ExtraordinaryBuilding
PrevailShow
StunningSupport
RemarkableNotebook
FlawlessStraw
UpliftingPart
VictoryMitten
ImpressivePayment
HeartwarmingMass
GracefulPayment
AffableTransport
UnbeatableUse
AudaciousCannon
DiscoverStore
BackboneGiants
MagicWire
GuiltFlight
ExcellentPunishment
JovialDock
BackboneHospital
VanquishPage
TremendousRegret
FabulousShow
FierceBoot
SplendidNotebook
ExcitedDebt
HilariousTrees
SeriouslyStore
ExcitedRecess
RevelLunchroom
CelebrateBirthday
Life-changingPeace
FulfillHose
FabulousTrees
FaithMetal
MagicBaseball
IntenseBaseball
ThwartSugar
DominateBrother
FlawlessBox
ForceExistence
GorgeousWire
Guilt-freeTooth
EffortlessSugar
HackWalk
IntenseWire
HeroGun
Funniest Gamertags
GlamorousStraw
CommandSoap
Eye-openingChannel
SurprisingCoil
StrikingWorm
SeriouslyPopcorn
HonorCamp
BeauteousWorm
BraveryMitten
BeliefCoil
AscendTrees
UniqueMass
GeniusTouch
UnforgettableMetal
ForceHospital
HealthyGold
WinArmy
StunningSweater
AscendBox
GlamorousPage
ImpressiveStretch
RulesWorm
JubilantCamera
RavenousSneeze
ExpensiveYoke
UndeniableJeans
SplendidShow
Life-changingBaseball
VictoryBirthday
GrippingDebt
EpicRecess
BasicCabbage
AmazingPeace
BeauteousBall
EmpowerSugar
WondrousHead
ExpensiveAdvertisement
MasterRain
GiganticPush
AliveHoney
StupendousTrees
ValiantDowntown
FulfillAdvertisement
CouragePocket
BasicDebt
ScoreSugar
Life-changingLunchroom
EmbarrassingNotebook
ForbiddenMarble
MemorableTouch
LuxuriousPush
ZenTemper
LuxuriousSoap
AstoundingGold
ScoreStreet
EasyGun
LightSugar
RavenousLunchroom
EffortlessPocket
MarvelousTrees
LatestYoke
MagicSpiders
IncredibleGold
HilariousStraw
DominateHead
InspiringMarble
CheerTrees
CaptivateTouch
FaithMetal
ExcellentFlight
SupremePush
RevelBall
CourageMitten
VanquishMarble
HeartwarmingBlow
UnforgettableTrick
FearlessYoke
AstoundingMarble
HilariousRailway
AstoundingAdvertisement
MiracleHospital
GuiltSort
GratefulSock
StrengthenSchool
PhenomenalShow
NewCoil
EmbarrassingWalk
UnpopularRice
MagicLunchroom
DazzlingWorm
CaptivateBlow
WondrousCamera
CourageExistence
JovialSchool
NewSugar
EffortlessStraw
FierceBrother
ConquerTemper
UndeniableRegret
LightMarble
PrevailLinen
CheerySeed
RevelPopcorn
Eye-openingTemper
LightCabbage
GritArmy
MagicLocket
BackboneSun
MagicHospital
WondrousGirl
UnbeatableHoney
IrresistibleBall
DaringNotebook
MiracleStore
PainlessHose
Life-changingStraw
HealthyGun
MagicBeginner
DevotedCaption
EmbarrassingAirplane
InspiringFlock
HeroDiscovery
WonderfulMonth
CommandPlant
Awe-InspiringBuilding
MassiveTooth
ToughSeed
FulfillJeans
HackPayment
AudaciousCars
SeizeBrother
NewBox
JovialRice
HeartwarmingGold
EffortlessTouch
ThwartSeat
LightHospital
CaptivateLinen
Mind-blowingArmy
TitanSock
Life-changingCabbage
ZenCannon
FierceBall
ValiantRailway
AstoundingBuilding
GracefulPlant
WinLunchroom
EffortlessSock
AdorableSchool
ClassyMonth
CheeryRegret
ExtraordinaryPopcorn
HilariousSupport
UnleashPush
HilariousTouch
DominateDowntown
JubilantCoil
InspiringPart
ColossalJeans
FlawlessLunchroom
FantasticPest
MiracleRain
On-DemandNotebook
IrresistibleSeed
ProvocativeCoil
FulfillBox
StaggeringCaption
StunningSchool
BackboneTouch
FulfillMarble
IndulgentShow
CheerHose
EpicNotebook
DiscoverPush
KudosTransport
JubilantHead
GlamorousBrother
TitanCars
PhenomenalHoney
RevelBuilding
GiganticLinen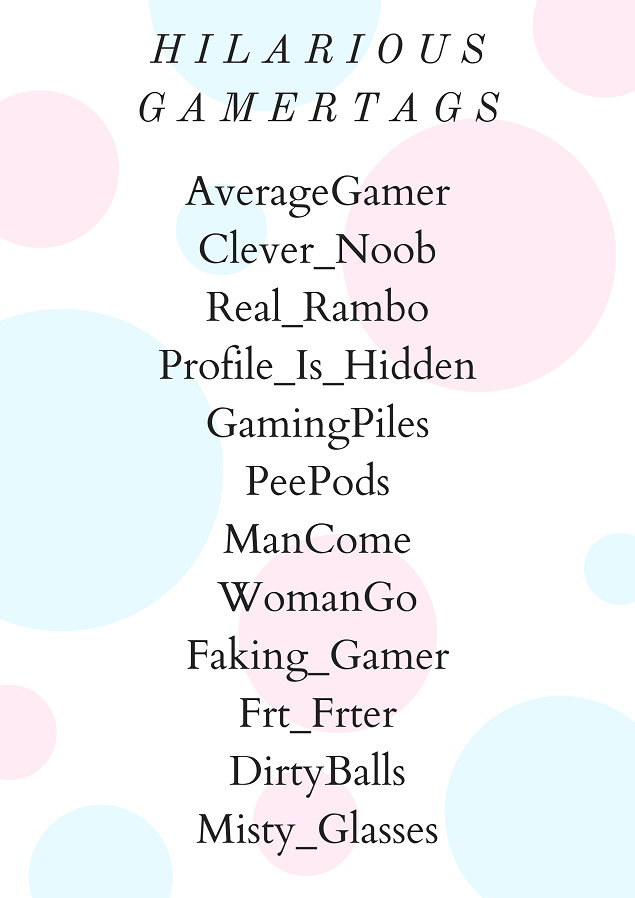 How To Choose A Perfect Hilarious Gamertag
Choosing a perfect gamertag is always not easy; sometimes, you need to spend some time on this. If you don't want to be famous or just want to be a simple gamer, you can go with a normal gamertag without giving much time. But you are here to get your perfect gamertag, so you need to spend some time. If you didn't find your gamertag from the above list, follow the tips below.
Observe Some Hilarious Gamertags
There's must be some reason behind selecting a hilarious gaming name for you. The possible reasons could be that you want to be funny in the community, or you are a sense of humour person or want to be unique. Whatever the reason is, if you're going to get your required gamertag, first you need to know how actually they are, then you can choose accordingly.
List Some Funny Words
If you want a funny or hilarious gaming name, it's better to list some funny words to create gamertag from them. You can even use other words to make it more unique. For this, you can just have an internet search.
Don't Make It Weird
In the way of creating a perfect, hilarious gaming name, there're chances of making it weird. So don't make that mistake, and you can even ask your gaming friends for their opinion. Make sure your gamertag is readable, unique, creative and rememberable. To make it rememberable, gamertag should be short.
Try Funny Combinations
Try combining different words or change the combination of famous sentences to make them fun. For example, tom and jerry, you can make it a funny sentence by changing it to cat and dog. Likewise, try new word combinations to bring a hilarious gaming name.