Are you browsing for Japanese names meaning dark or Japanese names with dark meanings? If so, I have got you covered with a list of dark Japanese names.
Japanese names have become more popular among baby names, and these have become the first choice for many parents because of their uniqueness and lovely meanings. But when it comes to names with dark meanings, generally, no parent can use them to name their baby.
There's a belief that names with negative meanings can impact people's lives negatively. So, there's no point in using names with dark meanings, but the purpose of these dark names might be for usernames, gaming names, nicknames, or just to know them to avoid naming their baby.
For every parent, baby naming is a gift, and it's the most amazing time for them to find a perfect name for their baby. Also, every parent wants to give a positive and beautiful name to their baby to present positive life in their life. So, who else use those dark names for their baby.
Having said that, baby names always don't have positive meanings; some of the reasons for choosing those names could be their aesthetic nature, or they might have positive meanings in other origins.
The same also goes with Japanese names; usually, Japanese names are centered around positive traits, nature, flowers, beauty, Japanese folklore, and some parents give a name based on the famous events that happened at the time of birth.
But there are some Japanese names with dark meanings, however, these names are usually not used for baby names but for fictional characters, etc.
You should know that the Japanese naming system is quite different from other origins. Japanese names are based on the Japanese writing systems kanji, hiragana, and katana. Mainly kanji is used for Japanese names, and names written in kanji have multiple meanings and pronunciations.
Japanese Girl Names Meaning Dark
Here I have also included Japanese names with dark or negative meanings. For a better selection and to make the task easy for you, I have listed names based on gender. Let's start with girls' names.
Ahmya: It means black rain in Japanese, and in Spanish, this name means higher ground.
Amaya: This Japanese name means mother city; night rain.
Burakku: It means black in Katakana (A Japanese writing system).
Hidoi: This Japanese name means horrible.
Kagome: This Japanese name means lost, and In kanji, it means blessed; love.
Kanashii: This name means sad or sorrow.
Kuro: This Japanese name has two meanings black, ninth son.
Leiko: This name means arrogant.
Maria: It means the sea of bitterness, and In kanji, it means true; management; large hill.
Muga: This is a Japanese gender-neutral name, and it means nothing.
Sunako: It means dark side.
Warui: In Japanese, it means bad, wicked, and it is also a Kenyan name that means a person who comes from the river.
Yoru: This Japanese girl's name means dark.
Yui: This Japanese name means alone.
Japanese Boy Names Meaning Dark
Akuji: It means evil or bad thing in Japanese, and in Africa, it means dead but awake.
Akuma: It means devil or demon in English, and it's the name of Satan in Japanese Christianity.
Boutoku: This name means blasphemy or cursed soul, and there's a fictional character with this name in Naruto Fanon.
Inei: This Japanese name means dark or shadow.
Kage: This Japanese name means shadow, and it's also a Japanese last name.
Kirai: It means "hate or dislike."
Kowai: This name means scary.
Kuragari: It means darkness.
Kurai: This Japanese boy's name means dark or gloomy.
Kuraim: This also means dark and gloomy.
Kurayami: This Japanese name also means darkness and Kurayami also has fictional references. Kurayami is a character from Bleach and he is a death god with blood flowing in veins.
Kurashi: It means dark.
Kureru: It means to get dark.
Kuroshi: This name means black, dark.
Orochi: It means big or large snake.
Shouta: It means a person who snores bigger.
Yami: It means darkness and this is a unisex name. There are some famous anime characters with this name and they are Yami Sukehiro from Black Cover; Yami Yugi from Yu-Gi-Oh!.
ALSO READ: Japanese Names Meaning Moon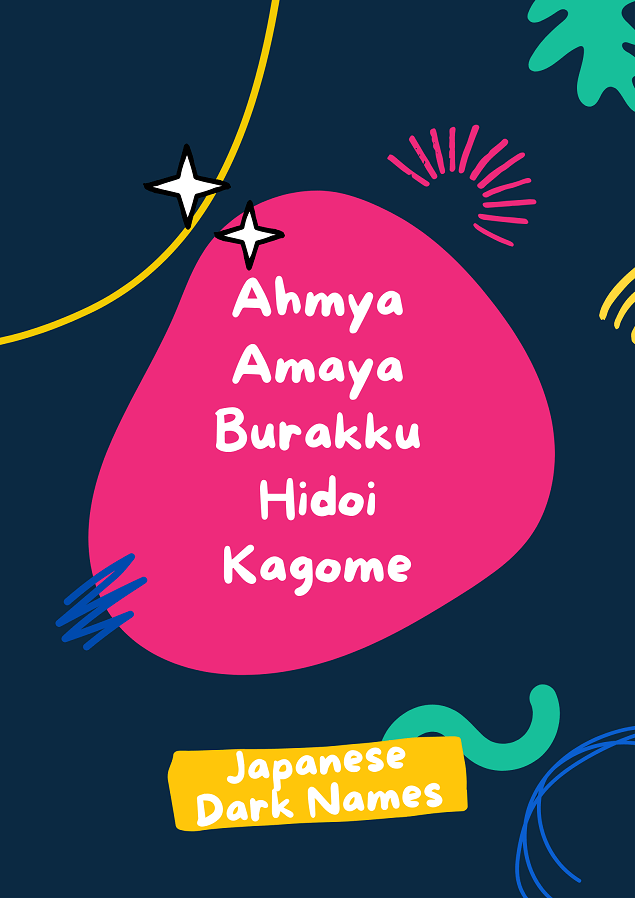 These are the Japanese names meaning dark, and you can use these names for characters, usernames, or even for gaming names, but we don't recommend these names for naming a baby as these have negative meanings.