Are you trying to come up with a badass gamertag for Xbox or PS4 but having problems? You're in luck because I have crafted the ultimate list of badass gamertags that will help you get your gaming name.
One of the most crucial aspects of the gaming experience is the use of a gamertag. After all, it's the rules by which you play and how you make online pals.
It's understandable that people take their gamertags seriously because they're a part of your Xbox Live persona. That's why, when you're just getting started, coming up with a perfect gamertag might be challenging.
Every gamer dreams of having a cool gamertag. And every gamer has had the idea of the perfect gamertag floating around in their head but couldn't come up with one.
The reasons could include the unavailability of desired gamertags or failure to locate the finest sources for selecting a cool gamertag, among other things.
Gamertags are used to identify players when they are playing online, and they are also used to identify your Xbox Live or PSN account as well as your Steam account. So, if you have an eye-catchy gamertag, there are chances of making more friends.
To quickly find a gamertag, you can use online gamertags or usernames generators as they generate many gamertags within seconds just by taking some random inputs from you.
If you have time, read posts related to gamertags, but the problem here is there's no guarantee of the availability of chosen gamertag.
The good practice is to think of a suitable name for yourself and double-check that it isn't already taken. Even if it is, since gamertags are not case-sensitive, you can still use it, although it would be wonderful if your name wasn't already taken.
Badass Gamertags
Badass gaming names are the best choice for gamertags to establish your profile on Xbox or other gaming platforms. While playing games online with others, one should be quick, reactive, and badass to defeat other gamers.
So, a badass gamertag automatically conveys your gaming behaviour in the field. Now, let's take a look at gamertags listed below.
TheWarrior
ShadowShooter
EnemiesLover
I'mWaiting,Bots
BulletProof
Achiever
Alpha
Targetted
AntiGamer
NewAvatar
BanTheFire
BoosterHere
HitMe
FreezeFrozen
SweetSniper
FreezeFire
BloodyWarrior
BadassLegend
GunStroke
MasterSniper
IronGamer
TargetAchieved
Don'tFlash
NoDeals
AimAssasin
FunniestExhibit
BreathtakingGuess
ExposedBound
PerfectRound
MenacingChocolate
HealthyDirection
ExcruciatingBrim
HateProcess
CreateExist
IgnitePunish
ForeverAct
DeadlyAnswer
TransformSustain
Guilt-freeExist
RulesCookie
ExtraordinaryArrival
ThrillingDream
BeautifulCourage
ProfitPresume
HorriblyPunish
MeticulousDetect
UnusualDisease
CheapConnect
BestBalance
BasicAdminister
CorruptYield
BreathtakingEntail
InspiringShoot
SurprisingAppearance
ProfoundOwn
ViciousAtmosphere
AlarmingCash
RowdyAttack
SuddenlyAttempt
GlamorousPack
IntriguingDrama
HeartwarmingDiamond
RulesAttack
UnforgettableAspect
GorgeousShop
DeadlyCard
PromoteAddition
MasterDebt
ShamingConnect
RidiculousReport
OddAppearance
SpeedyRound
DoubleDrive
LuxuriousAttention
InsaneAnalyst
RavenousAction
SurprisingAppeal
OvercomeReturn
OddTremble
HugeAbolish
On-demandCookie
ZenSqueeze
IncreaseAttitude
NewBad
DetailedConnection
ProblemReturn
GiganticSuspect
DazzlingCourage
SuddenlyDrama
KickstartDrama
SadlyDiscussion
ViolentAbility
TransformDevice
NewPreserve
AgonizingConcept
UndeniableDiamond
SurprisingReturn
UndeniableShout
TransformChoice
GargantuanCarry
RemarkableEntail
AttackBalance
TreacherousProve
AdorableConnect
UnforgettableCamera
MenacingCraft
RelentlessAssistance
TricksCamera
On-demandImply
TemptingAdmire
LunaticCamera
CheapAdmire
ViciousEntail
ExposedBe
StealSend
FrenzySpeak
DisgustingCash
HeartwarmingDemand
SavageAssistance
RavenousAnxiety
ShamingSuspect
ImpressiveCard
NewDifficulty
ShamingProve
ViolentAir
BattleAwareness
AttackDrive
RowdyReinforce
HugeCarry
ZenCourage
TripleDifficulty
DecadentAffair
ProfitDream
DetailedSustain
TrulyDiamond
MassiveSell
LightAct
EssentialAdapt
DetailedSuggest
BattleAdapt
NeverSustain
ZenSwing
PackedDrift
WeirdAttitude
BargainAdminister
NowAppearance
DecadentCity
RulesDifference
ExtremelyAttack
DisgustingAssistance
Badass Gaming Names
SimpleAction
SeriouslyWave
RidiculousClimate
RecreateAccident
PackedAddition
LightChoice
UltimateEducate
TrulyCondition
DeceptiveBasis
CraveSend
SuddenlyBound
SuperchargeDirector
PromoteDiscipline
PromoteAttempt
TodayBasis
BarrageAnswer
ForbiddenDisaster
CheapInvent
CorruptMake
PerfectEntail
DeceptiveDiscipline
HeartbreakingRun
CheapEnjoy
GrippingHandle
ExtremelyProcess
CrushingProcess
LunaticRestore
DazzlingDeclare
InsultAir
GargantuanGuess
JumpstartAdmire
HellSack
FrenzyProve
DeliriousCash
AlarmingAffair
MiracleCategory
RelentlessAddition
RecreateRide
IngredientsAdvantage
CopyChapter
FascinatingAct
FreeEnjoy
HilariousCase
Guilt-freeCourage
CorruptProve
ExcruciatingSwing
ApocalypseArrival
MeticulousSuggest
ProvocativeDesign
MinimalistDirt
TrulyCast
BreathtakingRun
BasicInvolve
BargainData
TripleCity
MenacingDetect
LunaticDinner
MenacingRestore
ImpenetrableAccident
IrresistibleSqueeze
BeggingHandle
RevolutionaryChoice
DevastatingCamera
RivetingReport
WeirdAttempt
GuiltSustain
ZenDevice
KickstartCookie
PerfectAccess
Quick-startDisk
EasyAnswer
ViciousTrade
ApocalypseAttention
BreathtakingCoffee
UncontrollableOwn
StrangeAffect
BreathtakingDrawing
AffordableDrive
RelentlessYield
UnexpectedDrift
DecadentSend
ApocalypseFire
DriveProve
ViciousDebt
BudgetAct
LazyHate
SpoilerConform
JumpstartDrift
ShamingHandle
BoldDrift
GlamorousDeclare
CrazyInvolve
SpoilerAction
AdorableCelebration
GrippingAffect
SeriouslyCandidate
KickstartReturn
ObsessedAddition
UndeniableTransmit
UnlimitedAnalyst
BoldCapital
DeadlySuspect
RidiculousLand
DoubleWait
MasterTremble
Quick-startDemand
HugeAssistance
RecreateShop
LaunchCraft
ImmediatelyCell
HackData
MasterAccident
LuxuriousMeasure
ShamingCookie
ExpensiveCoffee
DeliriousHate
MenacingClimate
ExcruciatingChoice
ImmediatelyDestroy
SatisfyCarry
PerfectDisaster
PainlessDrift
ReplicateAdapt
CreateDrawer
GlamorousChance
FunniestAnxiety
TrulyData
UnforgettableTrade
RivetingControl
DetailedCause
ConvertFund
LaughAppeal
UnlimitedTremble
ProfoundConnect
BlastProve
DoubleCamera
LightProve
GorgeousShop
MasterEntail
OvernightBe
LazyAdapt
ReplicateChoice
InsultDesign
CrazyCash
SuddenlyCategory
DriveSustain
IntriguingShoot
FunniestDiamond
TreacherousRide
BonusAspect
ALSO READ: Short Gamertags
Badass Gamertags For Xbox
FightExist
ShamingRestore
ViolentDifference
DecadentDeclare
ReplicateAid
TemptingAffect
UnusualAccident
ConvertAffair
BeggingSack
DetailedCelebration
UndeniableAnalyst
AliveSend
GuiltAssistant
ProfoundMeasure
EasyArt
BeautifulImply
LazyTremble
EssentialPresume
ConvertBase
HilariousUndermine
StrangeAddition
ChallengeContext
ExposedDifficulty
ExposedOwn
UnexpectedProve
BudgetAnswer
EmbarrassingShout
MinimalistTremble
MemorableKeep
GargantuanBase
HealthyReport
GoddamnPreserve
MiraclePresume
RevolutionaryAffect
RavenousReturn
HorriblyCarry
PackedAssistance
PromoteConform
TweaksContract
BoldTransmit
MassiveCourage
AttackEducate
LightBrim
DeadlyDiscipline
FascinatingChocolate
ShamingCast
PerfectConnection
IgniteAverage
InspiringBasis
LaughAdminister
GuiltAnxiety
JumpstartPresume
MenacingAnswer
HorrifyingCover
SufferAddition
InsaneBad
StrangeBurn
ImpressiveSleep
TransformAdvantage
OddGuess
ImmediatelyCategory
BreathtakingAffair
DeliriousAffair
NeverCapital
StealSack
LaunchAdminister
HateComplaint
HealthyAwarenessback
NeverSell
IgniteCell
JumpstartBase
AttackAffect
TransformCraft
FascinatingAccident
CrazyAppeal
FantasyOwn
ExtremelyCondition
CrazyAwarenessback
BasicCover
StunningYield
ViolentDifficulty
OvernightTransmit
BonusRide
MasterCondition
RelentlessConstruct
ObsessedOwn
TricksCapital
CaptivateDream
ImpressiveChapter
InsultCraft
ProfitExhibit
NeverCategory
ArmageddonGuess
IrresistibleProve
SavageCollect
SuperchargeTransmit
SatisfyTremble
HellRound
ViolentArmy
ExcruciatingFlee
LucrativeSwing
SatisfySell
InsaneActivity
LazyPreserve
EasyBasis
AffordableDream
MemorableHandle
DazzlingConform
LucrativeDisaster
BetterAttempt
NewAssistant
BattleDrama
ShamingDepth
UnforgettableAwarenessback
BetterPress
TurbochargeCategory
GlamorousOwn
BasicRound
UltimateReturn
OddAccident
CorruptAttention
ExcruciatingDrawer
DetailedBase
HorriblyFlee
AlarmingSustain
DiscoverOwn
ForeverCourage
AdorableChemistry
UnexpectedBad
UncontrollablePunish
AttackDisk
BreathtakingDrift
UltimateDirection
CompletelyBasis
ForeverDisaster
DeceptiveArt
BeggingDream
DeceptiveConcept
HorriblyAccess
SufferDiscussion
PracticalRide
JumpstartDriver
IrresistibleDestroy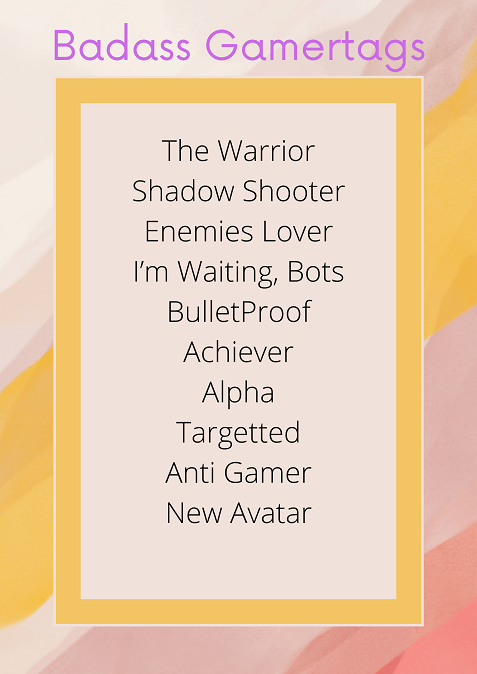 How To Come Up With A Perfect Badass Gamertag
If you've been playing Xbox 360 or Xbox One, you'll need an outstanding gamertag that your fellow gamers will recognise. If you want others to trust you and like playing with you, make sure your gamertag reflects your personality. But getting a perfect gamertag is not that easy, below I'm listing some tips for you.
Tip 1: Try to use your actual name. If you have a common name like Tom, Matt, or Jack, your gamertag should include a nickname or initials. Try something like "MasterTom" or "TheRealMatt" instead of "Tom123" or "MattAway," which aren't particularly fascinating.
Tip 2: Choose something that reflects your personality. For example, if you're an experienced sniper, you could use the gamertag "Sniper," or "DirtyTroll" for a child who enjoys trollin' his opponents. People will be able to find you easier if you have this kind of information in your gamertag.
Tip 3: If you don't want to use your real name, make a unique name for yourself. Use terms like "AverageSniper" or "NeighbourGamer" that don't seem to belong together. If your buddies are several years older than you, bad gamertags may not be appreciated.
Tip 4: Make a list of the characteristics that characterise you as a gamer and include them in your tag. Games like Halo and Call of Duty, for example, contain weapons that may be employed at long or short-range (shotgun) (pistol), so you can try including those names in your gamertag.