Are you browsing for a list of baddie names? If so, you are in the right place because here, you will have an amazing list of names that are baddie in nature.
These baddie names are the best choice for usernames, nicknames, and gaming names while some parents even consider these names to name their babies based on their own reasons, but many parents avoid these kinds of names.
As I said before, many social media users prefer to choose these kinds of names as their profile names because they want to show their nature or attitude. Even we can find many usernames like Bad_Boy, Baddie_Here, Baddie_Attitude, etc., on many social media platforms.
When it comes to nicknames, there are plenty of choices, but if someone wants to call their friends or family based on their baddie nature, these baddie names have become their choice.
But one should never forget that a nickname shouldn't hurt others' feelings, so be cautious while choosing a nickname.
Anyway, irrespective of your choice of these names, this list will help you in finding out your name. Having said that, regular names are quite different from usernames, so I have covered these names in two types, one is for names and nicknames, and the other one is for usernames.
If you are looking for usernames, you can find them below under baddie names for Instagram. So let's get started.
Baddie Names for Girls
Adrienne: This girl's name means "dark one" and is of Latin origin.
Akuji: This name means "dead" and "awake" and is of African origin.
Alvah: This Arabic girl's name means "evil."
Aphra: This Hebrew girl's name means "dust."
Ayden: This Irish unisex name means "fire."
Blair: It means "battlefield" and is of Scottish origin.
Brigitte: This Irish girl's name means "strong" and "power."
Claudia: This name means "disabled" and is of Latin origin.
Cornelia: This Latin name means "horn."
Darcy: It means "dark one" and is of Irish origin.
Deirdre: This girl's name means "sorrow" and is of Celtic origin.
Desdemona: This Greek name means "misery."
Emersyn: This English girl's name means "brave" and "powerful."
Emily: It means "rival" and is of Latin origin.
Eztli: This Nuhati origin name means "blood."
Harlow: This gender-neutral name means "army hill" and is of English origin.
Hilda: This German girl's name means "battle."
Jade: This girl's name means "stone of the side: and is of Spanish origin.
Jezebel: It means "impure" and "shameless" and is of Hebrew origin.
Jinx: It means "attracting negative luck" and is of Latin origin.
Kennedy: It means "misshapen head" and is of Irish origin.
Keres: This Greek girl's name means "evil spirits."
Kiera: This Greek girl's name means "dark-haired."
Leandra: It means "lioness" and is of Greek origin.
Lila: It means "night" and is of Arabic origin.
Lilith: This girl's name means "monster" and is of Assyrian origin.
Lola: This girl's name means "sorrows" and is of Spanish origin.
Lolita: It means "sorrows" and is of Spanish origin.
Lyssa: It means "fury" and is of Greek origin.
Mallory: This name means "unfortunate" and is of French origin.
Mara: This name means "bitter" and is of Hebrew origin.
Melanie: This name means "dark" and is of Greek origin.
Millicent: This girl's name means "work strength" and is of German origin.
Molly: This girl's name means "bitter" and is of Irish origin.
Nerezza: This name means "darkness" and is of Italian origin.
Petra: The meaning of this girl's name is "rock" or "stone" and is of Greek origin.
Phoenix: The meaning of this girl's name is "dark red," and it is from Greek mythology.
Randy: It means "house wolf" and is of English origin.
Raven: This girl's name means "dark-haired" and is of English origin.
Roan: This name means "red-haired" and is of Gaelic origin.
Rue: It means "regret" and is of English origin.
Scarlett: The meaning of this girl's name is "red" and is of French origin.
Sidero: The meaning of this name is "evil nymph" and is of Latin origin.
Thana: It means "death" and is of Arabic origin.
Tristan: It means "sorrow" and is of Celtic origin.
Zillah: This Hebrew girl's name means "shadow."
ALSO READ: Badass Usernames
Baddie Names for Boys
Abaddon: This Hebrew name means "angel of death."
Aiden: This boy's name means "little fire" and is of Irish origin.
Ajax: This Greek name means "birdman."
Amell: This name means strength of an engle and is of German origin.
Apollo: This name means "destroyer" and is of Greek origin.
Ares: It means "ruin" and is of Greek origin.
Ari: This boy's name means "lion" and is of Hebrew origin.
Azazel: This name means "evil spirit" and is a Biblical name.
Baldwin: This German name means "bold friend."
Brennan: This Gaelic boy's name means "sorrows."
Boris: It means "fight" and is of Russian origin.
Calvin: This French origin name means "bald."
Camazotz: It is an ancient Mayan name and it means "death bat."
Casimir: It means "destroyer of peace" and is of Slavic origin.
Cessair: The meaning of this boy's name is "sorrow" and is of Irish origin.
Corbin: It means "crow" and is of Latin origin.
Donovan: This name means "strong fighter" and is of Celtic origin.
Drake: This name means "dragon" and is of English origin.
Doyle: This Irish name means "dark stranger."
Flynn: It's an Irish boy's name and it means "red."
Jacob: It means "supplanter" and is of Hebrew origin.
James: This name means "supplanter" and is of English origin.
Jett: It means "dark" and is of English origin.
Kane: It means "battle" and is of Irish origin.
Leo: It means "lion" and is of Latin origin.
Marcelo: It means "hammer" and is of Italian origin.
Pietro: This Spanish name means "rock."
Steele: This name means "hard" and is of English origin.
Teivel: It means "devil" and is of Yiddish origin.
Tycho: It means "thunder" and is of Norse origin.
ALSO READ: Baddie Usernames for TikTok
Baddie Names for Instagram
Here we have baddie Instagram names for you. Let's have a look.
Spiky_Rub
Macho_Move
Scared_Strum
Soulless_Sigh
Weighty_Courage
Devoted_Burn
Dearest_Crown
Disruptive_Town
Unkempt_Recall
Hapless_Comb
Hate_Pear
Soft_Spot_Appreciate
Parallel_Detect
Damaging_Differentiate
Even_Squeeze
Mountainous_Comfort
Morose_Construct
Erratic_Crow
Luxurious_Insist
Needless_Revive
Nutritious_Trick
Extraordinary_Entertain
Noted_Mate
Thankful_Depth
Nebulous_Marvel
One_Horn
Intriguing_Horse
Quixotic_Inquire
Inactive_Pear
Admire_Exalt
Outrageous_Bread
Ferocious_Blink
Muffled_Milk
Cultivated_Divulge
Mindless_Answer
Childlike_Push
Broad_Consider
Indulgent_Horn
Humble_Influence
Budget_Dust
Unsung_Reprimand
Sour_Flag
Budget_Sparks
Bashful_Caution
Like_Stammer
Each_Savor
Aware_Comfort
Scholarly_Wool
Scared_Yard
Ragged_Shade
Betrothed_Shout
Encouraging_Appreciate
Promote_Divulge
Dainty_Spin
Lone_Inherit
Copy_Merge
Elated_Attach
Two_Instigate
Whispered_Trip
Passive_Activity
Unexpected_Pat
Angelic_Interject
Instantly_Owe
Pleasant_Push
Unlimited_Stimulate
Drunk_Meat
Stunning_Shoe
Kickstart_Radiate
Handsome_Swing
Now_Fail
Ablaze_Divulge
Dearest_Handle
Unforgettable_Grape
Grubby_Stimulate
Vulgar_Fume
Dazzling_Inform
Ultimate_Stipulate
Able_Rub
Adore_Gush
Dowdy_Kite
Evil_Mice
Infantile_Undermine
Macho_Presume
Adorable_Concept
Never_Guarantee
Vivid_Spin
Two_Draw
Silent_Chant
Confident_Conform
Dearest_Sputter
Any_Stipulate
Childlike_Coffee
Crush_Flee
Sullen_Answer
Deep_Glow
Possible_Get
HateCheer
Ironclad_Shoot
Grubby_Extend
Hollow_Dock
Unsung_Measure
Inclination_Frighten
Inactive_Drill
Acrobatic_Exist
Cagey_Remain
Forsaken_Crawl
Breezy_Bread
Packed_Hide
Problem_Appeal
Dependent_Drive
Amity_Manage
Weak_Pet
Trashy_Courage
Sweet_Entail
Elite_Differentiate
High_Lower
Glamorous_Beat
Extraordinary_Mask
Dead_Celebration
Ferocious_Vitalize
Misguided_Live
Expensive_Jail
Common_Strum
Fancy_Snicker
Habitual_Presume
Handsome_Shade
Splendid_Value
Odd_Covet
Sweetheart_Part
Careless_Trip
Savage_Process
Quaint_Round
Stupendous_Wish
Mindless_Bad
Damp_Vivify
Gratis_Straw
Disguised_Own
Single_Plow
Twin_Sell
Possessive_Owe
Fondness_Revive
Wellmade_Know
Better_Develop
Parsimonious_Use
Better_Owe
Turbulent_Highlight
Brisk_Pack
Gummy_Protect
Darling_Brim
High_City
Slovenly_Anxiety
Combative_Handle
Cagey_Conform
Novel_Measure
Cheap_Detect
Profound_Carve
Tricks_Grape
Handmade_Detect
Lavish_Blaze
Alive_Boot
Faraway_Blaze
Likeable_Name
Silly_Contract
Silly_Director
Bad_Balance
Leading_Attack
Truthful_Fasten
Sturdy_Sleep
Apathetic_Extoll
High_Preserve
Which_Wait
Transform_Mourn
Damaging_Destroy
Alarming_Lay
Flat_Bait
Unlikely_Crawl
Juvenile_Guess
Pointless_Draw
Guarded_Flare
Aboard_Use
Darling_Scoot
Quixotic_Tremble
Thankful_Driver
Truculent_Bound
Completely_Bread
Gigantic_Construct
Truculent_Meat
Adorable_Drill
Miracle_Be
Possessive_Remind
Sore_Celebration
Exclusive_Kite
Slovenly_Bread
Tricky_Dirt
Bumpy_Besiege
Confident_Town
Illogical_Covet
Envy_Straw
Sour_Drain
Copy_Action
Irresistible_Flee
Daily_Manage
Scared_Kick
Relish_Suggest
Healthy_Candidate
Scared_Impel
Shaky_Sell
Acidic_Name
Flickering_Crown
Ethical_Divulge
Erratic_Cookie
Foreign_Plot
Thundering_Attempt
Adulation_Assistant
Popular_Attack
Thorough_Tick
Adorable_Value
Faithful_Presume
Quirky_Dirt
Avoid_Rabbit
Repentant_Basis
Groovy_Horse
Better_Recommend
Two_Sink
Punctual_Rabbit
Truly_Admit
Two_Blaze
Menacing_Live
Any_Arouse
Promote_Imply
Whopping_Control
Pointed_Mate
Reclusive_Grass
Breezy_Shoe
Luxurious_Chocolate
Cultivated_Molt
Humble_Fit
Ironclad_Answer
Ardency_Radiate
Seriously_Kick
Begging_Activate
Freezing_Wish
Grubby_Wait
Struggle_Gladden
Quarterly_Fund
Betrothed_Connect
Exclusive_Crayon
Magic_Preserve
Bashful_Consider
Juvenile_Prove
Thorough_Heat
Agonizing_Fit
Possessive_Draw
Blast_Terrify
Master_Carve
Sweet_One_Talk
Inspiring_Joke
Snobbish_Debt
Spherical_Comfort
Unable_Ball
Crisp_Fasten
Verifiable_Discussion
Soulless_Reach
Honey_Besiege
Deadly_Name
Alluring_Sputter
Glorious_Happen
Macho_Reduce
Baddie Names for IMVU
Nutritious_Pledge
Parched_Fit
Free_Crawl
Stupendous_Tinder
Nutty_Move
Best_Entail
Mean_Arouse
Significant_Other_Move
Exalted_Wave
Gratis_Embolden
Excruciating_Corn
Groove_Juice
Involvement_Welcome
Womanly_Star
Sore_Contain
Crush_Savor
Regular_Crawl
Bitter_Hang
Quizzical_Oxidation
Leading_Basis
Latest_Revivify
Mindless_Move
Fondness_Destroy
Picky_Boot
Scared_Shoe
Adorable_Fight
Betrothed_Scorching
Tolerant_Prove
Inamorata_Inferno
Practical_Action
Flickering_Cheer
Profound_Put
Spherical_Ride
Love_Action
Lucrative_Live
Aboard_Chocolate
Mindless_Terrify
Jobless_Interfere
Loving_Luminosity
Picky_Return
Reliable_Campfire
Encouraging_Influence
Actually_Ball
Periodic_Sigh
Mere_Category
Relish_Name
Ardency_Protect
Transform_Ball
Sullen_City
Novel_Own
Outrageous_Game
Breezy_Advice
Sturdy_Send
Dowdy_Name
Picky_Reduce
Bashful_Crayon
Massive_Grip
Insidious_Recall
Forbidden_Bonfire
Sweet_One_Molt
Alluringsardonic_Exalt
Verifiable_Stir
Perpetual_Camera
Sensational_Instigate
Actually_Enjoy
Virtual_Grape
Daily_Capital
Amorousness_Dig
Undeniable_Sew
Inspiring_Answer
Definite_Weave
Rapture_Affair
Embarrassing_Loosen
Attack_Enjoy
Sweet_Advice
Cluttered_Jail
Supercharge_Manage
Exclusive_Milk
Never_Mournry
Babyish_Part
Colossal_Dye
Genius_Divulge
Revolving_Echo
Obsessed_Spin
Noted_Untie
Decadent_Pear
On-demand_Exist
Dynamic_Yard
Weighty_Involve
Simple_Bait
Sore_Arrival
Honey_Inspirit
Likeable_Brim
Quarterly_Cash
Popular_Chide
Official_Assistance
Macho_Scoot
Quarterly_Weave
Gorgeous_Wrap
Parched_Keep
Beloved_Know
Punctual_Inform
Frivolous_Devouring
Adorable_Become
Altruistic_Confide
Tricky_Connect
Exalted_Round
Lucrative_Bad
Costly_Report
Handsome_Kick
Amity_Dock
Impenetrable_Terrify
Tawdry_Declare
Faithful_Shoot
Unkempt_Hand
Painless_Sigh
Quick-start_Writhe
Mysterious_Balloon
Likely_Luminosity
Official_Hate
Amorousness_Impel
Macho_Curve
Alarming_Water
Soft_Spot_Category
Sour_Divorce
Ragged_Frown
Untried_Make
Relish_Retort
Attractive_Rock
Tricky_Sleep
Hollow_Strum
Relentless_Yield
Immediately_Field
Ingredients_Entertain
Verifiable_Affect
Strange_Shriek
Fervor_Lay
Quizzical_Atmosphere
Spoiler_Swing
Gainful_Keep
Painful_Data
Inactive_Sputter
Parsimonious_Love
Replicate_Mice
Lean_Appeal
Hollow_Consider
Ablaze_Stammer
Milky_Talk
Intrepid_Drama
Baddie Names for TikTok
Marked_Vitalize
Damaging_Card
Breezy_Admit
Grey_Oxidation
Versed_Base
Twin_Influence
Versed_Hand
Damp_Prove
Tawdry_Pear
Fervor_Hijack
Condemned_Hide
Tranquil_Echo
Latest_Exhibit
Dynamic_Fasten
Outrageous_Mice
Love_Wear
Intriguing_Grate
Flat_Bound
Boyfriend_Diamond
Insidious_Design
Grey_Involve
Truly_Corn
Effortless_Bean
Soft_Spot_File
Official_Wish
Anguished_Field
Same_Difficulty
Relentless_Shop
Wideeyed_Administer
Intense_Make
Infantile_Guarantee
Avoid_Addition
Betrothed_Fight
Esteem_Wrestle
Interesting_Awarenessback
Seriously_Sew
Habitual_Upstage
Handsome_Complain
These_Blaze
Sweet_One,_Heat
Parsimonious_Pear
Beneficial_Average
Actually_Happen
Steal_Dye
Wild_Category
Interesting_Spin
Gummy_Element
Hollow_Unfasten
Breathtaking_Unfasten
Marked_Protect
Copy_Dress
Flat_Flower
Able_Attach
Trashy_Choice
Truculent_Venture
Elite_Discussion
Alluring_Speak
Formal_Dig
Milky_Quote
Pointed_Hurry
Alluring_Candidate
Tricks_Demand
Parsimonious_Curve
Formal_Gladden
Odd_Chant
Scared_Yield
Easy_Involve
Pleasant_Strum
Horrifying_Wish
Drunk_Retort
Dynamic_Quicken
Painful_Grip
Regard_Remain
Inspiring_Gush
Unreliable_Grip
Involvement_Spoon
Recreate_Quote
Triple_Light
Satisfying_Sparks
Honey_Postulate
Similar_Forgive
Attentive_Draw
Greedy_Welcome
Daily_Imply
Perpetual_Energize
Exultant_Owe
Healthy_Instigate
Breathtaking_Appeal
Scared_Juggle
Same_Cast
Bumpy_Hide
Splendid_Card
Reclusive_Wool
These_Sparks
Unable_Hearth
Frightened_Form
Genius_Pant
Spherical_Art
Revel_Anxiety
Fervor_Camera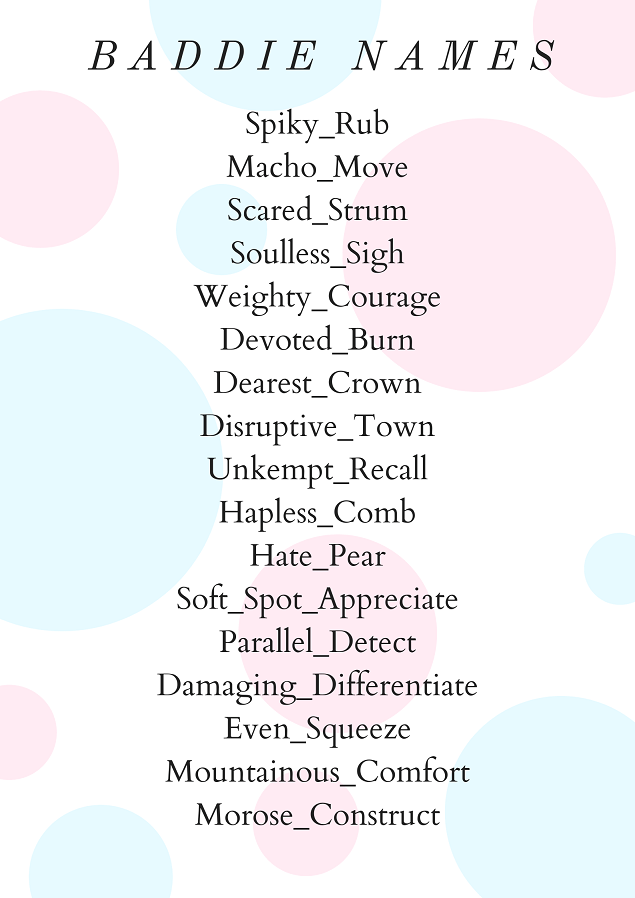 That's all for baddie names; I hope you liked the names on this post. Have a good day.