Disney Characters That Start With N – NamesBuddy
Are you looking for a list of Disney characters that start with n? If yes, you are in the best place to find them. Everyone loves Disney's movies and cartoons, but you know there's more popularity for their characters' names also.
Disney has been a part of the childhood of many children around the world. With movies, cartoon shows, and toys that are available globally, Disney has captured the hearts of many by spreading joy through its characters.
When it comes to Disney characters, most kids are only familiar with the main faces. From Mickey Mouse to Winnie The Pooh, every child seems to know a handful of characters that represent Disney.
Disney Characters That Start With N
Nafisa: A small character from Ralph Breaks the Internet.
Nakoma: Nakoma, is a Native American character who appears in Disney's 1995 animated feature film Pocahontas, voiced by Michelle St. John. She is one of Pocahontas' best friends.
Nala: Nala is a fictional lioness character who appears in Disney's The Lion King franchise. Introduced in Walt Disney Animation's 32nd animated feature film The Lion King (1994), she subsequently appears as a less prominent character in the film's sequels.
Namaari: Namaari is the deuteragonist in Raya and the Last Dragon. She is the princess/chief-in-training of Fang, as well as Raya's rival, turned friend and ally.
Nana: Nana is a fictional St. Bernard dog from Walt Disney's 1953 film Peter Pan, its 2002 sequel Return to Never Land.
Nangi: It's from Zootopia.
Nani Pelekai: Nani Pelekai, voiced by Tia Carrere, is a character in the movie "Lilo & Stitch."
Nanny: She is from One Hundred and One Dalmatians.
Naomi: She is from Elena of Avalor.
Napoleon: Napoleon is a Disney character, the main villain and antagonist in the animated film The Aristocats. He is an evil, ugly, smelly, and pitiless cat who appears as Madame Adelaide Bonfamille's butler.
Narissa: Narissa is a fictional character in the Disney animated film Enchanted. Narissa is cruel, manipulative, and power-hungry. In the story, Narissa is an evil witch who attempts to stop Giselle, from marrying Robert Philip.
Nash: A character from the good dinosaur.
Nassor: From the movie Frankenweenie.
Nasty Jack: He is from The New Adventures of Winnie the Pooh.
Natalie: She is from Pete's Dragon.
Natasha Fatale: Natalia Fatale is a female spy from Disney's animated TV show "the adventures of Rocky and Bullwinkle and Friends."
Naveen: The Disney character Naveen is a prince from the fictional country of Maldonia. He appears in "The Princess and the Frog" as the protagonist's love interest. He was cursed by a voodoo witch doctor, which has turned him into a frog and must find true love to break the curse.
Ned: Ned is an elephant from the movie Timon & Pumbaa.
Nemo: The protagonist of the 2003 Pixar animated film "Finding Nemo" is a young clownfish named Nemo. The movie told the story of Nemo living happily with his father, Marlin, and mother, Coral, in the Great Barrier Reef until he becomes separated from them after being captured by a scuba diver.
Neville: Antagonist from the rocketeer.
Nico: Disney's newest addition to the family is Nico, a sassy, wise-cracking boy who is one of the stars of Disney's new animated series Elena of Avalor.
Nick Wilde: Nick Wilde is a fox in the movie Zootopia. Nick is a con artist and has his paw in many different businesses. He also has friends that are not animals like himself.
Nigel: Nigel is a pelican who works at the dentist's office in the 2003 Disney/Pixar film, Finding Nemo. He is voiced by Geoffrey Rush. Nigel first appeared in the film Finding Nemo when he found Marlin and Dory at P. Sherman's dental office and saved them by taking them to the Sydney Harbour to see Mr. Ray.
Nita: Nita is a major character from Disney's 2003 animated feature film, Brother Bear 2. She is the wife of Kenai, the adoptive mother of Koda.
Nuka: Nuka is the secondary antagonist of The Lion King II: Simba's Pride. Nuka is the son of Zira, brother of Vitani and Kovu, and uncle to Kiara. Nuka appears as an adolescent in the movie.
Nyx: Nyx is a character introduced in the film Tinker Bell and the Legend of the NeverBeast. She is an animal fairy who can communicate with animals and was Fawn's closest friend before she moved to Pixie Hollow.
TRY: Disney Usernames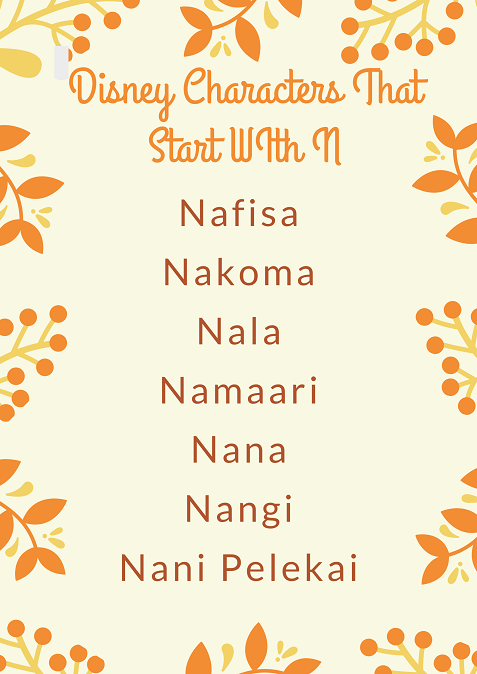 That's all for now, I hope you enjoyed this article. Thanks for reading.