100+ Cool Disney Usernames And Nicknames Collection – NamesBuddy
Need a list of the best Disney usernames to explore a new fantasy world or Disney nicknames for your special one? Then we got you covered with an amazing set of profile names and nicknames that are taken from Disney.
Disney usernames are among the best choices for profile names because of their fascinating nature and craze. There's no need to have another discussion of Disney as everyone knows about it.
These usernames from Disney will definitely make you unique among the crowd because these are not covered by many yet. So you are lucky to get the best one earlier.
We made this list by using Disney character names, and we also provided the meaning and source of the character. Here we go.
Disney Usernames
Abigail Gabble: It is from The Aristocats animated film and gabble means talking quickly with unintelligence.
BayMax: From Big Hero 6.
MegaVolt: A character of Darkwing Duck.
Abu: An Aladdin character and it means "father of" in Arabic.
Darrel: Role from Cars and means darling.
Fozzie: An orange bear from Muppet Babies.
Clank: It is from Disney Fairies and it means a sound caused by metal objects.
The FireBird: It's from Fantasia 2000.
Avalanche: From Planes: Fire & Rescue and it means the arrival of many things.
Bucky Bug: Role of Silly Symphonies.
Curley Baker: Fictional character from Soul.
Abner: From Home On The Range and it means father of light.
Ernesto: From CoCo and means serious.
Cyborg: From Wreck-It Ralph and it means a half-machine, half-human.
Hackwrench: A fictional character from Chip 'n Dale Rescue Rangers.
Adella: A character from The Little Mermaid and Adella means noble.
Captain Gantu: Character of Lilo & Stitch.
Phoebus: Role from The Hunchback of Notre Dame and it means Greek god of light.
The Agent: It is from Bolt.
Bing Bong: From Inside Out.
Cold Front: Role from The Good Dinosaur.
Filmore: Role from Cars and the name means more famous.
Fa Li: A role from Mulan.
Crackshell: From Duck Tales.
Mufasa: Lion from The Lion King.
Avel: From On Ward and means gentle breath.
Daisy Duck: She is from Mr. Duck Steps Out.
Beaker: He is from Muppet Babies.
Finnick: He is from Zootopia.
Badger: Character from The Fox and the Hound and it means annoying someone by asking questions.
Sven: From Frozen and it means young warrior.
Blinko: From Treasure Planet.
Slink: Character from Toy Story and it means escaping silently to get not noticed.
Ferb Fletcher: There's no particular meaning for Ferb but fletcher means arrows maker, he is from Phineas & Ferb.
Disney Nicknames
Nibs: Character from Peter Pan.
Beard Papa: From Wreck-It Ralph.
Slug: From Monsters University.
Hector: Character from CoCo and it means speaking with someone in a bullying way.
Fat Cat: From Chip 'n Dale Rescue Rangers.
Merida: It's from Brave and means one who has achieved high honor.
Arlo: It means barberry tree and is from The Good Dinosaur.
Billy Bones: He is from the Treasure Planet movie.
Pascal: Role from Tangled and the name means one who was born on Easter.
Wendy Pleakley: This is a combination of two names, wendy means friend, pleakley means well, and is from Lilo & Stitch.
Cobra Bubbles: Character from Lilo & Stitch.
Olaf: He is from Frozen and it means ancestor's descendant.
Dr. Teeth: Character from Muppet Babies.
Binky: A character of Duck Tales and it means a dummy baby.
Ajax: A Greek hero of the Trojan War and is from Donald Duck & The Gorilla.
Bentina: This has different meanings, one of them is blessed and this character is from Duck Tales.
Akela: A wolf in The Jungle Book and it means Alone in Hindi.
Spring Sprite: Fictional character from Fantasia 2000.
Drizella Treamaine: The character of Cinderella and the meanings of drizella are spirited, and cruel in Irish.
Cogsworth: A pendulum clock from Beauty and The Beast.
Oaken: From Frozen.
Milo: A character from Atlantis and the meaning of the name is a soldier.
Colette: Character of Ratatouille and it means people of victory.
Cruella: From 101 Dalmatians.
Skip Ricter: From Cars.
Rapunzel: She is from Tangled.
Practical Pig: From Three Little Pigs.
Atka: Role of Brother Bear 2 and means kind, good.
Shego: From Kim Possible and it means one with fire.
Vixey: From The Fox and The Hound and means a flirtatious woman.
Alana: It means precious and is from The Little Mermaid.
ALSO READ: Edgy Usernames
TRY: Tumblr Usernames
Disney Usernames for Instagram
Gaston: He is from Beauty & The Beast, it means guest or stranger.
Aquata: Means water and is from The Little Mermaid.
Lauchpad McQuack: Role from Duck Tales.
Peter Pig: He is from The Wise Little Hen.
Meeko: Means beauty, and majesty and is from Pocahontas.
Pantsy: Fictional character from Kick Buttowski.
Trish: From Austin & Ally and means noble.
Thumper: Role from Bambi and it means one who thumps.
Snotrod: It's from Cars.
King Stefan: He is from Sleeping Beauty and Stefan means crown.
Baggy Beagle: Character of Duck Tales, the beagle is a kind of dog breed.
Goofy: He is from Mickey's Revue and it means silly.
Bigtime: From Duck Tales.
Scroop: From Treasure Planet and it means harsh sound.
Julio: A fictional character from CoCo and it means youthful.
Figaro: Character from Pinocchio.
Lampwick: A role of Pinocchio.
Horsecollar: A black horse from The Plow Boy.
Mabel Pines: She is from Gravity Falls and Mabel means lovable.
Humphrey the Bear: He is from Hold That Pose and the name means peaceful warrior.
Burger Beagle: From Duck Tales.
Verne: Character from Treasure Planet.
The Phantom Blot: Role of Duck Tales.
Chip: A role of Private Pluto.
Mushu: From Mulan.
Strauch: From Up and it's a German word meaning shrub.
Cadpig: Character from 101 Dalmatians.
Quackerjack: Role from Darwing Duck.
Luigi: From Cars and it means well-known warrior.
Honey Lemon: She is a superhero from Big Hero 6.
Chatter Telephone: From Toy Story 3.
Vinnie: From Bolt.
Jack Skellington: He is from The Nightmare Before Christmas.
King Triton: A character from The Little Mermaid, Triton is a sea god.
The Liquidator: From Darkwing Duck.
Minnie Mouse: She is from Plane Crazy.
Chipmunk: Character from Bambi.
Voyd: From Incredibles 2.
RELATED: Angel Usernames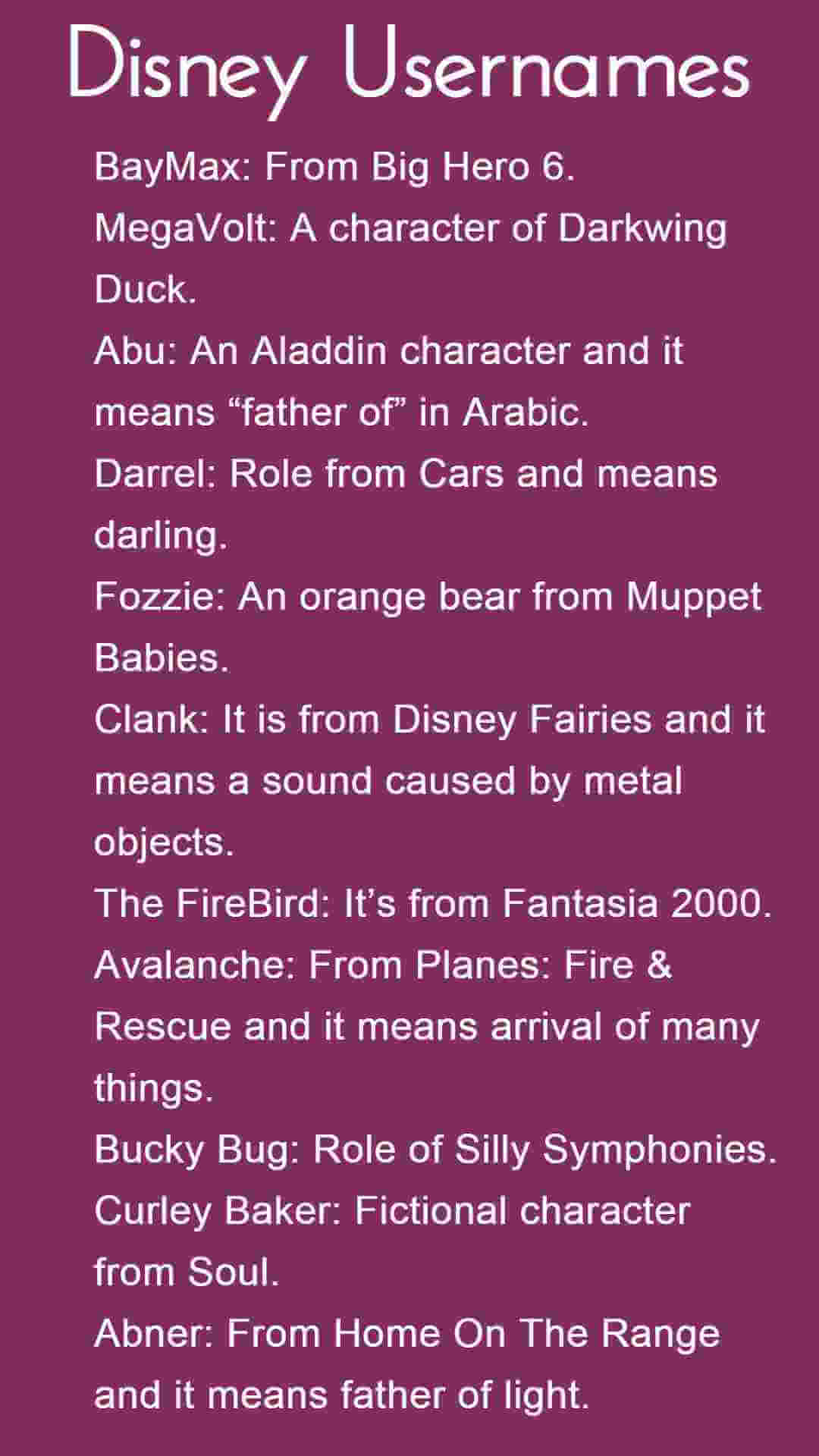 How to Create a Perfect Disney Username
Disney is a big source of amazing character names; selecting the best one among them might be a difficult task for you. So follow the below-mentioned tips to narrow down the available names.
Prefer Your Favorite Characters from Disney
Before getting into the different options, why don't you try your favorite characters' names? So that you can save time.
To do this, make a list of names of your favorite ones if you don't remember or not getting many names. Have a search on the internet. Now pick your username.
Do Little Internet Search
If you don't have any idea or any particular favorite characters, go for a little online search. Search for Disney characters, or you can be specific by movie name. Now choose the username from the vast available options.
Get the Suitable Username
You can also try the Disney characters that reflect your real behavior like soft, cool or trustworthy, etc.
It would be an easy task if you watched all the shows of Disney so that you can easily bring a good username without having a time-consuming online search.
Conclusion
What's your take on this Disney usernames list? I have spent lots of time making this list. I hope you loved these usernames. Thanks for reading.