100+ Angel Usernames Collection – NamesBuddy
Are you looking for beautiful angel usernames to start your social media journey? Then here we have listed some amazing usernames inspired by angels.
As everyone knows, angels are spiritual beings, and some religions like Christianity believe in their existence. As angels are good in nature and are referred to as messengers of God, many parents want to name their child an angel name.
Not only for baby names, but people have also started using them as nicknames, usernames, gamertags, etc.
When it comes to usernames, the names of angels are a good choice if you want to be kind and a good being on social media with your friends.
And I don't recommend these beautiful usernames if you want to be rude to your friends because the value of this kind of usernames will go down.
Angel Usernames
Here you can find 100+ beautiful angel usernames that you can use on social media. Here we have only listed angel names; you can add some words to make them unique.
Agibol
Chamuel
Jophiel
Ananiel
Eden
Angelica
Dina
Adriel
Ariel
Rabia
Evangeline
Hael
Armoni
Angelique
Mogen
Azrael
Gloria
Angelette
Cherub
Jonah
Afriel
Angelisa
Gabriel
Serphina
Gadreel
Gotzone
Haniel
Harut
Ishim
Haven
Jequn
Angelina
Luz
Dina
Kepharel
Cherubiel
Melek
Erela
Tien
Kushiel
Tess
Aneila
Trinity
Ethan
Lailah
Gail
Marut
Michael
Leviathan
Muriel
Nithael
Lucifer
Phanuel
Pravuil
Mammon
Puriel
Rakul
Esper
Abaddon
Raquel
Neaveh
Rufael
Anglo
Duma
Ramiel
Conrad
Raphael
Sachiel
Billie
Samyaza
Rebecca
Sarathiel
Sariel
Benjamin
Seriel
Sourial
Amelia
Surufel
Adina
Saraqael
Seraph
Abner
Shamnail
Raguel
Sidriel
Kemuel
Tennin
Lily
Thrones
Javan
Uriel
Haniel
Uziel
Naomi
Watcher
Hariel
Grigori
Castiel
Aaron
Zaqiel
Cael
Zephon
Tiffany
Zera
ALSO READ: Disney Usernames
TRY: Nature Usernames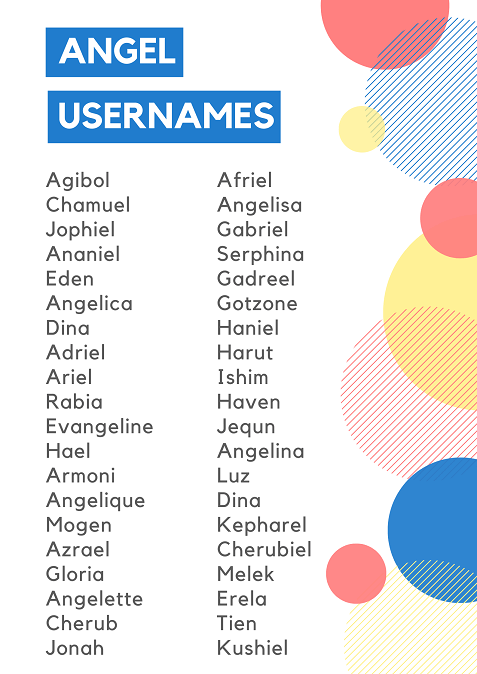 How To Grab A Perfect Angel Username
Have you got your angel username from the above list? If you fail to get a perfect username for you, I have mentioned some tips to choose a username on your own. Let's get into it.
Ask Religious People
You can get suggestions from people who are more religious because usually, they know about the deep details of religious things. So ask them the names of angels who have the best characteristics.
Have An Internet Search
It's not easy to get more results if you search directly for angel usernames, so it's better to search for angel names, then you can get many results. After that, list out some beautiful angel names from those results, and don't forget to look at their characteristics.
Names That Mean Angel
Another way to get an angel username is to search for names that mean angel. And also, look for synonyms of an angel and consider other religions' angels.
CONCLUSION
I hope you got a suitable angel username for you. If not, follow the above-mentioned tips to get one. Thanks for reading.