100 Best Nature Usernames Collection – NamesBuddy
Are you browsing for nature usernames to open your social media account? If yes, you are in the best place to get a list of beautiful usernames inspired by nature.
In simple words, nature is a physical world and the collection of things in it, such as plants, animals, rivers, mountains, etc. Nature is everything to human beings, and it helps us to lead our lives.
Because of its greatness, people also have started naming their babies with nature-inspired names, and it's good that you have chosen a nature username for your social media handle.
There's no limit for nature-inspired usernames as nature is an abundant resource, so you can frame unlimited usernames using nature-related words.
You can use the names of trees, plants, animals, rivers, mountains, flowers, and everything related to nature to frame a beautiful nature username.
Nature Usernames
As I said above, there are many usernames we can frame using nature-related words, so you can also do it yourself if you fail to find a better username.
Let's get into the list of nature usernames.
Master Cave
Soft Cliff
Morning Moss
Happy Coast
Mystic Desert
Choco Forest
Lovely Meadow
Magenta River
Lyrical Plants
Tranquil Volcano
Sweet Soil
Wild Moon
Coco Pond
City Animal
Miracle Bird
Lemon Bush
Pulpy Snow
Morning Fish
Gentle Grass
Lively Rock
Dream Leaf
Spring Swag
Silky Stars
Sugar Sand
Candy Shrubs
Positive Waves
Pure Mud
Berry Blossom
Edgy Autumn
Heaven Clouds
Sugar Planet
Light Rain
Summer Beats
Winter Panda
Yellow Lush
Vivid Flakes
Vibrant Tulips
Misty Crystals
Sunny Vibes
Gentle Fog
Fantasy Forest
Real Ivy
Holy Petals
Jelly Bay
Dimple Rain
Aesthetic Lake
Happy Island
Rich Valley
Dulcet Desert
Morning Eucalyptus
Fantasy Savanna
Bliss Fossil
Classy Magma
Flowing Lava
Something Orchid
Cogent Weather
Elegant Glacier
Average Grass
Soft Bush
Pink Tree
Pink Leaves
Chubby Bird
Pearl Rain
Orange Dahlia
Cheese Clouds
Lively Sunshine
Simple Airie
Nature Beast
Fantasy Coast
Sugar Smoke
Lovely Floral
Vivid Memories
Nature Therapy
Happy Cactus
Autumn Dawn
Evening Breeze
Being Bark
Blue Birch
Crazy Glenn
Fantasy Flora
Winter Venus
Knight Blaze
Velvet Lotus
Nova Shades
Winter Man
Memory Crystals
Anonymous Aurora
Ocean Breeze
Sunny Storm
Sunshine Star
Soul Dust
Real Rose
Aesthetic Coral
Just An Iris
Angry Droplets
Edgy Eco
Agent Nature
Custom Twilight
Misty Mint
Sunday Sunshine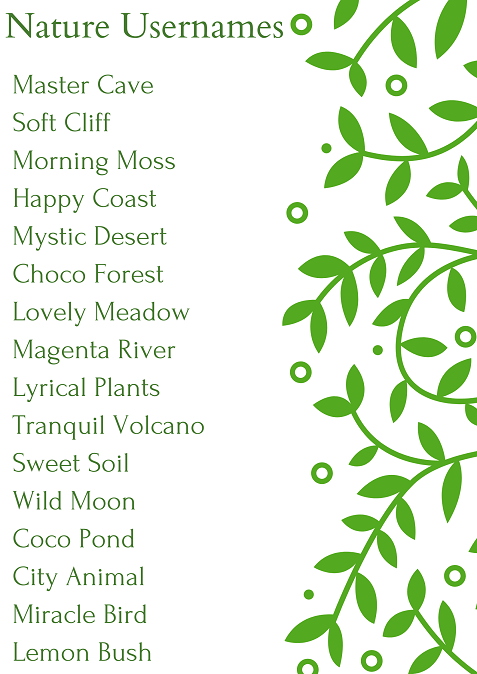 ALSO READ: Short Usernames
TRY: Flower Usernames
Have you found your username from the above list? I hope you got yours; if not, make a list of nature-related words and add them to some cool words to make a perfect nature username.
How To Pick A Perfect Nature Username
If you didn't get a better username from the above list, follow the tips listed below. It's always better to use our tricks without depending on external sources.
List Nature Related Words and Names
You need something related to nature, like words and names to frame your nature username.
A username without any relation with nature can't be a nature username. So collect them first. There are beautiful nature names and also words, so your work will be easy.
Collect Some Beautiful Words
Now you have nature-related words and names; you need some words to add to make a nature username.
Choose From Existing Usernames
If you don't want to do all this work and want to get a username in no time, go to the social platforms and observe if there are any nature usernames. Note them and make a small modification; that's it.