600+ Cool Matching Usernames Ideas You'll Love 2023 [Couples, Best Friends]
Are you trying find a cool matching username for both of you? If so, we have a list of 600+ cool matching usernames or matching display names you can consider using.
Usernames have become common these days, but matching usernames are still special because these resemble the love, affection, or friendship between beautiful people.
And a username is the first-ever thing on any social media or online platform that helps to know about a person or communicate with.
So almost everyone wants their username to be unique and cool; at the same time, some don't care about their username; that's another thing.
Finding a matching username is a somewhat difficult task as it should satisfy two people.
So it might take some extra time to get a perfect username that satisfies both of you but before investing your tricks, just look at our list of usernames.
Matching Usernames
Here we go.
Tom and Jerry: We start with this list with a famous couple's username which is Tom and Jerry. This is a cool and cute username for people who always fight each other and will come together to fight with others.
Salt and Pepper: These are some of the famous table condiments, and this pair dates back to the sixteenth century. Pepper doesn't overpower the actual taste of food, and salt is necessary for our body.
Vanilla And Butterscotch: Do I need to mention the background of this combination? These are the common names everyone prefers when ordering ice creams. This is a super combination and the perfect username for a couple who loves ice creams.
Heartbeats: An awesome username with deep meaning for you both people, and even you can use two hearts instead of heartbeats. It indirectly resembles you both are connected internally.
Two Souls: Do you think your relationship is beyond physical existence, then this username is for you. Not only physically, but your relationship also exists spiritually.
Beauty and The Buffalo: A fun-filled username only for you; if you both are fun together and love behind boundaries, you can choose this username but make sure he won't mind anything for calling him buffalo.
Burger and Pizza: A combination of two famous food items, it's difficult to find people who avoid these both tasty food items.
Hugs and Fights: A perfect matching username for a couple who always fight each other and hug each other. Without fights, a relationship wouldn't be good; there should be everything in a relationship to enjoy that.
Sugar and Lime: Lime juice with a pinch of salt and sugar is a perfect blend. Even you can consider using lime and salt.
Together Villains: Some people tend to be silent until they get their perfect match because they give them everything to explore the world. Like that, with a perfect match, some people become crazy; this username is for them.
Unlimited Love: What do you think about this cool username? It's a perfect username for a couple whose love is difficult to measure with anything.
Just Us: Don't you want anyone in between you and disturb you? You can use this matching username. There are always some people who disturb others.
Two Lights: It might be weird or new for you but don't see it in that way; it has deep meaning in it. Light can be anything like if you help anyone in difficulty, you will be a light for them.
Sweet and Pepper: Earlier, we discussed salt and pepper; it's time for sweet and pepper. This is better suitable for couples with contrasting behavior.
Sun and Shine: Usually, we can't see sunshine separately, and it feels weird to pronounce sun and shine. The same applies here; it's difficult to see you separately.
ALSO READ: 270+ Badass Usernames
Let's see a list of some cool and cute matching usernames.
Honey Queen
Jelly Beans
Hot Spot
Water and Whisky
U and Me Perfect
Cutie Fruitie
Pepper and Cinnamon
Lime and Orange
Two Sweet Berries
Angels on Earth
Bear Babies
Beautiful Blossoms
Blue Eyes
Bubbly Chubby
Butter Chicken
Red Velvet Cake
Cheesy and Cheeky
Sweet and Sour
Tea and Biscuit
Two Cows
Daring Darlings
Elegant Hearts
Rain Drops
Blue Roses
Marvel and Gorge
Handful and Beautsome
Honey Bunny
2 Weird Things
Pumpkin Pizza
Lumpsum Love
An Imperfect Couple
Two Coloured Rainbow
Choco Pie
Shampoo and Conditioner
Love Cubes
Elite Couple
Remo and Julie
Spaghetti and Noodles
Blade and Scissors
Sugar and Salt
Peanut Donut
Number Two
Two Kids
True False
Parrot Sparrow
Dove Pigeon
Little Chickens
Dream Couple
Mr and Miss Cute
Butter Cookies
Chutney Pickle
Superstars
My Princess
My Prince
Two Sweethearts
ALSO READ: Cool One Word Usernames
How are the above-listed usernames, I think, you have got some idea about how a matching username would be.
Matching Usernames for Couples
Looking for some cute matching usernames for both of you? I got you covered; here, we have a cool list of usernames waiting for you.
You Me We
Our Memories
My Apple Pro
Cutie Sweetie
Honey Cake
Babe and Boy
We R Engaged
Adam and Eve
Hulk Bulk
Captain Wo'man
Tiger and Tigress
Shining Stars
Bed and Breakfast
New Couple In The Town
We Are One
Cherry Berry
Body and Soul
Sweet Cinnamon
Iron and Steel
Gold and Diamond
Duolicious
Cup and Saucer
Twosome Awesome
Perfect Guy
Pen and Pencil
Supreme Duo
Rat and Cat
Lid and Ink
Bread and Butter
Jam and Bread
My Girl
My Boy
Duomantic
Perfect Pair
Everything Us
Rose and Petal
Sugar Candy
Four Legs
Honey Caramel
Bright Stars
Eye 2 Eye
My Lady
Cloud Nine
Sun Flower
Morning Moon
Fragrant Jasmine
Life Sparkles
Kiss and Hug
Two Twinkles
My Heaven
Cheese Balls
Two Much
Two Bugs
Sweet Hurricane
Angel Wings
Extra Spice
Two Zombies
Almond Cashew
Cocktail and Tequila
Mystic Forces
Ultra Pro
Butter Scotch
One and Two
Soul Mates
Lazy Duo
Dimple Couple
Pepper and Mint
Pearl and peach
Blue Diamonds
Butterfly Duo
Four Eyes
Soft Hearts
Queen and Soldier
Awesome Angels
Lilly and Jasmine
Two Kittens
Lovely Dust
Vitamin Love
Rainbow Love
Love Dove
Favorite Two
Super Couple
READ: 410+ Cool Usernames
Matching Usernames for Best Friends
Here I have an amazing set of matching usernames for best friends that surprise you both. Best friends are an awesome part of everyone's life; we couldn't miss the fun with them.
Best Bugs
My Lovely Cheater
Cr!me Partner
My Amigo
Friends Forever
Cream and Cake
Superstars Here
Riding Friendship
We are Fools
Bunch of Pranks
Two Idiots
Gang of Idiots
A Lazy Gang
Unlimited Sums
We Are Villains
A Joker Gang
A Boring Gang
Gang without Leader
Twinkle Twinkly
Delicious Delight
Cocoa Chocolate
Sunshine Moonshine
Awesome Soldiers
Choco Bubbles
Two Gems
Gem and Jelly
Dimple Pimple
Monkey Donkey
Soft Hands
My Melodies
Moon Miracles
Pleasing Pink
The Boy Girl
We Together
Being Couple
Double Feathers
Vodka Soda
Bright Tight
Aesthetic Fantastic
Chubby Hubby
Modern Match
Minty Salty
Lips Tulips
The Confused Couple
Loving Fantasy
Urban Couple
Soft Sprinkles
Candy Couple
Sweet Cherries
Fantasy Souls
Double Dimple
Collective Dreams
Edgy Lazy
2kb Chips
Morning Evening
Simple Couple
Blue Pink
Pulpy Culfy
Boat Ship
Cotton Candies
Stylish Blues
Yes It's Us
Don't Disturb Us
Raddish Reddish
Peace Piece
Light Feathers
Hashtag Couple
Crazy Duo
City Apes
Remaining Two
Let Us Enjoy
Blossom Awesome
Moon Flowers
Two Sprogs
TRY: Short Usernames
CHECK OUT: Angel Usernames
Cute Matching Usernames
Eel Melon
Fruitcakes Vatrushka
Guava Utazi
Beets Nectarines
Dosa Mayonnaise
Duck Rice
Dates Tuna
Empanadas Pumpkins
Hummus Tacos
Bananas Quetsch
Inarizushi Nougat
Fritters Peppers
Escargot Ramen
Huckleberries Okra
Grapes Roquefort
Dal Rye Bread
Icaco Ramen
Lo Mein Sesame Seeds
Basil Naan
Bread Neufchatel Cheese
Almonds Sukiyaki
Coffee Nougat
Italian Sausage Raisins
Eggs Spaghetti
Falafel Oatmeal
Fruit Vatapa
Linzer Torte Utazi
Hash Browns Melon
Kohlrabi Raspberries
Fritters Sukiyaki
Jollof Tuna
Alfredo sauce Oregano
Chili Tiramisu
Gazpacho Truffles
Guava Tempeh
Empanadas Rigatoni
Dosa Relish
Dates Sorbet
Duck Mustard
Gyoza Ravioli
Hot Sauce Tagliatelle
Hoisin Sauce Tagliatelle
Ice Cream Peas
Duck Mayonnaise
Inarizushi Nuts
Eggrolls Qeema
Kale Turnips
Jordan Almonds Mayonnaise
Hoisin Sauce Tagliatelle
Coconut Vatapa
Edamame Navy Beans
Jerk Chicken Poi
Amaranth Tacos
Enchiladas Mango
Gazpacho Nectarines
Injera Ube
Hot Sauce Ravioli
Coffee Unagi
Coconut Vindaloo
Ham Naan
Coffee Turnips
Inarizushi Utazi
Collards Tiramisu
Guava Quinoa
Isaw Tiramisu
Eggrolls Navy Beans
Daikon Quinoa
Kombucha Spanakopita
Jambalaya Quinoa
Lollipop Turnips
Cute Matching Usernames for Couples
Dill Spanakopita
Liver Vermicelli
Johnnycake Peppers
Kasha Neufchatel Cheese
Dosa Salami
Beef Olives
Goose Mulberries
Lard Peppers
Duff Maple Syrup
Herring Millet
Gyros Rye Bread
Duck Vatapa
Dairy Ravioli
Kaiser Roll Spaghetti
Dumplings Vanilla
Jambon Pepperoni
Icaco Quahog
Eggrolls Opossum
Alfredo sauce Ube
Frogs Nougat
Kohlrabi Romaine
Fruitcakes Spaghetti
Jerk Chicken Raspberries
Doughnuts Quinoa
Broccoli Spaghetti
Gazpacho Quinces
Basil Pad Thai
Gyros Pears
Lima Beans Pork
Gooseberries Udon
Kugel Soybeans
Eclairs Macaroon
Fruit Tuna
Dairy Relish
Hamburger Opossum
Chili Nuts
Fungi Natto
Kohlrabi Soybeans
Falafel Oysters
Ital Sorghum
Lasagna Quinces
Bacon Vinegar
Lemon Upma
Coffee Udon
Jordan Almonds Poi
Jam Peas
Guacamole Rye Bread
Ital Vegetables
Durian Spinach
Kumquats Melon
Eggplant Pork
French Fries Ugba
Chili Sugar
French Fries Peppers
Basil Umbrella Fruit
Ital Unagi
Gooseberries Radishes
Liver Venison
Gyros Nori
Gumbo Oregano
Hash Browns Radishes
Daikon Sorghum
Idli Romaine
Durian Sugar
Herring Pears
Calzones Oranges
Duck Turnips
Avocados Mayonnaise
Bagels Quinoa
Limes Peppers
Escargot Quesadillas
Italian Sausage Octopus
Arugula Ugba
Dates Poi
Honeydew Squash
Kale Oatmeal
Lo Mein Ravioli
Guava Quinces
Honey Tacos
Isaw Upma
Matching Usernames for Discord
Cake Navy Beans
Inarizushi Utazi
Cod Mayonnaise
Honeydew Rye Bread
Collards Rigatoni
Dumplings Mayonnaise
Barbecue Peas
Fritters Nuts
Kaiser Roll Radishes
Barbecue Mustard
Gooseberries Oatmeal
Isaw Romaine
Barley Melon
Granola Raisins
Cod Quail
Cake Nougat
Gazpacho Pumpkins
Kaiser Roll Noodles
Hot Sauce Sorghum
Eggrolls Mangosteen
Dumplings Soybeans
Barbecue Vermicelli
Grapes Salami
Huckleberries Turnips
Linzer Torte Tortellini
Blueberries Mochi
Hummus Sorghum
Beets Rye Bread
Hummus Sorbet
Dal Roquefort
Injera Relish
Lima Beans Spanakopita
Fruit Umbrella Fruit
Fruit Sorbet
Lemon Mango
Duck Ugba
Kale Ube
Herring Vatrushka
Hot Dogs Pepperoni
Kale Sesame Seeds
Guacamole Onion
Jam Sukiyaki
Figs Umbrella Fruit
Burgers Macaroon
Eggplant Oregano
Dal Nachos
Doughnuts Tempeh
Goose Nachos
Hamburger Neufchatel Cheese
Cheese Macaroon
Escarole Macaroon
Gumbo Udon
Fruit Natto
Broccoli Squash
Iceberg Lettuce Quetsch
Kale Spanakopita
Barbecue Nectarines
Iceberg Lettuce Oranges
Horseradish Vermicelli
Jambon Ramen
Blackberries Tortellini
Ikizukuri Ramen
Hoisin Sauce Okra
Cheese Udon
Liver Quetsch
Fruit Natto
Honeydew Mangosteen
Blackberries Quetsch
Dumplings Quinces
Idli Queso
Broccoli Uszka
Fish Rice
Collards Squash
Lima Beans Peas
Lemon Mustard
Frittatas Tiramisu
Gravy Raisins
French Fries Mochi
Fruitcakes Pie
Cabbage Tacos
Matching Username Ideas for Couples
Barley Mango
Doughnuts Qeema
Idli Vindaloo
Cake Radishes
Lollipop Pumpkins
Hoisin Sauce Pork
Guava Tempeh
Cabbage Quesadillas
Fennel Mayonnaise
Anchovies Utazi
Hummus Nectarines
Herring Navy Beans
Kugel Roquefort
Frittatas Melon
Grapes Tuna
Amaranth Neufchatel Cheese
Liver Quail
Jalapeno Uszka
Linzer Torte Quahog
Arugula Macaroon
Hash Browns Nectarines
Gyros Turnips
Bacon Ugba
Inarizushi Nuts
Edamame Qeema
Eel Margarine
Italian Sausage Oranges
Fennel Spaghetti
Eggrolls Onion
Chili Quahog
Dosa Qeema
Dosa Roquefort
Lo Mein Mayonnaise
Johnnycake Vori Vori
Hummus Okra
Jambalaya Vanilla
Escarole Neufchatel Cheese
Italian Sausage Relish
Gyros Utazi
Hoisin Sauce Noodles
Jordan Almonds Spanakopita
Eggnog Tempura
Lo Mein Utazi
Eggs Spanakopita
Kumquats Truffles
Cheese Spanakopita
Doubles Tempura
Huckleberries Vori Vori
Dosa Queso
Horseradish Rice
Barley Vatrushka
Cookies Natto
Limes Vindaloo
Almonds Tagliatelle
Hoisin Sauce Tempura
Gooseberries Pork
Anchovies Oatmeal
Avocados Tomatoes
Lasagna Qeema
Gooseberries Vatrushka
Emmenthaler Veal
Jalapeno Nuts
Iceberg Lettuce Pepperoni
Cheese Pork
Dosa Quesadillas
Calzones Nectarines
Fennel Ukoy
Almonds Mulberries
Lingonberries Oatmeal
Kimchi Unagi
Graham Crackers Nectarines
Lard Macaroon
Barley Relish
Bananas Onion
Icaco Mochi
Bananas Rice
Falafel Nectarines
Dates Quesadillas
Cheese Oranges
Cod Tempeh
Matching Discord Names
Frogs Umbrella Fruit
Curry Vermicelli
Kugel Ramen
Chili Quenelle
Frogs Vori Vori
Jam Spinach
Graham Crackers Tofu
Beef Peas
Beans Mayonnaise
Kugel Romaine
Frogs Quesadillas
Dill Oatmeal
Cabbage Tomatoes
Lemon Oil
Cod Mangosteen
Guacamole Ugba
Ice Cream Qeema
Espresso Uszka
Frittatas Quiche
Kelp Quinces
Emmenthaler Mustard
Injera Sorghum
Hoisin Sauce Poi
Curry Pumpkins
Escargot Radishes
Calzones Okra
Fruit Tiramisu
Blackberries Venison
Edamame Macaroon
Beef Veal
Cake Tagliatelle
Fungi Queso
Bread Mochi
Dill Sugar
Beans Quetsch
Iceberg Lettuce Quenelle
Huckleberries Olives
Broccoli Raspberries
Inarizushi Pears
Bread Radishes
Guacamole Rhubarb
Emmenthaler Vori Vori
Honeydew Mulberries
Kimchi Udon
Beets Salami
Coconut Neufchatel Cheese
Jalapeno Tuna
Idli Raisins
Dosa Mayonnaise
Jambalaya Squash
Ice Octopus
Emmenthaler Sukiyaki
Doubles Tofu
Kuchen Oregano
Jerk Chicken Quesadillas
Bagels Nuts
Cabbage Quinces
Kelp Opossum
Gyoza Quinces
Kale Neufchatel Cheese
Frankfurters Spaghetti
Blackberries Queso
Jelly Mango
Avocados Quesadillas
Falafel Pork
Kuchen Vermicelli
Doubles Sorbet
Granola Salami
Asparagus Nori
Matching Couple Usernames
Hoisin Sauce Vermicelli
Doubles Sorbet
Gazpacho Udon
Empanadas Mochi
Fennel Upma
Eggrolls Pears
Blueberries Qeema
Lollipop Radishes
Jelly Sesame Seeds
Crepes Quetsch
Cake Soybeans
Espresso Oil
Fungi Navy Beans
Lard Neufchatel Cheese
Huckleberries Okra
Avocados Opossum
Ikizukuri Quinces
Enchiladas Pears
Lemon Noodles
Grapes Opossum
Cake Sugar
Hummus Rhubarb
Herring Peppers
Crepes Utazi
Amaranth Tempeh
Kuchen Tacos
Eggplant Udon
Gazpacho Macaroon
Daikon Ube
Coconut Quiche
Dates Relish
Fruitcakes Pears
Empanadas Margarine
Eclairs Neufchatel Cheese
Horseradish Vatapa
Durian Maple Syrup
Eggrolls Sukiyaki
Italian Sausage Sugar
Broccoli Vatapa
Apples Tofu
Cabbage Rye Bread
Eggs Quinoa
Gyoza Squash
Figs Vatrushka
Daikon Nectarines
Escargot Millet
Dal Salami
Figs Millet
Goose Ube
Arugula Rigatoni
Hummus Rhubarb
Blackberries Quenelle
Jiaozi Vatapa
Lasagna Veal
Eclairs Ravioli
Fruitcakes Mango
Huckleberries Tagliatelle
Bagels Ukoy
Dairy Utazi
Ice Cream Soybeans
Doubles Sukiyaki
Ham Tofu
Hummus Turnips
Jerk Chicken Oranges
Crepes Tiramisu
Gyoza Vinegar
Amaranth Mangosteen
Danishes Quahog
Beets Macaroon
Collards Romaine
Durian Radishes
Eggnog Turnips
Edamame Vinegar
Johnnycake Tempeh
Huckleberries Quinoa
Idli Turnips
Crepes Oil
Daikon Relish
Bacon Rhubarb
Matching Usernames for Couples On Instagram
Doubles Oysters
Gumbo Spinach
French Fries Quahog
Dumplings Tacos
Icaco Spaghetti
Kohlrabi Rice
Beans Vermicelli
Almonds Natto
Gazpacho Ukoy
Idli Roquefort
Avocados Sukiyaki
Fungi Tuna
Kasha Radishes
Kimchi Tagliatelle
Jackfruit Vatrushka
Lasagna Radishes
Guacamole Roquefort
Fungi Vatrushka
Liver Nuts
Chicken Peas
Jambalaya Mangosteen
Gyoza Pears
Escarole Poi
Lingonberries Quenelle
Duff Uszka
Escargot Quail
French Fries Olives
Emmenthaler Queso
Fruitcakes Vinegar
Inarizushi Ravioli
Iceberg Lettuce Mustard
Lo Mein Tuna
Chili Sorghum
Grapes Peas
Hot Dogs Spinach
Alfredo sauce Rice
Lollipop Natto
Cabbage Romaine
Fennel Queso
Fruit Poi
Emmenthaler Peas
Kugel Uszka
Hamburger Raisins
Coffee Tempura
Eclairs Squash
Guacamole Poi
Goose Tempeh
Jackfruit Sukiyaki
Gravy Raisins
Cheese Pepperoni
Coconut Quesadillas
Lo Mein Unagi
Gooseberries Tomatoes
Limes Pie
Arugula Raspberries
Fish Upma
Kale Quetsch
Lemon Salami
Coffee Mango
Dosa Tagliatelle
Hash Browns Tacos
Enchiladas Vinegar
Huckleberries Oatmeal
Beans Spaghetti
Avocados Mangosteen
Goose Nectarines
Fruitcakes Ramen
French Fries Neufchatel Cheese
Inarizushi Opossum
Cake Sorghum
Chili Tempeh
Anchovies Quesadillas
Frankfurters Maple Syrup
Jelly Rhubarb
Injera Okra
Doughnuts Pecans
Broccoli Turnips
Calzones Ravioli
Jerk Chicken Pears
Cod Rigatoni
Matching Usernames for Couples On Discord
Fritters Tuna
Bagels Quahog
Beef Pecans
Liver Upma
Jambalaya Spinach
Chili Spanakopita
Honeydew Quiche
Lima Beans Noodles
Honey Ube
Chicken Tofu
Avocados Tomatoes
Kombucha Upma
Burgers Tempeh
Goose Tomatoes
Gooseberries Okra
Avocados Raspberries
Lima Beans Melon
Hamburger Truffles
Avocados Pecans
Hummus Octopus
Eggrolls Vanilla
Italian Sausage Sorbet
Hamburger Mochi
Fruit Mayonnaise
Jambalaya Uszka
Bread Nachos
Escarole Nuts
Kombucha Ramen
Curry Peas
Goose Quahog
Espresso Macaroon
Edamame Raspberries
Danishes Udon
Eggnog Spanakopita
Escargot Upma
Dill Pumpkins
Cod Vanilla
Amaranth Oil
Jollof Radishes
Kugel Peas
Burgers Udon
Hamburger Poi
Lingonberries Octopus
Blueberries Natto
Granola Neufchatel Cheese
Hamburger Truffles
Lasagna Radishes
Jelly Pad Thai
Amaranth Nectarines
Dosa Vinegar
Hummus Raisins
Kumquats Rye Bread
Amaranth Nectarines
Honey Upma
Bagels Ramen
Frittatas Mango
Basil Rigatoni
Hash Browns Vatrushka
Lard Qeema
Cake Tofu
Frittatas Quesadillas
Kugel Olives
Almonds Pears
French Fries Poi
Lasagna Tempura
French Fries Spaghetti
Gazpacho Natto
Huckleberries Sugar
Barley Melon
Burgers Salami
Matching Usernames for Best Friends On Discord
Hamburger Squash
Burgers Truffles
Dumplings Spinach
Escarole Udon
Lemon Quinoa
Limes Quetsch
Alfredo sauce Ube
Cheese Poi
Gumbo Qeema
Granola Tempeh
Fish Olives
Lo Mein Udon
Jollof Tomatoes
Empanadas Soybeans
Lingonberries Pears
French Fries Squash
Hash Browns Mayonnaise
Bread Mayonnaise
Lasagna Mango
Horseradish Upma
Fruit Sorghum
Doughnuts Noodles
Dal Pie
Hoisin Sauce Noodles
Graham Crackers Tortellini
Alfredo sauce Sesame Seeds
Jelly Mulberries
Coconut Rice
Jerk Chicken Mustard
Dumplings Melon
Hot Dogs Vatapa
French Fries Poi
Dates Pumpkins
Cookies Oil
Frittatas Qeema
Fruit Melon
Doughnuts Queso
Knockwurst Ravioli
Collards Ube
Espresso Neufchatel Cheese
Jelly Ramen
Amaranth Ramen
Dal Utazi
Doughnuts Tiramisu
Hoisin Sauce Vatrushka
Hamburger Sesame Seeds
Frittatas Udon
Cabbage Sukiyaki
Frittatas Vatrushka
Calzones Quetsch
Eggplant Peppers
Jambon Nougat
Idli Tiramisu
Huckleberries Salami
Eggrolls Neufchatel Cheese
Grapes Unagi
Eggrolls Tempura
Escarole Quail
Ital Roquefort
Dosa Pad Thai
Knockwurst Quenelle
Kale Vegetables
Frankfurters Nachos
Fruit Uszka
Ikizukuri Natto
Jackfruit Sukiyaki
Bread Vindaloo
Apples Mochi
Avocados Quiche
Iceberg Lettuce Okra
Liver Oysters
Jambon Mustard
Cookies Navy Beans
Jerk Chicken Nachos
Collards Ukoy
Injera Quail
Escarole Okra
Alfredo sauce Navy Beans
Jordan Almonds Octopus
Matching Usernames for Instagram
Ham Quetsch
Calzones Nectarines
Hash Browns Mangosteen
Lo Mein Ugba
Eel Vatrushka
Honeydew Rye Bread
Jelly Quetsch
Italian Sausage Pears
Basil Upma
Idli Vatrushka
Apples Ukoy
Fish Squash
Jam Vinegar
Cake Rigatoni
Jerk Chicken Olives
Basil Upma
Ikizukuri Veal
Fungi Quiche
Doughnuts Oranges
Lasagna Peppers
Barley Venison
Coffee Peppers
Dairy Pears
Fruitcakes Queso
Kombucha Salami
Jackfruit Pie
Blueberries Romaine
Knockwurst Rigatoni
Jambon Vori Vori
Granola Unagi
Eggs Tofu
Barbecue Millet
Kasha Tempeh
Apples Spanakopita
Coconut Tiramisu
Lemon Quinoa
Gravy Neufchatel Cheese
Hash Browns Quesadillas
Kombucha Natto
Kale Mustard
Inarizushi Upma
Lemon Quinces
Icaco Pecans
Jam Pecans
Liver Queso
Bagels Sesame Seeds
Broccoli Tiramisu
Apples Peppers
Fruitcakes Utazi
Ice Cream Tempura
Dal Quinoa
French Fries Poi
Lollipop Salami
Cod Peas
Jerk Chicken Maple Syrup
Bananas Pie
Escargot Tagliatelle
Crepes Nachos
Eggplant Pecans
Kombucha Nuts
Lasagna Relish
Hot Dogs Nori
Duck Vindaloo
Almonds Pears
Asparagus Quail
Lingonberries Vori Vori
Barbecue Quahog
Frogs Radishes
Cheese Turnips
Frittatas Nachos
Beef Uszka
Escarole Navy Beans
Hoisin Sauce Olives
Chicken Spanakopita
Horseradish Octopus
Lemon Truffles
Kasha Salami
Duff Tomatoes
Crepes Rice
Granola Pears
Empanadas Vatapa
Ikizukuri Quail
Lingonberries Pepperoni
Limes Okra
Escargot Rigatoni
Grapes Opossum
Beans Pepperoni
Lutefisk Pepperoni
Beets Ravioli
Kumquats Oysters
Gooseberries Vegetables
Jambon Veal
Cheese Umbrella Fruit
Escargot Tempura
Kaiser Roll Utazi
Chicken Ugba
Crepes Vanilla
Grapes Mango
Ice Cream Mochi
Ice Sesame Seeds
Horseradish Nuts
Cabbage Natto
Cod Natto
Dates Tofu
Cake Sesame Seeds
Dairy Relish
Lingonberries Quetsch
Granola Veal
Lima Beans Rye Bread
Frogs Tomatoes
Coconut Sugar
Amaranth Nachos
Falafel Sesame Seeds
Coconut Tacos
Gooseberries Raspberries
Bread Truffles
Kimchi Mangosteen
Matching Usernames for Roblox
Coffee Noodles
Jam Tacos
Cabbage Truffles
Burgers Oil
Kimchi Ukoy
Dairy Sukiyaki
Empanadas Quetsch
Coffee Poi
Avocados Okra
Jalapeno Mustard
Kugel Tempeh
Eggrolls Mustard
Hash Browns Quahog
Gyoza Tiramisu
Coconut Queso
Gravy Tofu
Knockwurst Tortellini
Frankfurters Rye Bread
Gooseberries Vatrushka
Doubles Nectarines
Dumplings Mochi
Crepes Roquefort
Frankfurters Neufchatel Cheese
Beans Pad Thai
Anchovies Tiramisu
Kumquats Quinces
Frankfurters Vindaloo
Cake Rigatoni
Gumbo Vegetables
Dill Queso
Curry Quinces
Honey Salami
Injera Radishes
Cookies Tofu
Coconut Soybeans
Bananas Mangosteen
Jackfruit Peas
Gyoza Sukiyaki
Eggplant Utazi
Johnnycake Pears
Lo Mein Oranges
Jollof Natto
Lemon Mayonnaise
Idli Natto
Calzones Radishes
Johnnycake Noodles
Kasha Salami
Blackberries Nuts
Hamburger Vinegar
Fritters Uszka
Blackberries Nuts
Grapes Maple Syrup
Grapes Roquefort
Cod Tuna
Cabbage Relish
Beets Navy Beans
Jam Noodles
Fish Navy Beans
Eggs Millet
Isaw Soybeans
Eggrolls Ugba
Amaranth Upma
Enchiladas Rhubarb
Fungi Natto
Eel Utazi
Jambalaya Pepperoni
Amaranth Quinoa
Gumbo Neufchatel Cheese
Frogs Vegetables
Dal Opossum
Beets Qeema
Duff Uszka
Escarole Spinach
Eggs Melon
Collards Pie
Johnnycake Vatrushka
Jerk Chicken Nori
Kumquats Quetsch
Durian Raisins
Chicken Tomatoes
Aesthetic Matching Usernames
Jollof Pears
Kelp Roquefort
Blueberries Navy Beans
Fruit Raspberries
Eggplant Raspberries
Bananas Pad Thai
Ham Mayonnaise
Guacamole Tempeh
Blueberries Pecans
Kuchen Mustard
Lemon Pears
Gravy Oysters
Hot Dogs Raisins
Icaco Sugar
Ham Raspberries
Injera Udon
Cod Vermicelli
Guacamole Melon
Avocados Navy Beans
Jambon Macaroon
Crepes Ube
Beef Margarine
Beans Quetsch
Limes Okra
Fritters Pad Thai
Lutefisk Naan
Edamame Millet
Inarizushi Umbrella Fruit
Iceberg Lettuce Mulberries
Kumquats Tortellini
Frankfurters Oil
Escarole Pumpkins
Jiaozi Octopus
Gyros Mangosteen
Enchiladas Tacos
Jalapeno Natto
Alfredo sauce Tuna
Dates Vatapa
Falafel Mango
Honey Sorbet
Bread Maple Syrup
Blueberries Naan
Kimchi Nougat
Kimchi Tacos
Chicken Onion
Bacon Rye Bread
Lo Mein Pumpkins
Johnnycake Vatrushka
Jambon Raspberries
Ice Pad Thai
Isaw Okra
Linzer Torte Queso
Jackfruit Oil
Asparagus Oregano
Beets Pie
Edamame Raisins
Jackfruit Oranges
Gooseberries Roquefort
Espresso Maple Syrup
Beef Poi
Kohlrabi Nachos
Granola Millet
Jiaozi Raisins
Emmenthaler Mochi
Frankfurters Unagi
Dumplings Navy Beans
Liver Oregano
Coffee Quiche
Cheese Sukiyaki
Kugel Quetsch
Ham Queso
Cake Octopus
Eclairs Ube
Ham Tagliatelle
Alfredo sauce Raspberries
Bagels Roquefort
Cabbage Sorghum
Chili Neufchatel Cheese
Kombucha Rice
Burgers Radishes
Limes Oysters
Johnnycake Utazi
Fruitcakes Rye Bread
Ice Tempura
Gooseberries Romaine
Daikon Utazi
Kombucha Navy Beans
Kugel Pork
Italian Sausage Pumpkins
Broccoli Udon
Figs Oregano
Lemon Nougat
Danishes Olives
Isaw Vermicelli
Chili Veal
Lima Beans Vindaloo
Dill Salami
Barley Mango
Kimchi Quail
Hoisin Sauce Margarine
Jalapeno Sorbet
Gumbo Margarine
Eel Noodles
Avocados Peppers
Cheese Oatmeal
Ital Spanakopita
Eel Qeema
Eel Vatapa
Danishes Qeema
Calzones Peas
Dal Tacos
Dates Pears
Huckleberries Margarine
Almonds Vindaloo
Bananas Vinegar
Jiaozi Tofu
Bread Mustard
Lutefisk Mayonnaise
Lollipop Rice
Fritters Rye Bread
Gyros Utazi
Jambon Peppers
Fish Vatrushka
Jollof Poi
Frogs Peas
Injera Rhubarb
Ikizukuri Venison
Honeydew Olives
Falafel Relish
Honeydew Radishes
Hoisin Sauce Spanakopita
Frittatas Tempura
Lima Beans Ravioli
Dates Navy Beans
Eggplant Vegetables
Collards Tagliatelle
Guacamole Pork
Lo Mein Tofu
Lingonberries Sesame Seeds
Lemon Vori Vori
Jam Pecans
Fungi Relish
Hamburger Oil
Hummus Navy Beans
Lemon Queso
Calzones Sorghum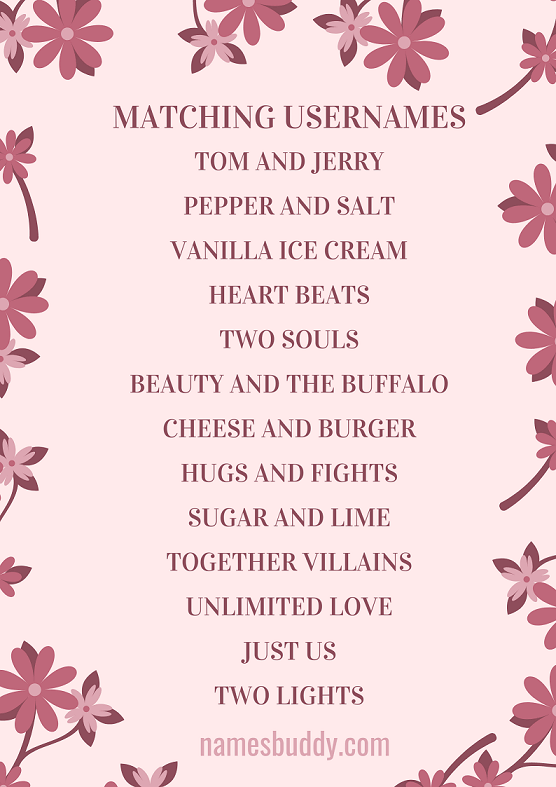 How To Get A Perfect Matching Username for Friends and Couples
Have you got your matching username from the above list? If not, follow the below tips to get a better one. As I said above, getting a perfect matching username is a somewhat tiresome process.
Try Shortened Version of Your Names
The best way without going for an internet search is to try the shortened version of your both names. It looks good and could satisfy both.
Try Word Pairs That Go Together
Another way is to try word pairs that have similar relations, such as salt and pepper, bread and cheese, beer and pizza, etc. These kinds of words express the strong relationships among them, so the same applies to both of you.
Favourite Stuff of Both
Both of you may have different kinds of tastes in different things; for example, you like cookies, and the other one likes pizza; you like Marvel movies, and the other one likes DC movies, etc. So take the words of your favourite stuff and combine them together.
That's all for this post; I hope you enjoyed reading and thanks for visiting.