Are you browsing for a list of fanpage username ideas to build a page for your favorite celebrity? If so, you've come to the correct spot to uncover a variety of usernames to help you get started with your fanpage.
A fanpage, as the name implies, is a social media page or handle created for a celebrity or famous person by their fans on platforms such as Facebook, Instagram, and TikTok, and fans share their celebrities' photos, videos, and updates on those pages.
And it's better to have a shortened version of the celebrity's name on fanpage username because it will be difficult to identify by followers if there's no clue about the name.
For example, if you want to build a Charli fanpage, the usernames charli's_fantasy or charli's_vibes are preferable alternatives.
The right username can generate traffic and build authority for your brand or fanpage. The wrong one will get you lost potential followers.
Fanpage Username Ideas
As I said above, make sure to include the name of your favorite, sometimes you can use his/her first name or even half of his first name to make a fanpage username but it should replicate your favorite. In this list, I'm using different names, you can replace them with your favorite name.
john_meals
david's_fantasy
average_aiden
bad_james
mia_rage
williams_karma
cute_as_nova
camila_clusters
mason_casanova
ethan_explorer
unfinished_henry
something_samuel
john's_heart
luke's_likes
hey_jayden
dylan_doodles
caleb_cookies
actually_ryan
leo's_oats
charles_juice
nathans_sphagetti
nolan_loading
ellies_disasters
morning_maverick
carson-cereal
ancient_angel
sweet_cooper
romantic_roman
mila_diva
angelic_axel
nora_peace
crew_trip
parker_peanuts
bright_luna
bobby_butterflies
bake_bubbles
bubbly_bode
sparkling_sam
fairy_zaid
layla-desires
cherub_charles
evan_blossoms
jordan_sprinkles
uber_josh
leah_moonlight
evans_ego
cairo_pie
emma_bugs
olivia_lens
hazel_pixels
onyx _twinkles
denver_dreams
ledger_desires
shout_out_ralph
elon_pill
ashton_ateroid
kylo_bliss
zaid_captures
bowie_pixie
liam_soul
Charli Fanpage Usernames
Charli D'Amelio is an American social media personality and dancer. She became popular for her dancing videos on TikTok and Instagram. D'Amelio was born and raised in Norwalk, Connecticut. She is the oldest daughter of Marc D'Amelio and Heidi D'Amelio. She has a sister named Dixie.
She has above 135 million followers on TikTok and 47.1m followers on Instagram. Charli has many fanpages on TikTok and Instagram and even there are many searches for charli fanpage usernames to get an idea to start their page on Charli.
charli_strikes
mystic_charli
charli_candor
cogent_charli
comely_charli
charli_vortex
neon_charli
choco_charli
charli_pinks
charli_d_reams
charli_glows
charli_snow
charlirock
charlipure
charlivibes
charlifantasies
charlimiracles
cherish_charli
pretty_charli
purple_charli
charli_breeze
lavish_charli
lively_charli
charlively
suagrcharlie
charli_candy
charli_flames
epic_charli
gentle_charli
mighty_charli
charli_swag
charli_cult
raw_charli
flash_charli
squidgy_charli
autumn_charli
charli_beats
charli_essence
dawn_charli
pleasant_charli
classic_charli
Aesthetic Fanpage Usernames
Here we have some aesthetic fanpage username ideas for you, let's get started.
james_fire
logan_logics
isaac_wings
ryan_oops
aaron_glues
elis_forces
easton_fest
carson_things
colton_swag
cooper_cools
jordan_plug_in
evan_chilli
parker_scans
pure_jason
aromatic_archie
emma_storm
ava_avenue
extreme_emily
victoria_snowflakes
hyper_hazel
parker_shades
native_evan
angelic_ava
jason_tinge
ryan_hue
aesthetic_ava
nesh_james
ryan_rejoice
emma_dulcet
beguile_blake
classy_charles
ALSO READ: Cool Usernames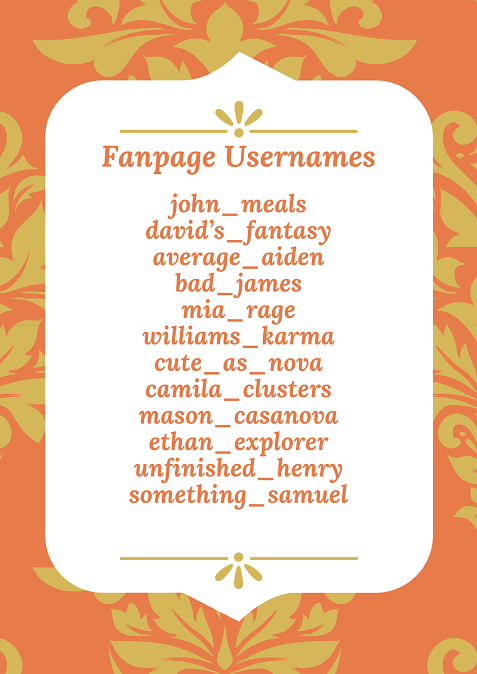 How To Choose A Perfect Fanpage Username
Choosing a username for social media is a difficult task and it is often a person's first impression of you. For many people, usernames make up a large part of their online identity.
They're also often used in many different contexts — gaming, social media, tech support, etc. It's so important that you get it right. It needs to be short, relevant, and interesting enough to make people want to follow you.
If you don't have any ideas on what your username should be, here are some tips that will help you choose a perfect one.
Keep it short and sweet
Your username should be between 3 and 15 characters long. Shorter names are easier to read, easier to type, and less prone to typos than longer ones. There isn't much point in having a name longer than 15 characters because people won't see it all if they only look at the list of usernames, or when they're chatting with you in real-time.
Avoid using numbers unless they make sense
Some websites insist that you choose a name with at least one number in it, but we recommend avoiding this if possible because it can be difficult to remember and type correctly when you want to log in quickly without checking each character carefully.
If numbers are essential to your username because they help identify who you are, use them rather than random numbers. For example, if your name is "James", you might use "James123" (but not "754James" because this doesn't help anyone work out who you are).
Don't depend totally on name generators
No matter what you feed it, the random name generator can't pick a perfect username for every website. In fact, most of the time, it can't even come up with a good username.
So use them just for inspiration to generate an original one and a well-chosen username will help establish credibility and trust in one's identity.