210 Best Tumblr Names Collection | Tumblr Usernames
Are you trying for cool Tumblr names or usernames to kickstart your new blog on Tumblr? Check out our list of unique names for Tumblr that help you to begin your new online journey.
Decision-making is a powerful trait or characteristic that is useful when it comes to picking a perfect name from the tons of choices. You will have many suggestions on the internet, but the final decision is yours.
No one knows which kind of name you want for your Tumblr blog, and so to get a unique name, you have to be clever for some time. The problem with internet sources is there's no guarantee of uniqueness and availability.
Tumblr is a mix of microblogging and social media network where anyone can share their content like text, photos, videos with others on the same platform.
To start your journey on Tumblr, it needs a name or username for your blog that shouldn't be taken by others. You can find many great names on Tumblr, and many choose a name that is related to their ideas or content.
So try to find a name or username that relates to your blog's content, and the people of the same kind can follow you, and it's also the best thing to get more followers.
That's all for the small intro; let's get into the topic.
Cool Tumblr Names | Tumblr Usernames
I have tried to include all the available names; if you don't get them at the time you search, play some tricks to make it unique, like adding extra words or letters, etc.
Tumblr permits no space in usernames, and at the same time, we can use space in the blog names, so I include space for clear understanding, and it's your choice whether to use this list of names for blog names or usernames.
Morning Moon
It's Fun Time
Go Get Better
Happy Monday
Evening Breeze
Die Hard Memer
Memes Are My Friends
Drizzling Pain
It's So Awesome
Magical Whispers
Compassionate Thoughts
Neighbors Buzz
The Memes Dictionary
Dictionary of Memories
Emotional Engineer
My Kind of Life
Typing My Thoughts
Nothing Is Going On Here
Perfectly Crafted Amoeba
Tonight's Sparking Star
Programmer Stuff
Just Connect
Teen Doodles
Gangster Fun
Trying To Be Spiritual
The Ancient Guy
Archive of Sorrows
Man of Your Street
Vintage Attitude
Just My Feelings
Memes Madness
20's Avenger
Feelings University
Everything Positive
Perfect Humour
Fewer Talks
The Collectible Humour
First of All Anime
Just Fun
Teens Paradise
Pretty Emotions
Aww Worst
Unreal Guy
The Autumn Soldier
Enjoy My Feed
Let Me Laugh
With An Anxiety
Citric Memes
Jelly Thoughts
Little Lotus
Do It Well
Happy Clown
Average Guy Guidelines
Fried Feelings
Choose Joy
Love Potion
Moonlight Fantasy
Everything Suspense
Enough Heart
I Hate Yogurt
ALSO READ: Short Usernames
Tumblr Names for Girls
Looking for some cool girl names for Tumblr, consider using the below-listed names. There's no restriction on using other names in this post; even you can try them.
Just Do It
Nothing Lasts Forever
Be A Rainbow
Feed This
It's No Wonder
Happy Soul
Music Speaks
Priceless Diamonds
Go Left
Spider Web
I'm Still Confused
Screw It
Keep Going
Adventure Begins
Collect Moments
Moon Can't Shine
Know This
A Drop In The Ocean
Being Odd
Suffering Is Personal
Including This One
Fictional Thoughts
Remain Silent
Boldly Movements
Laughing Liquid
Moonlight Dreams
For Average Guys
Not So Well
Super Sensitive
Will Be Your Bookmark
Colorful Peacock
Patch up Problems
Incorrect Feelings
Outwhelmed
Problem With People
Taste This Blog
Random Worsts
A Little Chocolate
Live With Memes
Bow Meow
TRY: One Word Usernames
Aesthetic Tumblr Usernames
Hey, are you browsing for aesthetic usernames for Tumblr to make an aesthetic beginning on Tumblr? Don't look further. I got you covered.
Ultra Brightness
Die With Fun
Pink Fire
This Moment Is Yours
Life Is Love
You Are Stupid
To Be Happy
A Gentle Spirit
It's Never Easy
Please Stop
Absolutely Boring
A Tea Bag
Up to No Good
Finding Myself
Will Set You Free
A Door Of Happiness
Bunch of Flowers
Madly In Mad
An Ordinary Stuff
Yellow Good Fellow
Shitty Pitty
Over Thinking Problem
Love Heals Scars
I May Be Cool
Love For All
You Matter
A Fresh Beginning
Never Regret
Love More
Aspire To Inspire
Don't Languish
Losing Vehemence
A Melodious Fipple
Panacea for Depression
A Galactic Expressions
A Selfish Space
Five Words
Over and Over Again
Born Weird
Infinite Imperfection
Hipster Tumblr Names
A Box Of Chocolates
Watch Your Words
Winking Stars
Create It
Live In The Sunshine
Only Opportunities
A Rain Drop
Mind On The Present
Limit Desires
Being Butterfly
Eat This Cupcake
Next Obstacle
It's Upto You
You're Masterpiece
It's Not Yesterday
It Creates Humour
A New Step
Little Insecure
ChickenKiller
Eat This Fun
One Day I'll Make It
I Love Kittens
In That Moment
A Worst Scrabble
A Weird Timeline
1Tb Wastage
Heaven On Earth
Crazy Boy Things
Turbo Charger
Beloved Haters
A Weird Fragrance
Unreal Queen
A Cool Trivia
Finding A Perfect PNG
Already Taken
READ: Soft Aesthetic Usernames
Instagram Tumblr Names
Beginning Of Wisdom
For A While
Have You Ever _
Magical Musings
An Independent Thoughts
Freeze This Screen
An Awful Click
With Great Stupidity
Granting Fun
And Above All
Alone And Happy
I Love Things
It's reserved
It's Not Readymade
A Winged Bird
Just Open
An Unnecessary Window
It Reveals
Please Ignore It
Get Busy Scrolling
Let Us View
A Live Dragon
Ruining The Precious Time
Revealing Secrets Here
A Boy Again A Boy
A Super Illusion
Stick To It
Nothing Either
A Walking Bird
A Day With Special
Mystic Force
Elite Youth
Incognito Talks
Nougat World
A Cool Vortex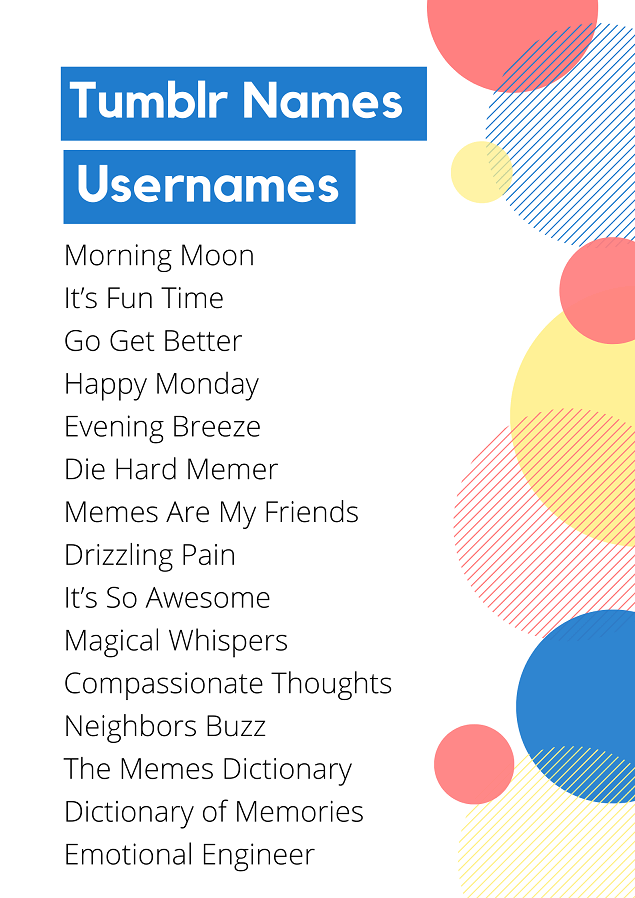 How To Choose A Perfect Tumblr Name or Username
Have you found any cool Tumblr names from the above list? If you haven't, just follow the suggestions listed below.
Inspire from Existed Names
Before choosing a Tumblr name, go to Tumblr and observe some famous blogs names; you will get some clarity about how a perfect blog name could be. If possible, you can make a good name from the existing blog names by using some tricks like synonyms or adding words.
Related to Your Ideas or Content
If you start the search for a blog name without having an idea about what you are going to do with that blog or what you post, it will take more time. So first, choose your topic and then start your search for the blog name. For instance, if your blog is about memes, the memes window will be a better one.
Find Some Cool Words On The Internet
Look for some excellent words; the go-to source is the internet or dictionary. List out and shortlist them; now you have to use some tricks to make a perfect blog name using those words.