So, you are looking for soft aesthetic usernames to pick an awesome username to kickstart your social media journey.
Finding a perfect username can be difficult, but it brings a smile when you got an awesome username.
To be unique and attractive, you definitely need a super cool username, but getting that is a tiresome process. But there's no other way than to spend some time on it to get it.
Do you really need a perfect username, and does it worth spending time just finding a username?
Social media is flooded with many users, so to get to be noticed among them and to be a cherry on top, yes, you need that, and it is worth your time.
Apart from this, you should be a little creative and spend some intelligence to bring out unique usernames because if you depend totally on the internet, you might end up getting an existing username.
Some ways can be adding digits or names of favourite stuff or last names to the usernames you find on this website.
Soft Aesthetic Usernames
Aesthetic usernames have become trendy, and there are many searches for them on the internet.
Aesthetic means nothing but beautiful; it's a super famous word on Instagram. We already know about the word soft, so finally, you come to know about soft aesthetic usernames. In simple words, soft kind of beautiful usernames. Let's dive in.
Soft Soul
Ice Candy
Pink Doll
Happy Honey
Regain Rejoice
Soft Scintilla
Beatific Butterfly
Peachy Sky
Soft Dulcet
Benevolent N Soft
Fantasies N Pastels
Always Pink
Pulpy Feelings
Softy Airs
Big Blaze
Velvet Girl
June Juniper
Fresh Breeze
Naughty Nougat
Delicate Desires
Aesthetic Ethereal
Squidgy Sugar
Delicate Tears
Usually Soft
Soft N Oblivion
HashTag Purple
Soft Zenith
Brightly Sprightly
Soft But Frivolous
Candy Candor
Mint Fresh
Magic Mellifluous
Delicate Petals
Lune Dust
Kind of Ephemeral
Softly Stellar
Light-Hearted Girl/Guy
Super Soft
Softly Smiles
Be My Fantasy
Choco Been
Aesthetic Nexus
Panic Picnic
Moon Light Dreams
Softly Silly
Magenta Marshmallow
Pulpy Pacifist
Indigo Thoughts
Feels Soothe
Everly Soft
Snow Petals
Pastel Fantasy
Soft Beats
Kind Of Soft
Divine Lights
Oh My Kiwi
Robin Feathers
Soft Jellies
Cherish Memories
Pastel Pears
Pink Frozen
Silver Seven
Fresh Talks
Candid Cogent
Soft N Amenable
Periwinkle Panda
I'm Like Eggshell
Mushy Khushi
Lithe N Soothe
Shining Aurora
Soft Honey
Soft Secrets
Rising Moon
Hate Not Found
Aesthetic Sunshine
ALSO READ: Disney Usernames
TRY: Short Usernames
Soft Aesthetic Username Ideas
Here we have used mainly the words soft and their synonyms, and we made sure they are aesthetic. To eliminate the word soft in all usernames, we have used words related to soft like delicate, pulpy, mushy, etc.
Pulpy Bizarre
Merry Cherry
Walking Pearl
Soft Panacea
Soft N Superfluous
Romantic Riddles
Pastel Plays
Soft Geeky
Flying Pastels
Aesthetic Minds
Bubbly Lad
Fair Fun
Soft Kiwi
Delicate Sparkles
Delicate Dreams
Pulpy Peanut
Bubbly Benevolent
Squidgy Paradise
Sensitive Material
Elegant Affairs
Soft Kicks
Pastel Girl
Soft Thoughts
Silky Spot
Dazzle Donut
Soft Sonorous
Soft Like Kitty Bellies
Call Me Pastel
Pure Purl
World of Pastels
Elegant Iridescent
Soft Styles
Cherry On The Top
Handle with Soft
Fluffy Pie
Pulpy Bingo
First Things Soft
Mushy Man
Sof-toffee
Lovely Toxic
Pink Palettes
Soft Cash
Wispy Crispy
Soft Cubes
Soft Vibes
Delicate Dilemma
Soothe Feathers
Pulpy Feelings
Soft Berry
Pastel Zephyr
Soft Cocktail
Little Soft
Purple Smoothy
Moon Wind
Sweet Bun
Soft Vista
Luminescence Pastels
Honey Money
Curl Purl
Soft Skull
Pretty Dawn
Alluring Glares
Moon Shine
Golden Girl
Sparkle Scent
Foxy Fantasy
You're My Petrichor
Softy Pearls
Delicate Dreamer
Spongy Honey
Baby Moon
Taste Like Smoothy
Aesthetic Feathers
Fair Girl
Lively Lucid
SIMILAR: One Word Usernames
Cool Soft Aesthetic Usernames
Soft Denim
Soft Space
Elegant Cinderella
Melting Melodies
Strawberry Talks
Softly Ignite
Your Pillow
Sugary Soft
Delight Desires
Spongy Sweets
Elegant Airs
Pulpy Psycho
Silky Angel
Oh My Kismet
Colourful Rain
Soft Lime
Delicate Wars
Soft Velichor
Elegant Pastels
Soft Thunders
Delicate Stars
Soft Breeze
Morning Mushy
Dear Sunshine
Being Ethereal
Soft Symphony
Bubbly Tulips
Lovely Curls
Pink Heaven
Alluring Chasm
Soft Rays
Soft Transitions
I'm Ineffable
Pink Raven
Lively Girl
Soft Circuit
Delicate Nomic
Makeup Soul
Delicate Diva
Soft Nd Vehement
Soft Mint
Soft Modules
Blue Cherries
Delicate N Finicky
Pulpy Soul
Be My Lair
Hello Pastels
Cotton Misty
Pulpy Minion
Swag Magneta
Rose Royals
Soft Sassy
Filtered Phosphenes
Melody Candy
Girly Gorgeous
Savage Silks
Lovely Pastels
Soft Jazz
Moon Sugar
Crunchy Softy
Pink Widow
Romeo Softer
Max Berry
Snow Pastels
I'm Like Pearls
RELATED: Cool Words for Usernames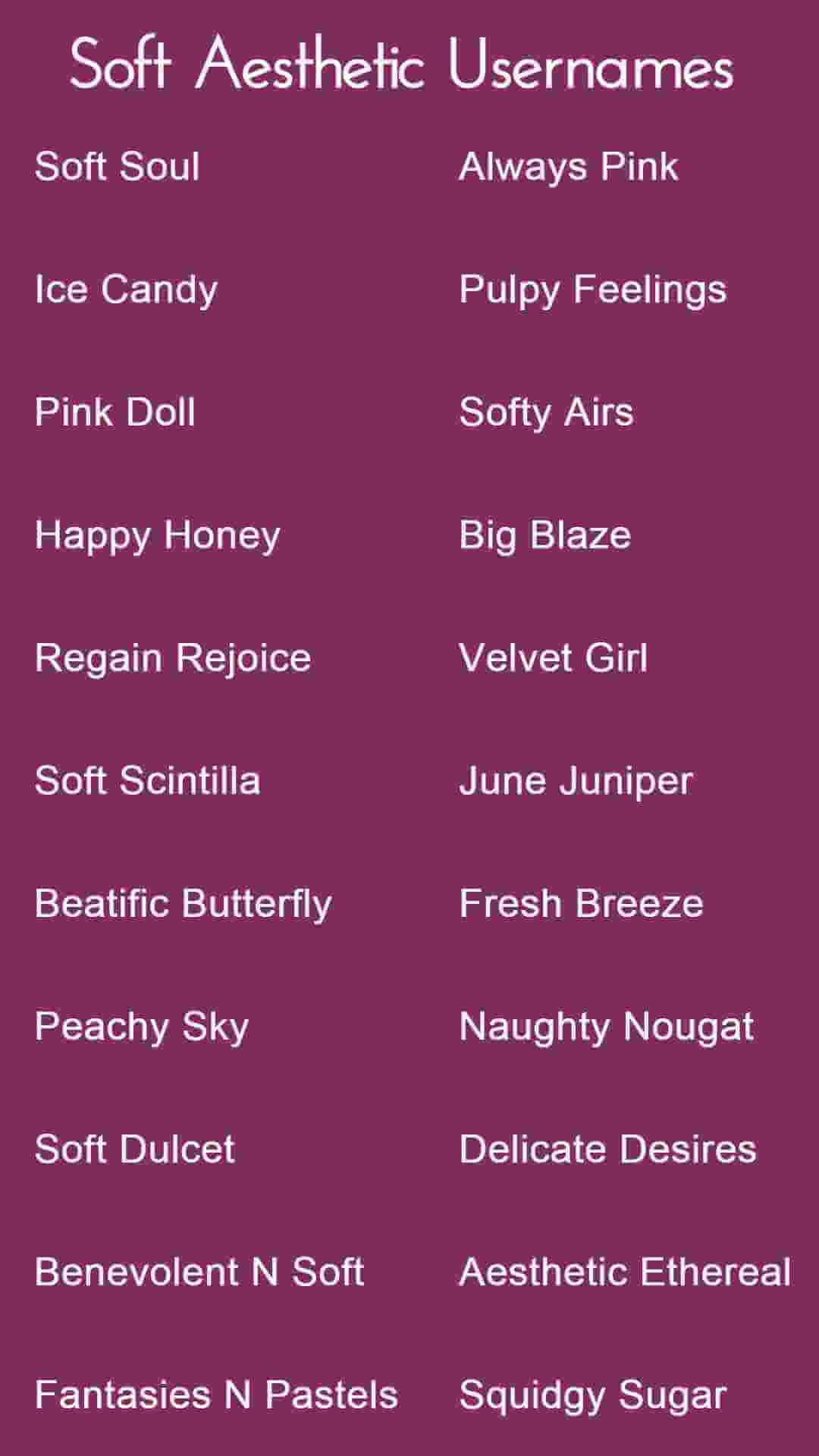 How to Pick An Awesome Soft Aesthetic Username for You
Soft aesthetic usernames are difficult to find because of low availability on the internet and are somewhat difficult to create.
Anyway, we did them for you and provided 210+ usernames. You can refer to the below points to frame a username yourself.
First Look At Existing Soft Aesthetic Usernames
It's fine you have selected these usernames, but without a clear idea of how they are, you may fail to get the exact username that you want. So spend some time looking at existing usernames.
Try to Shuffle the Words
Without spending additional time searching for usernames, you can try shuffling the words of existing usernames or find the synonyms for words in those usernames and use them to frame a new username for you.
List Out Words for Username
Another way to make your username without referring to other sources is to make a list of words related to soft and aesthetic. To get more words, search for their synonyms. Now you can combine their words to make a username.
Search On Internet
If you fail to find a perfect soft aesthetic username, it's time to attack the internet directly. Definitely, you will find some sources, but here the problem is they may be used by someone else. So here also you need to make some changes to the usernames.
Conclusion
Finally, how are these soft aesthetic usernames? I hope you loved this usernames list. You can try your own tricks to make a perfect username from these usernames. Anyway, thanks for reading.