Are you looking for cute, aesthetic, and cool Japanese words for usernames to make an excellent and unique username for your social media start? If yes, you are in the right place to grab them.
Because of huge users on social media, it has become difficult to get the desired username but not to worry; there are thousands of cool, catchy, and even funny usernames looking for you to give you an awesome online start.
But you need to be tricky or think out of the box to get your desired profile name because usernames you find on the internet might not be available for you.
And one thing to say here, you have already started thinking differently about making your username. Instead of directly searching for Japanese usernames, cool usernames, etc., you chose to go for Japanese words to bring a username and which is quite unique.
Japan is unique for everything like its culture, lifestyle, language, and people have started attracting to them. Like usernames, Japanese names have become the first choice for parents to name their children.
Keeping this aside, let's get into our main topic, here you will get 210+ Japanese words you can use to frame your username.
Cool Japanese Words for Usernames
I have listed the best Japanese words that are perfect for usernames and segregated all these words into three categories cool, cute, and aesthetic.
Hikari: Light, beam, gleam
Chikara: Force, power and strength
Seiryoku: Power, influence
Kengen: Authority
Tanoshii: Fun
Ureshii: Happy
Kigen: Humour
Yukai: Pleasant
Omedetai: Special, auspicious
Enman: Harmony, peaceful.
Tanoshige: Joyful
Kisshou: Lucky omen, auspicious
Sachiaru: Fortunate
Kuku: Joyous
Nonki: Carefree, optimistic
Taihei: Peace
Kashin: Lucky day, happy day
Fukusou: Happy-looking
Naka: Inside
Futsuu: Normal
Ippan: General
Heikin: Average
Chuu: Medium
Futsumen: Average-looking guy
Ame: Candy, toffee
Okashi: Confections, sweets
Wataame: Cotton candy
Kashibako: Candy box
Chinka: Unusual candy, rare sweet
Suzushii: Cool, refreshing
Suteki: Lovely
Hiyayaka: Cold, chilly
Yabai: Dangerous
Kakkoii: Attractive
Ouyou: Generous
Ryoufuu: Cool breeze
Chiisai: Small
Yawaraka: Soft
Juunan: Flexible
Choroi: Easy
Shittori: Calm
Kanwa: Relief
Musakui: Random, unintentional
Zuisou: Random thoughts
Taisetsu: Important
Rieki: Profit
Myou: Strange
Kyoui: Wonder
Kiseki: Miracle
Fukashigi: Mystery
Goriyaku: Grace
Koi: Love
Renai: Love
Kanashimi: Sadness
Jouai: Affection
Binai: Benevolence
Hana: Flower, blossom
Daisuki: Loveable
Kawaii: Cute
Kirei: Pretty
Suki: Liked
Utsukushii: Beautiful
Koibito: Sweetheart
Suteki: Lovely
Kimari: Rule
Aiken: Pet dog
Koibumi: Love letter
Hirumae: Morning
Asahi: Morning sun
Asayake: Morning glow
Gyousei: Morning star
Asatsuyu: Morning dew
Nikkou, youkou: Sunlight, sunshine
Tuski: Moon
Hisakata: Sky
Gekkou: Moonlight
Gensou: Fantasy
Mugen: Dreams
Niji: Rainbow
Ichiban: Number one
ALSO READ: Cool Words for Usernames
Cute Japanese Words for Usernames
It's time for some cute Japanese words to make your username cuter. I have listed some 80 words that are eagerly waiting to be your username.
Ichi: One
Daichii: First
Zekkou: Best
Seiei: Elite
Onri-wan: Only one
Mujou: Supreme
Seika: Essence
Hanazono: Flower garden
Kaori: Aroma
Houkou: Perfume
Kouki: Fragrance
Mubou: Reckless
Kuruoshii: Mad
Kigahen: Insane
Atarashii: New
Shinsen: Fresh
Nama: Raw
Azayaka: Vivid
Sayaka: Clear
Shinsetsu: Fresh snow
Rikou: Clever
Hogaraka: Cheerful
Kagayakashii: Brilliant
Eimei: Intelligent
Harebare: Bright
Akaaka: Bright red
Nikoyaka: Smiling
Barairo: Rose-color
Keizen: Shining
Massao: Deep blue
Kagayaki: Brightness
Himitsu: Secret
Hikoukai: Private
Akai: Red
Kirei: Pretty
Utsukushii: Beautiful
Migoto: Splendid
Tanrei: Fine-looking
Hourei: Rich
Yuuga: Elegant
Shousha: Stylish
Okuyukashii, tenga: Refined
Yuu: Excellent
Serebu: Celeb
Gashou: Elegant name
Junsui: Pure
Jun: Innocent
Junzen: Absolute
Shinsei: Genuine
Seppaku: Snow-white
Sei: Saint
Daitan: Bold
Futeki: Daring
Yuukan: Magnificient
Nobutoi: Audacious
Yuukiaru: Courageous
Yuuki: Courage
Tama: Occasional
Chin: Rare
Kitai: Uncommon
Metta: Thoughtless
Aki: Autumn
Akikaze: Autumn breeze
Hayai: Fast
Raku: Comfort
Sappari: Feeling refreshed
Tantan: Uninterested
Tonboku: Honest
Hikin: Common
Sousou: Busy
Oujo: Princess
Hidenka: Princess
Keihatsu: Enlightenment
Chisha: Sage
Hirake: Beginning
Warai: Laugh
Emi: Smile
Bishou: Charming
Sekkyoku: Active
Zeni: Virtuous mind
ALSO READ: Anime Usernames
Aesthetic Japanese Words for Usernames
Haven't you been satisfied with the above-listed words? Not to worry, again here I have some Aesthetic Japanese words to satisfy your taste.
Tamashii: Soul
Kihaku: Spirit
Shinzui: Essence
Yuusou: Heroic
Kage: Shadow
Hokage: Firelight
Shounen: Boy
Kozou: Youngster
Tengoku: Paradise
Tendou: Heaven
Hoshi: Star
Tenshi: Emperor
Tenyo: Godsend
Kinu: Silk
Akegata: Dawn
Souten: Early morning
Shungyou: Spring dawn
Shinsetsu: Kind
Yoshi: Good
Kaze: Wind
Ryoufuu: Cool breeze
Tokiiro: Pink
Tejina: Magic
Jutsu: Art
Jumon: Spell
Koori: Ice
Kiwadoi: Risky
Seichi: Delicate
Mitsukai: Angel
Kirameki: Glitter
Hanamidoki: Blossom season
Netsu: Heat
Ikari: Anger
Gekido: Rage
Umai: Skillful
Hakase: Expert
Hontou: Truth
Tadashii: Right
Yasashii: Tender
Nagoyaka: Calm
Tokushu: Special
Tokui: Unique
Muzukashii: Difficult
Hidoi: Cruel
Katai: Hard
Kitsui: Tough
Osoreooi: Awesome
Kami: Incredible
Mezurashii: Unusual
Shinki: Novel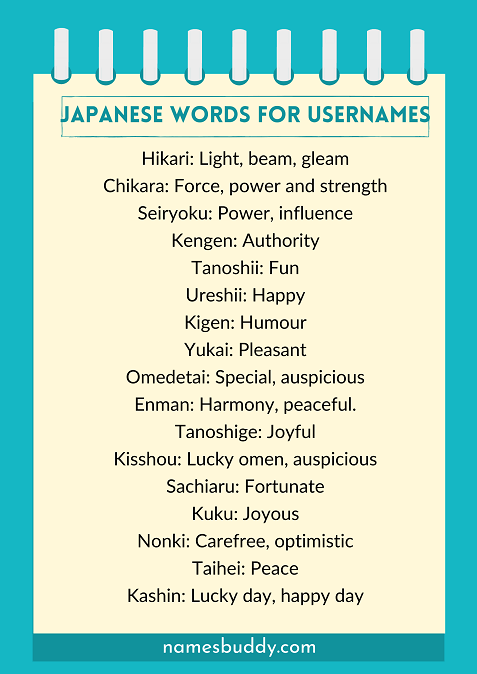 Tips to Find and Choose A Perfect Japanese Word for Username
Finding a list of cool Japanese words is quite difficult than finding a list of cool English words. So you have to spend some quality time if you want an amazing list of Japanese words. Here I have listed some tips to make your task easy.
Make A List of Words You Want In Japanese
First, you should be clear about your username then you can easily find a better one. If you don't have an idea of a good username, go to the social platform where you want to be a member or user and look at profiles that have more followers; after that, observe how their usernames are. Try to spend more time observing them so that you can get a better insight.
Now, you get an idea of how your username should be and make a list of words you want to use as a username. Now, translate those words into Japanese using the internet. That's it; you have many Japanese words.
Use Online Japanese Dictionary
Some famous Japanese dictionary sites like Japandict.com have a search option on their site, so go there and search your words.
Search for Articles On Japanese Words
Go to the internet and search for cool Japanese words, and you will get some famous articles. Grab some words if you like any of them.
CONCLUSION
Have you got your Japanese words to make an excellent username? I hope I have helped you to do so. Thanks for reading.