Are you looking for short and unique 3 letter Japanese names? Here you can get 100+ three-letter names from Japanese to choose a perfect name.
These names are a good choice for people who need a short yet beautiful name. We have many options in Japanese names to get ours. Let's get started.
3 Letter Japanese Girl Names
Japanese names usually have two or more words, and they have separate meanings, so we have provided all meanings.
Mio: Heart, sun; light, cherry blossoms.
Aki: Light; Beautiful, hope.
Kae: Flower, branch.
Ema: Flourish, kindness.
Sae: Bloom.
Rio: Smart, central.
Ena: Clever, beautiful.
Yui: Dream.
Emi: Laugh.
Eri: Blessed, beautiful.
Aoi: Vivid, cherry blossoms.
Rie: Gallant, blessed.
Ami: Love.
Yuu: Superiority, forgive.
Miu: Kindness, rabbit.
Ria: Smart, love.
Yua: Help someone, love.
Ayu: First, princess.
Mao: Real, cherry blossoms.
Nao: Calm, harmony.
Mia: Light, sky.
Kie: Rare, blessed.
Aya: Beautiful, night.
Umi: Ocean, song.
Yae: Call, blessed.
Mai: Dance.
Mei: Bright, reason.
Ito: One, ten.
Yue: Moon.
Asa: Tomorrow.
Moe: Sprout.
Kei: Aromatic.
Oto: Sound.
Rei: A tinking sound.
Kai: Free.
Toa: Second, sky.
Rui: Tear.
Ari: Yes.
Iyo: Progress.
Sei: Star.
Tae: Strange.
Noe: You, bloom.
Eru: Beautiful, love.
Kio: Princess, cherry blossoms.
Sui: Vertical, living.
Rua: Flow, bright.
Koa: Pride, love.
Uka: Help someone, orchid.
Rea: Hope.
Eko: Forever and ever, love.
ALSO READ: 3 and 4 Letter Anime Names
3 Letter Japanese Boy Names
Ren: A pure heart.
Ken: Sword.
Rei: God's annunciation.
Jin: Strong.
Aki: Trust.
Aya: Blessed.
Kei: Firefly.
Kio: Joy, living.
Ari: Sensible, storm.
Rui: Ocean.
Kou: Healthy.
Gen: Origin.
Rai: Thunder.
Zen: Good.
Yui: Emphasis.
Gin: Silver.
Dai: Big, living.
Azu: Bright, long life.
Rin: Forest.
Gou: Strong.
Jio: Growing up, central.
Ian: One, gentle.
Oto: Second.
Sai: Year old.
Teo: Mystic, precision.
Nao: Field.
Kon: Navy blue.
Tai: Big.
Ban: Companion.
Ben: Endeavor.
Dan: Vigor.
Aoi: Dark blue.
Ran: Storm.
Ito: String.
Yua: Tie, love.
Asa: Morning.
Sui: Water.
Isa: Righteousness.
Edo: River, door.
Ume: Plum.
Mai: Dance.
Iro: Color.
Aku: Chin.
Usa: Right, left.
Gai: Victory song.
Koi: Love.
Hao: Clear, king.
Miu: Beauty, wing.
Ron: Logical.
Hei: Flat.
TRY: Japanese Names Meaning Moon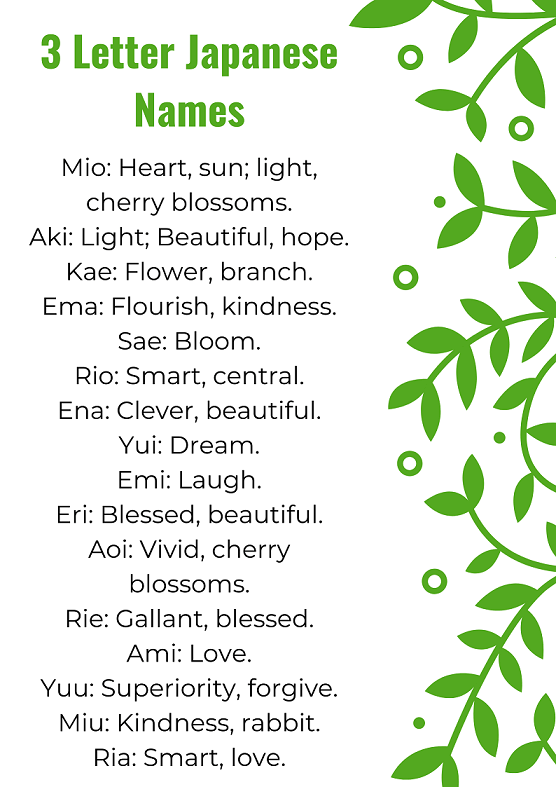 Have you got your 3 letter Japanese name? I hope you got your name. Thanks for reading.