Hey, looking for cool Japanese Nicknames to show your endearment on someone? Look for no other choices because I have enlisted amazing nicknames inspired by Japanese that help you find a perfect nickname for your special one.
You made the best decision by opting for Japanese nicknames, as these are unique compared to regular ones. By this, you are on your way to proving that you are different from others.
A nickname is a great symbol of love, affection, and a strong bond among friends, family, or couples.
But having a regular nickname like honey, sunny or bunny, brings nothing special, so try something unique other than copying others.
Japan is special for everything like its culture, technology, especially anime, and it is not limited to names and nicknames. So let's get started.
Japanese Nicknames
To make you clear about which nickname to choose, I have provided their meanings also, so you can easily select one of these nicknames.
Beibu: The meaning of this Japanese nickname is "babe," and baby or babe is super cute and a very common nickname among couples. But no problem, here you are, having a Japanese version.
Suteki: It means gorgeous, a perfect nickname for beautiful girl in your life but not only limit your thoughts for physical beauty even you can give it to people with a beautiful heart.
Utsukushii: This nickname has several meanings, such as beautiful, good-looking, pretty, etc. You can consider this nickname if you don't like the above nickname with a similar meaning.
Ai: Here comes the perfect nickname for your loved one because it means "love". It's super simple and even looks cute.
Raito: It means light, don't confuse with this nickname; you can give it to someone who brought light into your life. Even it is suitable for someone who makes you happy and brings light to your face.
Ohimesama: It means princess, a noblewoman, and it is strictly for women, so use it for beautiful girl in your life.
Kawaii: It's the best choice for the cutest person around you because it means cute, so it should be given to someone who looks cute.
Takaramono: It's a word for treasure in Japanese; this nickname deserves a person who is valuable, like a treasure. Do you have that kind of treasure in your life?
Nikkō: It means sunshine, and it is better suitable for females.
Amai: The meaning of this nickname is sweet, and do you have any sweetest person in your life? Even it is the perfect choice for your loved one to make her/him more special.
Kami: It means divine, and it's a good nickname for someone who is always interested in prayers or always follows the rules and shows mercy.
Akarui: The meaning of this cute nickname is bright, so it is perfect for people who are always in positive vibes and someone who brings positivity around them.
Kirameki: Do you have someone who always keeps a smile on their face and makes fun around them to make people happy? Then it's for them.
Hana: It means flower, and it is suitable for girls.
Koibito: It means sweetheart, lover, and it is the best Japanese nickname for your loved one or secret crush.
Let's see a list of some cool Japanese nicknames.
Kichō: Precious, valuable.
Hachimitsu: Honey.
Kagayaku: Sparkle, shine.
Shin'aina: Dear.
Neko: Cat.
Chō: Butterfly.
Hinode: Sunrise.
Yōkina: Jovial.
Dārin: Darling.
Yume: Dream.
Ringo: Apple.
Tenshi: Angel.
Mahō: Magic.
Akuma: Devil.
Chairo: Brown.
Shinkō: Faith.
Rōzu: Rose.
Ningyō: Doll.
Warui: Bad.
Nozomi: Hope.
Momo: Peach.
Joō: Queen.
Raion: Lion.
Tamashī: Soul, spirit.
Kanzen: Perfect.
Kuchibiru: Lips.
Lily: Yuri.
Chanpion: Champ.
Chīfu: Chief.
Haven't you found your nickname? Don't worry the list is not completed yet and in the below lists you will have Japanese nicknames for boyfriend, girlfriend, and couples.
Cute Japanese Nicknames
These are some nicknames that are cute and cool. If you want a nickname for a cute one of your life, these are the best choices.
Chūrippu: Tulip
Shinia: Senior.
Hoho: Cheeks.
Isha: Doctor.
Yūsha: Hero.
Karameru: Caramel.
Seikatsu: Life.
Fushigi: Wonder.
Unmei: Destiny.
Hachi: Bee.
Nagetto: Nugget.
Furūtsu: Fruit.
Tora: Tiger.
Kareshi: Boyfriend
Subarashī: Wonderful.
Midori: Green.
Mijikai: Short.
Kanojo: Girlfriend.
Kashikoi: Smart, intelligent.
Egao: Smile.
Aijin: Lover.
Money: Okane.
Ōji: Prince.
Himawari: Sunflower.
Sutā: Star, famous person.
Seppun: Kiss.
Kabocha: Pumpkin.
Ki: Tree.
Kuma: Bear.
Kaminari: Thunder.
Zō: Elephant.
Mondai: Trouble.
Kēki: Cake.
Taiyō: Sun.
Kitsune: Fox.
Himitsu: Secret.
Ējento: Agent.
Okiniiri: Favorite.
Risu: Squirrel.
Supaisu: Spice.
ALSO READ: Anime Nicknames
TRY: Disney Usernames
Japanese Nicknames for Girl or Girlfriend
Struggling to find a nickname for your girl, don't worry, I got you covered. You can pick one of the below-listed nicknames.
Midasu: Disturb.
Kame: Turtle.
Hōseki: Jewel.
Sekai: World.
Usagi: Rabbit.
Orange: Orenji.
Kaze: Wind, breeze.
Megami: Goddess.
Subarashī: Super.
Shio: Salt.
Shugā: Sugar.
Ōkī: Big.
Mame: Bean.
Oishī: Tasty, delicious.
Tsuki: Moon.
Inu: Dog.
Aka: Red.
Kaen: Flame.
Tetsu: Iron.
Kurutta: Mad.
Yūkan: Brave.
Kumo: Cloud.
Shefu: Chef.
Miryoku: Charm.
Rakkī: Lucky.
Kurōbu: Clove.
Kiken: Danger.
Okurimono: Gift.
Gōrudo: Gold.
Saru: Monkey.
Yokubō: Desire.
Kyōdai: Brother.
Kodomo: Kid.
Tomodachi: Friend.
Shōga: Ginger.
Yoru: Night.
Suzume: Sparrow.
Miruku: Milk.
Taida: Lazy.
Aki: Autumn.
READ: Cool Words for Usernames
Japanese Nicknames for Boyfriend
Are you finding Japanese pet names for your boyfriend or Japanese nicknames for guys? I have some cool set of nicknames for you. Let's get into the list.
Asahi: Morning sun
Haruto: Sunshine, sunlight
Kei: White
Ai: Love, affection
Ren: Lotus
Akiara: Bright person
Koi: Romantic love
Arata: New field
Chiko: Arrow, pledge
Aichaku: Attachment
Danuja: Knight
Giichi: One rule
Jinai: Benevolence
Hakaku: White crane
Hiroshi: Generous, prosperous, tolerant
Hoshi: Star
Daisuki: Loveable
Jun: Pure
Kazu: First
Kirei: Pretty
Kin: Golden
Koibito: Lover
Koya: A clever leader
Makoto: Sincerity
Suteki: Lovely
Nao: Honest, beautiful
Riki: Powerful leader, strength
Sasuke: Helper
Shin: Genuine
Itoshii: Dear
Japanese Nicknames for Friends
Looking for nicknames for your friends in Japanese, consider our below-listed nicknames for you.
Pawā: Power.
Ochitsuite: Calm.
Heiwa: Peace.
Nezumi: Mouse.
Kurai: Dark.
Hayai: Fast.
Fuyu: Winter.
Sensai: Delicate.
Kōkana: Expensive.
Sēji: Sage.
Shizen: Nature.
Asa: Morning.
Jagaimo: Potato.
Myaku: Pulse, heartbeat.
Getsuyōbi: Monday.
Ikari: Angry.
Ao: Blue.
Saisho: First.
Tamago: Egg.
Natsu: Summer.
Pansā: Panther
Ahiru: Duck.
Samishī: Lonely.
Eien ni: Forever.
Airashī: Adorable.
Otokonoko: Boy.
Hajimeru: Begin.
Hon: Book.
Isogashī: Busy.
Kiwotsukero: Careful.
Iro: Colour.
Kuni: Country.
Naku: Cry.
Kanashī: Sad.
Fukō: Unfortunate.
Kazoku: Family.
Uma: Horse.
Ongaku: Music.
Shinchaku: New.
Yama: Mountain.
Japanese Couple Names
Are you busy finding couple names in Japanese? Here I have a list of some cute names for couples like you.
Toshi: Old.
Kawa: River.
Ishi: Rock.
Suimin: Sleep.
Tabi: Journey.
Mizu: Water.
Sensō: War.
Chigau: Wrong.
Dōbutsu: Animal.
Ichiban: Best.
Kusa: Grass.
Omoshiroi: Funny, interesting.
Koshō: Pepper.
Muzukashī: Hard.
Otōchan: Dad.
Shōsha: Winner.
Heitai: Soldier.
Rakkasei: Peanut.
Kegareta: Dirty.
Kōfuku: Happiness.
Tokken: Privilege.
Meiwaku: Annoy.
Pāru: Pearl.
Tori: Bird.
Ro: Dew
Rōtasu: Lotus.
Zerī: Jelly.
Wakai: Young.
Sukoshi: Little.
Dimple: Ekubo.
Āmondo: Almond.
Shinzō: Heart.
Junia: Junior.
Hana: Blossom.
Yuki: Snow.
Tengoku: Heaven.
Batā: Butter.
Hato: Dove.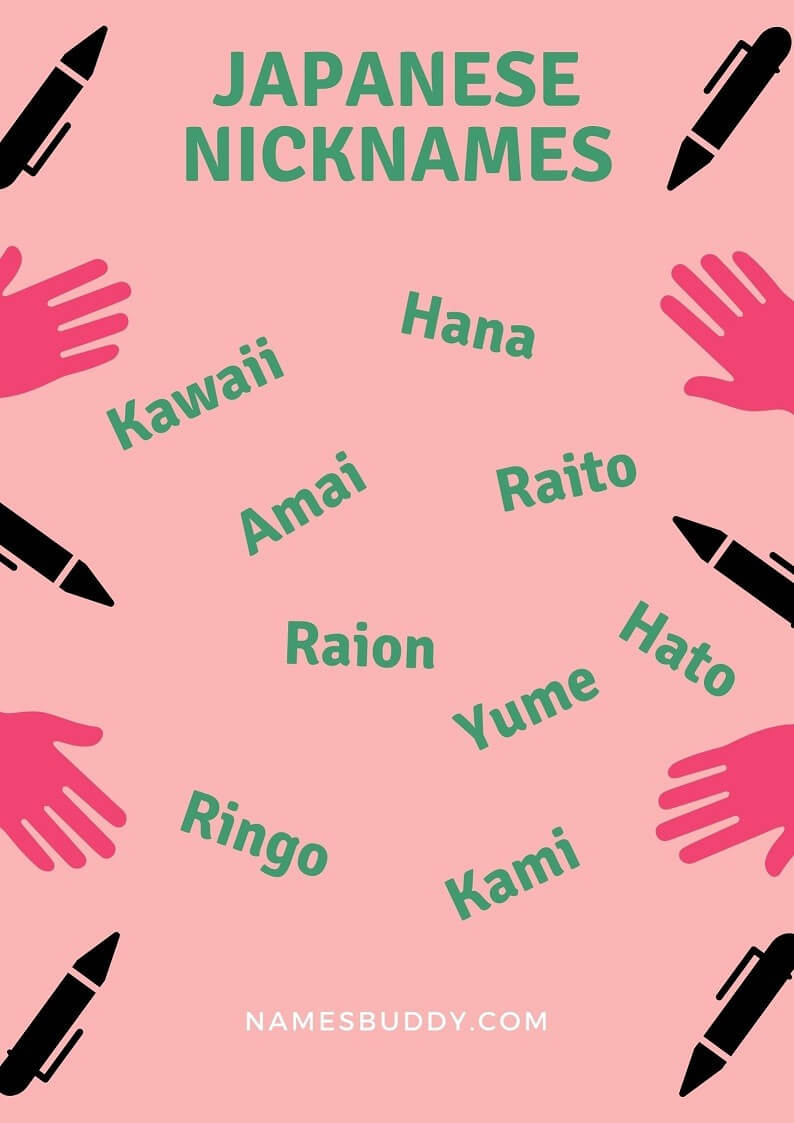 How To Choose A Good Japanese Nickname
As I said above, a nickname is the best example of love and affection, and it shows how close we are, so to pick a perfect nickname for someone special in our life, we should spend some quality time grabbing it.
Regular and common nicknames won't make you exceptional, so you need to go for an awesome and unique nickname that surprises your special one. Here I mentioned some tips for you to get the good one.
Try Anime Character Names or Names from Japanese Movies
Everyone loves anime; if you are one of them, there's no need to depend on other sources because you already know a bunch of Japanese names, so you can bring one of them. If you are not clear about which name to choose, pick the name of a character that is suitable for your special one.
And if you don't remember anime character names, search for characters from your favourite anime on the Internet. You can also get the role of a particular character so that it makes your task simple.
Have a Look on Japanese Baby Names
There's no doubt Japanese baby names are cute and cool. Many people are going for Japanese names for their babies. These are super choices for nicknames also, so search for a good Japanese name and don't forget to select a suitable one.
Make a List of Japanese Words
Another way to get a Japanese nickname is to list out some cool and awesome Japanese words with their meanings. The better way to do this is to figure out the exact words you want to use and make the Japanese translation of those words simple.
Ask Suggestions
The last option is to ask for suggestions from family and friends, but it should be done with caution. Because it won't look good if you ask suggestions from family to nickname someone of your family and the same goes with friends. So if you need a nickname for someone in your family, seek suggestions from friends and vice-versa for friends.
Conclusion
How are these Japanese nicknames? I hope you have chosen one of these nicknames. If you didn't find a good name from this list, simply follow the listed suggestions. Thanks for reading.