100+ Cool and Cute Arabic Nicknames – NamesBuddy
Are you looking for cool Arabic nicknames to nickname someone special? Don't wait anymore; here, we have 100+ nicknames that are from Arabic.
Arabic is an ancient language that emerged in the 1st to 4th centuries CE, and it's the language of Arabs.
Arabic has beautiful names and words with awesome meanings; even Arabic names are famous among baby names irrespective of religion and place.
Arabic nicknames are the best choice if you are looking for a unique and cool nickname as these are not common and also look beautiful.
Cool Arabic Nicknames
But before getting into the list of nicknames, I have some tips to find a cool Arabic nickname.
Use Shortened Version of the Real Name
The easy way to find a nickname is to use the simplified version of the real name. It takes no time and also looks cool. For example, if the real name is Ashraf, Ash is good for a nickname.
Go for Famous Nicknames
Every place, religion, or community has some famous nicknames for people, so try to find them, and if you find a better one, you can go with that.
For example, Munna is a famous nickname among Muslims, and likewise Sunny, and Nick is also famous among English people.
Try Arabic Names
You can also try some Arabic names to nickname your special one but here, try to select short names with special meanings and make sure it shouldn't look like a regular name.
Search for Arabic Words with Beautiful Meanings
And another way is to find a list of good Arabic words to use for nicknames. Every language has beautiful words with deep meanings. So spend some time getting them, and you will definitely find the best words.
Now, let's get into the list of nicknames you are waiting for.
Hubb – Love
Zahrah – Blossom, flower
Amira – Princess
Jamil – Lovely, handsome
Jamila – Beautiful
Fatin – Cute, captivating, alluring
Sahir – Charming
Hulw – Sweet
Quwwat – Strong
Fatan – Intelligent
Qamar – Moon
Al Shams – Sun
Thameen – Precious
Noor – Light
Sadiqa – Truthful
Arif – Expert
Hakim – Wise
Warda – Rose
Namir – Tiger
Askari – Soldier
Fazil – Superior
Jahid – Hard Worker
Leith – Lion
Hosni – Good looking
Hafiz – Guardian
Nadir – Beloved
Lahav – Flame
Shakir – Thankful
Asfar – Yellow
Ahmar – Red
Akhdar – Green
Aswad – Black
Azraq – Blue
Abyad – White
Haleeb – Milk
Gishda – Cream
Matar – Rain
Reeh – Wind
Thalj – Snow
Moshmis – Sunny
Barakah – Blessing
Shujaa – Bold, courageous
Lami – Shining
Maksur – Broken
Rassasa – Bullet
Inaaya – Care, Attention
Damir – Conscience
Zulma – Darkness, gloom
Ragba – Desire, wish
Qadir – Capable
Istimta – Pleasure
Jawhar – Essence
Abadi – Eternal
Kabir – Expert
Iman – Faith
Qadar – Fate
Haza – Fortune
Samah – Forgive
Tazij – Fresh
Karim – Generous
Dahab – Gold
Batal – Hero
Kasul – Lazy
Malik – King
Amin – Loyal
Muwaffaq – Lucky, fortunate
Wardi – Pink
Haqiqi – Real
Muqadas – Holy
Fidda – Silver
Salam – Peace
Majnun – Mad
Jadid – New
Naisha – Special
Gamid – Mysterious
Diq – Narrow
Aisha – Living
Asli – Original, authentic
Khatar – Danger
Ibtisam – Smile
Lin – Soft, gentle
Ruh – Soul, spirit
Hajar – Stone
Ahmaq – Stupid
Mutib – Tedious, dull
Hikma – Wisdom
Hamas – Zeal
Amara – Mercy
Giaa, Jiya – Sweetheart
Mahek – Fragrance
Rabia – Breeze
Nabeel – Noble
Zara – Flower
Haniya – Happy
Leah – Ruler
Refa – Happy
Yasmin – Jasmine
Adil – Wise
Asad – Lion
Farid – Unique
Kamal – Excellence
Naji – Survivor
Hadi – Leader
Arabic Nicknames for Guys
Here are some cool nicknames for Guys from the Arabic language.
Bahja – Joy, happiness
Karama – Generosity, dignity
JamīL – Beautiful
Nasiib – Share, portion
Samaa – Sky
Qamar – Moon
Rabii – Spring
Nur – Light
Raaha – Rest, comfort
Wadd – Affection, love
Dhuuq – Taste, flavor
Amiq – Deep
Zahra – Flower
Naar – Fire
Sukun – Calmness
Ataa – Giving
Sa'ada – Happiness
Umma – Nation
Jadeed – New
Mu'Min – Believer
Kalima – Word
Ghayma – Cloud
Afw – Forgiveness
Jam' – Collection
Qudra – Power
Mustaqbal – Future
Khataa – Mistake
Ibada – Worship
Fadl – Excellence
Basar – Sight
Ruuh – Spirit
Alam – Flag
Qalb – Heart
Surur – Joy
Taqwa – Piety
Sadiq – Friend
Tafa'UL – Optimism
Inan – Horizon
Nafha – Fragrance
Shifa – Healing
Ayn – Eye
Duaa – Prayer
Diya – Radiance, brightness
RELATED: 3 Letter Nicknames
ALSO READ: Anime Nicknames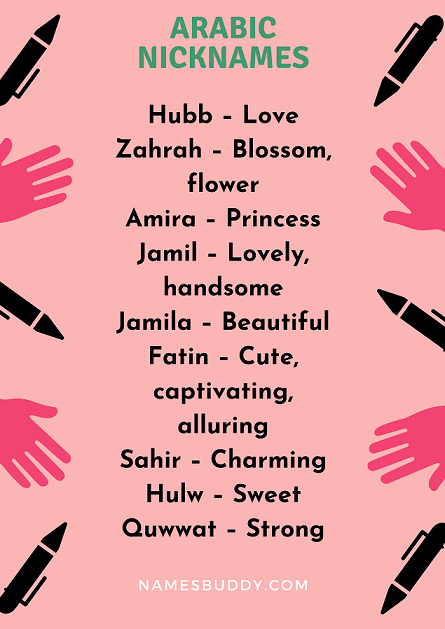 Conclusion:
How are these Arabic nicknames? I hope you have got your nickname; if you fail to get a nickname, follow the above-mentioned tips to get one.
Arabic nicknames are difficult to find on the internet; usually, you will end up getting Arabic baby names.
There's no article on this topic, so I have decided to write an article on this. I have tried my best to provide you with the best nicknames.
I used Arabic words and names to make this list, so make sure to recheck their meanings on other sources before choosing one. Thanks for reading and have a good day.