200+ Aesthetic Nicknames That Are Cool And Cute
Are you looking for a list of aesthetic nicknames to choose a perfect nickname for your special one?
If yes, you are in the best place to surprise that special one in your life with a nickname from our list of nicknames.
Nickname is a symbol of love, responsibility, and friendship, and sometimes it's for having fun with the gang.
There's no special in a relationship without having a nickname because it brings cuteness and adds more love to a relationship.
There are no boundaries in having a nickname, it can be between lovers and friends, and sometimes it's a nickname from our family.
Whatever the relationship is, having a nickname resembles bonding between them.
In some cases, nicknames are used to make fun with people, and in extreme cases, some people use them to insult someone, but that's not encourageable, and that's not at all good.
So, always use nicknames to impress someone or to build an amazing relationship with your special one. Now let's dive into our list of nicknames.
Aesthetic Nicknames
Aesthetic nicknames are trending now, and you are on track to give a new and fresh nickname to your special one.
Aesthetic sounds different, but it's nothing but beautiful; according to Merriam-Webster, it means -of, relating, and dealing with beautiful.
Here you will get all kinds of nicknames, but the problem is some people don't like having nicknames that have negative meanings, so be careful while selecting nicknames, and we are not responsible for your decisions.
Candour: A good nickname for open-hearted and honest people because it means honesty, and frankness.
Boffola: This nickname is better suitable for people who always crack jokes or who make fun of the gang. The meaning of boffola is a funny joke.
Flippant: There is always a careless guy in our friends or family, and it is suitable for that kind of person. Flippant means lacking seriousness or proper respect.
Nougat: For a special sweet person in your life because nougat is a kind of sweet.
Bingle: It means a collision, so you can use it for the kind of people who disturbs you always.
Panacea: A good nickname for a person who helps or saves you in difficult times; it means remedy for ills.
Neon: You can nickname it for lightning or a brighter person in your life as it means fluorescent lighting.
Sunshine: A common but evergreen nickname, you can give it to a very special person in your life.
Choco: A nickname for the sweetest person and better suitable for chocolate lovers.
Honey: A super famous nickname for married couples.
Sparkle: Nickname it for a sparkler in your life.
Mushy: A better nickname for soft-hearted people or sensitive people as it means soft and pulpy.
Blossom: It is nothing but a flower; you can nickname it for beautiful people like flowers.
Breeze: It will be a superb nickname for a person whose presence makes you feel like a breeze. Breeze means a gentle and light wind.
Bliss: It means complete happiness, so it is perfect for a person who makes you happy with their behaviour or surprises.
Cherub: A cute nickname for an angel in your life because it means an angel with wings.
Maven: For an expert or intelligent person in your family or gang.
Candy: For candy girl or boy in your life.
Dazzle: It's a better choice for a charming girl who blinds temporarily with their stunning beauty.
Dove: For a peaceful and sensitive girl.
Lemon: Don't just think of it as a fruit name, it can also be used as a nickname, and it looks unique. You can give it to a person who gives you more benefits like lemon gives us.
Toffee: It's a confectionary made from sugar, so you may give it to a sweet and special person.
Titan: Do you have a special person in your life who always surprises you with their greatness, then it's for them.
Agent: There's always a person in every gang who works as an agent for someone; you can funnily use this nickname.
Scintilla: Don't confuse it with Cinderella, it's a beautiful nickname, sounds different, and this means spark.
Feral: Do you have a person in your life who behaves wildly always? You can use feral for them because it means wild state. But don't use it if he doesn't like this nickname.
Dimple: A must-have nickname for people who have dimples.
Panda: A cute nickname for someone who looks cute, chubby, and lazy.
Nugget: For a valuable person in your life, and a nugget means a small lump of gold.
Blush: A perfect nickname for someone who is always shy about doing something or feels shy to talk with people.
ALSO READ: 3 Letter Nicknames
Aesthetic Nicknames List
If you haven't liked the above nicknames, below I have listed some beautiful nicknames you can consider using. But I didn't explain these nicknames, so you need to think before giving them to someone.
Angel
Lovey
Beautiful
Apple
Cutie
Sweetheart
Ariel
Gem
Chick
Aqua
Boo
Charming
Armor
Hero
Chocolate
Sweety
Shark
Dear
Aurora
Hunk
Handsome
Sugar
Blues
Kid
Bean
Doll
Peach
Brownie
Pear
Puppy
Pearl
Jelly
Captain
Romeo
Cinnamon
Rainbow
Petal
Cheeks
Banana
Unicorn
Dragon
Tigress
Cheese
Boss
Chipmunk
Genius
Cherry
Daisy
Everything
Charm
Beauty
Rose
Doodle
Nova
Heaven
Dreamy
Ginger
Honey Bear
Queen
Golden
Marigold
Twinkle
Pumpkin
Tulip
Plum
Minty
Bear
Kitty
Cracker
Vista
Moonlight
Sparkler
Donut
Oreo
Moon
Almond
Pie
Vanilla
Berry
Rosie
Mint
Ice Cream
Velvet
Mystic
Scooby
Lotus
Dazzle
Rage
Giant
Precious
Smiley
Butterscotch
Soulmate
Pretty
Cupcake
BFG
Goldie
Snickers
Mickey
Pizza
Twilight
Coconut
Tom
Coco
Kiddie
Time Machine
Autumn
Star Dust
Minion
Peppermint
Syrup
Tsunami
Jerry
Bee
Bug
Cuddle
Fantasy
Crazy Bird
Vegas
Falcon
Chubby
Hulk
Monkey
Panther
Onyx
Turbo
Simba
Bambino
King
Sprout
Scoobie
Bun
Short
Cashew
Beige
Joy
Rejoice
Clove
Pepper
Pebble
Potato
Turtle
Bitsy
Dynamo
Ninja
Scout
Pink
Teddy
Alpha
Bubba
Pooh
Caramel
Hazel
Pickle
Burgandy
Lily
Aurora
Nitro
Snow
Leo
Tequila
Oats
Apollo
Mirage
Squirrel
Chuckle
Plum
Butterfly
Lion
Kiwi
Champ
Chief
Have you found your aesthetic nickname from the above list? I hope you got your nickname for your special one. If not, follow the below-mentioned tips to make it on your own.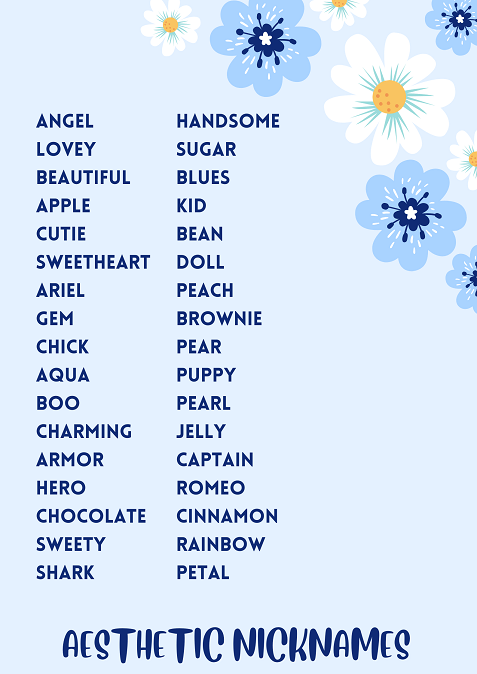 How To Select A Cool Aesthetic Nickname
Make It From Original Name
The best and simple way is to make a beautiful and cute nickname from the name of your special one. And it doesn't take much time and also it makes them feel special.
Get A Nickname Based On Their Behavior
Another way is to get a nickname based on their behaviour; for instance, if they feel shy about everything, you can nickname them blush, and if they are perfect in everything, maven is the best fit for them.
Use Other Languages
Using native nicknames is not so special but trying out nicknames from other languages does.
So choose some cool words from your native language and try to find out the words with the same meaning in other languages and use them as nicknames.