So you are here for a list of gender-neutral or unisex nicknames to nickname someone special in your life.
If yes, look no further because here, I have an amazing set of nicknames that are suitable for both genders.
Nickname is a symbol of love and affection whether it's for a partner or a baby or even a friend.
Every relationship doesn't deserve a nickname but only a special one because it requires an extreme relationship among people.
Having said this, sometimes people tend to nickname someone to insult, and it's not at all recommended. Never insult anyone in any way, and you couldn't understand their pain.
So positively use nicknames and sometimes even in a funny way if you have that kind of attachment with others.
A nickname has a pivotal role when it comes to a serious relationship, and one should pay attention while choosing a nickname for their partner.
And if a nickname is for your baby girl or boy, make sure it shouldn't disappoint your baby when they grow up.
So finally, whoever is the person you are going to nickname, pay some quality time to get a better one.
Gender Neutral Nicknames
In this list, you can find unisex nicknames for babies and casual unisex nicknames that are used for friends, partners, etc.
You can use anything you want from the below-listed nicknames. Let's get started.
Honey: It's an evergreen nickname for couples, and it can be used for both genders. If you don't want any fancy nicknames for your partner, you can go for this.
Darling: A common and cute nickname for serious couples and it is often famous among later stages of love in a relationship. What do you think about it?
Sugar: This nickname is perfect for your special ones if they are so sweet in nature.
Butter: A cute nickname for your special one if he looks chubby and also a lover of dairy products. You can also consider using it for fans of peanut butter.
Monster: If he or she irritates you like no one and disturbs you always, use this nickname for them to take small revenge. You can also use devil or hell to nickname them.
Favorite: A simple and lovely nickname could be this nickname because it looks cute and simple. As the nickname itself says, you can use it for your favorite persons.
Nugget: Nugget means a small lump of gold, so you need to understand that to whom you can give this nickname.
Steel: A funny and also cool nickname for people who are strong like steel or who have a body like steel. Simply, you can give this for fitness freaks.
Spice: A hot nickname for your special one and a perfect nickname for a spicy person in your life.
Candy: Seriously, do you need the meaning of candy? It's a sugar confectionery, and you can use this nickname for the sweetest person in your life.
Cheeseball: A perfect snack nickname for your boyfriend or girlfriend and even a cute nickname for your kid. If they are cheese lovers, that could be an added advantage for this nickname.
Charm: Why should we look for another nickname when we have a beautiful nickname that resembles their fairness. Yes, this is a better nickname for beautiful girls and handsome boys out there.
Cutie Pie: A mandatory nickname for every cute guy out there, you can use cutie or cutie pie for cute guys in your life.
Jelly Bean: If he/she is tasty like a jelly bean in behavior and also soft like jelly, then this nickname is for them. Jelly beans are made up of sugar confectionery with soft candy shells on them.
Captain: It's a perfectly suitable nickname for someone who always behaves like a leader or tries to lead the gang and saves you in difficult times. And it can also be used for Captain America's fans.
ALSO READ: Japanese Nicknames
Kiddo: Do you have someone who always behaves like a kid in any situation and age is just a number for them, then it's for them. It looks cute and also it won't hurt them.
Fluffy: It's for a person who is soft and chubby; if not in physical appearance, you can also use it for their soft behavior.
Chipmunk: Chipmunks look cute and small, and these are kind of squirrels. It fits for people who are quick, like squirrels, and look cute.
Caramel: It's a super cute nickname for chocolate lovers that are made up of caramel, and even you can consider it for people with a sweet behavior.
Huggy: A cute form of word hug and it's for the very special one in your life, and parents can also use this nickname for their babies.
ALSO READ: Aesthetic Nicknames
List of Unisex Nicknames
Here we have more than 150 nicknames that you can use for any gender, and usually, many nicknames are not gender-specific, but only some of them.
Chief
Lovely
Hearty
Bear
Sweet
Dumpling
Sugary
Blues
Devil
Cracker
Pickle
Wonder
Ace
Warrior
Beloved
Chunk
Hugs
Chocolate
Almond
Righty
Gem
Genie
Riddle
Mystic
Bond
Magic
Dynamic
Divine
Little Hearts
Major
Blossom
Bae
Autumn
Everything
Bubble
Breeze
Majesty
Peanut
Milky
Mate
Anchor
Mine
Dragon
Flame
Doodle
Baddie
Rejoice
Swag
Bold
Scotch
Heaven
Furious
Diamond
Champ
Lolly
Falcon
Destiny
Jerry
Hawk
Orange
Ducky
Flash
Goldy
Happy
Sun
Crazy
Tom
Kisster
Jaguar
Cheeks
Knockout
Lemon
Monkey
Mint
Perfect
Johnny
Pumpkin
Power House
Shrimp
Leo
Blanket
Coco
Virus
Bean
General
Soldier
Berry
Ted
Lentil
Dimple
Joy
Bug
Maddy
Moon
Red
Aqua
Clove
Bunny
Kitty
Storm
Wolf
Bee
Maven
Petal
Blaze
Pebble
Rebel
Dearie
Panda
Chubs
Remix
Supreme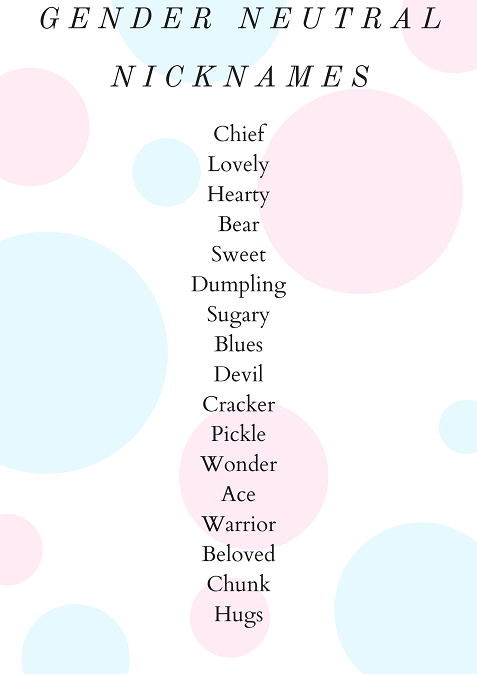 How are these unisex nicknames? I hope you have found your cool nickname for your special one. Have a good day.