350+ Best Spotify Playlist Names – Names Buddy
Struggling to find the right playlist name for your list of songs on Spotify. To simplify your task I made a list of the best playlist names.
It's a good idea to have a catchy playlist name to stand out in the crowd or to grab the attention of users. A suitable name for a playlist describes what content is inside it, and there would be no need for a user to open it and come back if it is not a desired category of songs.
Choosing a regular playlist name or copying an existing name is not a good deal, and it makes no difference from others. Most of the people tend to go beyond boring names, therefore end up with no followers.
Some people go with their names or with a combination of words they like, and they forget to check the suitability of that name to their playlist.
Some people prefer cool names, funny names, aesthetic names, while others go for catchy names for Spotify playlist names. To satisfy all types of tastes, we have included all kinds of names for playlists.
Usually, creating a playlist for songs is a thing for some people as most people don't spend time creating playlists for different types of songs or music. In this digital world, readymade playlists are available on online music platforms then; who prefers to do that.
Those who show interest in arranging songs in an order based on their genre or creating a list of songs they like most to quickly access can create a playlist.
When it comes to Spotify, based on the interest, users create playlists, and if that playlist is public, Spotify users can play them. In this list, I have included beautiful one-line quotes also you can use them too. Now we get into the list of names.
Cool Spotify Playlist Names
As we know, everyone prefers cool things first, then why should I go for other things. Let's get into cool names list for Spotify playlists.
Magical Chamber
Getting Out of Pain
Crazy Candy
It's the Pro
Feeling Myself
Just Your Favorite Part
My Sunshine
Now I'm In the Right Track
Happy Vibes
Other Soul
Thanks for Memories
Find Me Attractive
It hurt because it mattered. – John Green
Hey Get In
Feed Your Brain
You Know I'm Gravity
You Know You're in Love
Surf the list
Let Them Happen
And Still, I Rise – Maya Angelou
Inside U
Unplug Mood
Cloud Nine Acoustics
Hits You Hard
Magic Melody
Every moment is a fresh beginning. – T.S Eliot
Chords Cafe
Soul Beats
Hold Me Tight
Soft Sounds
All You Need is Love
Nothing is Fine
Music License
My Cup of Coffee
Source of Relief
Sometimes Love is Not Enough
When nothing goes right, go left.
Hi-Fi Chords
Ask Nothing Further
Being Rhythm
Feel My Notes
Dream Chaser
Prove them wrong.
Peaceful Plug
You matter
You Should be Kissed
Cloud Nine Covers
Brings Breeze
Melophile Music
No guts, no story. – Chris Brady
Gentle Tunes
Hangover Hub
The Moment I Met You
Soft Shots
Love without limits.
Music Sauce
A Heart can be Broken
No Signout
Actually, you can.
Amour Airs
Core Breaker
I Love Those Hugs
Elegant Chords
Choose Joy
Naughty Neighbour
Feel Together
I like slow
Dream big. Pray bigger.
Jazz Bells
Boy's Beats
A Girl Thing
Shuffle Soul
Listen Hard
I Would Rather Stay Alone
Live the Moment
A Premium Note
My Happy Hour
Time Tracks
Dream without fear.
Hype It
Chord Pulse
Melodies Mix
Strong The Soul
Mood Swings
Heart Is Beating
Morning Rider
Cheesy Bits
Night Waves
Techno Tunes
So-Called Melodies
Tune It
Chords Flow
Find Yourself
Keep Rising
Melody Candy
Fresh Airs
Shutdown Sorrows
Gold Mould
Premium Edition
A1 Channel
TRY: Cool Words (You can use these words to create a playlist name)
Good Spotify Playlist Names
Good boys/girls in the town go for good names for Spotify playlists; I've included some good names for them.
Love Yourself
Star Strings
Music Avenger
Best Beats
Champion Chords
Force In You
Brings Rejoice
Heat Beats
Hustle Hits
Lightning Thoughts
Peak Sounds
PowerHouse
Rebel Reels
Music Squad
My Empire
Trigger Beats
Musical Arsenal
Rampage Roars
Unstoppable Thunders
Wild Wings
Potential Picks
Newbie In the Town
Unique Lounge
An Another List
Second Choice
Music Cake
Sugar Cubes
Alpha Beats
Beats Bee
My Blossoms
White-Collar Sounds
Crazy Crunch
Different Dragons
Music Squad
M-Force
Golden Eagles
Incredible List
Music Beams
Blue Diamond
Bombshell
Music Marvel
Happy Makers
Spread A Smile
Classic Things
You Only Live Once
Alternative Hits
Scent of Music
Noise Beats
Music Pulp
Lots of Music
Gentle Guitar
Intense Beats
I Maybe Crazy
Simple Sounds
Green Waves
Being Quiet
Collect moments
On the Edge of Paradise
Hello Melody
Find Your Soul
Chilled Beats
Keep Bass
Another Bad Dream
Flying Blues
Heavy Listener
Counting Dollars
Beats Lounge
Feel the Real In You
Iconic Notes
Sound Shimmers
Melody Crossover
Essential Beats
Metal Music
Heart Core
Fresh Blood
Music Strings
Swing My Heart
My Originals
Beats Butter
Mush Notes
Hear Me Cry
Love Me Again
Something Beautiful
All That We Need
Come Over and Startup
Follow My Lead
I Still Fight
Come Back
Thinking out Loud
Beating Heart
It's All Over
Breakup Thoughts
Let Me Live
Dream Big
Music is My Companion
A Beautiful Lie
Time to Kickstart
Waiting for Tomorrow
Electric Symphony
Happy Harmony
Butterfly Beats
Nothing Special Inside
Creative Spotify Playlist Names
Those who try to expose themselves always try to be creative and unique. And that would be a good deal rather than choosing to be stuck in the routine. For that creative gang out there, I'm listing some creative Spotify playlist names.
Feel The Heaven
Cloud 9 Beats
Purely Classics
Soul Chargers
Music for Hire
High Voltage Beats
Jaw-dropping Shots
Rage Acoustics
Let Me In
Deal Breakers
Leaders in Melodies
Made In Heaven
Policy Breakers
Real Royal
Songholders
Collective Notes
Empower Emperor
Elite Evenings
Urban Kings
Introvert Feelings
Hey, Lovely, It's for You
The Music Team
Unique Warriors
Best of Better
Second Choice
Light and Dark
Don't Mess with Lions
Sparkle the Soul
Bless this Beat
High Tempo
Nobody but You
Turn the Playlist On
It won't be Long
I can Feel the Beat
Spent Your Time
I Need Your Hours with Me
Late Night Talks
Sit Me Close
White Gold
Just Listen
Valley of Shadows
Walking In Midst
I don't Heal Hearts
Every Other Notes
I Got You
Ever Get Lonely ?
Sweat Dripping off Me
Your Hope for Tomorrow
Gold Metallic Knife
Sapphire moonlight
One that I Got
Shuffle the Memories
Memories Can Bring Back
Go and Raise
Watch Me
Just Dive Right
Someone Waiting for Me
Singing in the Dark
My Secrets
You Deserve This
Get the Best of Me
Atleast I'm Good
You're in My Way
Chase Me
Hot Night
This is Crazy
When You Need Love
Everybody Knows
Need No One Else
I'm still Kid
I'm Not Perfect
My Dreams
When the Morning Arrives
Flame in the Wind
When the Evening Knocks
Wait until Loading
Between You and Me
Here with Me
Every Single Time
Can I tell You Something
Falling in Deep
Beat it Up
Swipe It
Tie Me Up
Ride My Horse
Now You can Go
Matte Black
Tell Me Nothing
Make No Sense
Sideways
Restart
Hide Emotions
Beautiful Memories
I ain't
First Things First
Inside My Head
I was Broken
My Drive
Come with Me
Come Again
Funny Spotify Playlist Names
Being funny is a great thing because everyone wants fun, and life without fun is odd. There are people who want their playlist name also to be funny. So to satisfy their taste, I'm providing some funny Spotify Playlists names also. Have a glance.
Amateur Beats
Ding Dong Bell
Fast and Melodious
An Average List
Collective Garbage
Copied Playlist Name
Incomplete Playlist
Unfollow Me
Blah Blah Beats
The Worst Playlist Ever
Don't Open You Need to Pay Time
Rose is Red Playlist is Bad
A Monkey's Favorite
Not Fast, Just Curious.
No Songs to Hear
Forgot to Add Songs
Game of Beats
Scrambled Songs
Breaking Beats
Unpleasant Songs
The Incredibeats
No Song will be Played
Monkey Minds
Unsarcastic Sarcasm
Cheesy Classics
The Big Flow
Song Farter
Mind Crusher
Access Denied
Purely Unoriginal
Headache Sounds
Not Found
Just Farty Things
I'm Dumb
Just Adult Things Go Away, Baby
Huskymedia
Brainless Brains
Great Minds Drink Food
The Unpleasant Pool
Earth Is the Limit
Get Set Sit
Middle Finger Melodies
Get out Please
Not Working
PowerMouse
Bat Attitudes
Shots of Thunder
Boom Boom Zoom Zoom
Let Me Waste Your Time
Click At Your Own Risk
Diaper Batch
Sponge Beaters
Epic Shit
Recycle Bin
Please Go Away Create Your List
Fantastic Farts
Its All Your Business
The Ball Breaker
The Unknown Pirates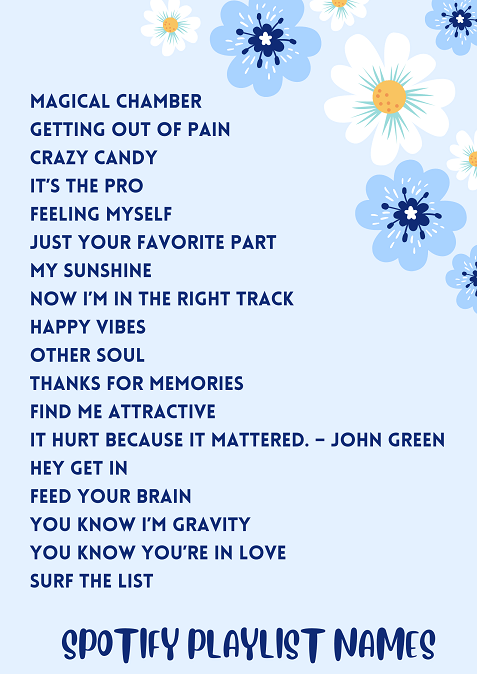 How To Create A Good Spotify Playlist Name
Apart from my listed names, if you want to create your own name for the playlist, I will give you some tips. Let's get started.
Find Your Theme
Usually, there are different kinds of genres in music. Everyone has their own taste. I go for melodies and classics while you may like modern music. Therefore first decide what your theme is.
Look at Famous Playlist Names
You might know famous playlists in the town such as One Playlist of Lushness, The Longest Mixtape, Homemade Dynamite, and the list goes on. Look at their creativity level. You can find more on Spotify to get inspired from. So first, look at trending playlists and do brainstorm based on your theme.
Simple but Catchy
Everyone likes simple. Don't go beyond long sentences; no one spends more time reading your playlist name. The name should be simple and grab users' attention. Don't fall for regular names; no one will find you different.
Try Famous One Line Quotes or Attractive Lines from Lyrics
There are a lot of one-line quotes which has more power in them. Someone's line quotes are more straightforward than bulky quotes. You can get lines from them. And one more thing, we have lots of awesome songs with amazing lyrics; why don't we take a line from them.
Conclusion
Hey, what are your thoughts on this big list of names? I hope you have got your good name for your awesome Spotify Playlist (I know it would be awesome). I forgot to say, this list ( Spotify Playlist Names ) is created totally by me and not copied from anywhere else but inspired by some famous lyrics and quotes for some names.