Looking for Aesthetic Usernames for Boys, here we have 89 usernames which will help you in deciding a good username. Usernames are must for any social media platform or any online streaming games. So it's better to have catchy usernames than casual usernames. Sometimes your username depicts your character or attitude. Therefore usernames have a big role to play thus we should give importance to usernames.
Usernames shouldn't be crinzy. Some people have weird usernames even we can't read them. You don't make that mistake. Select a username which is unique and better looking but not weird.
Aesthetic Usernames for Boys
Mindbender
Cutie Pie
Sugar Cyrup
Dream Boy
Heart Breaker
Power Pixel
No Hugs
Mystic Lover
Magic Master
Heart Throbber
Cool Joker
Day Dreamer
Dream Chaser
Don't follow me
White Panther
Another Google
Boy with Bugs
Love Pistol
Melody Lover
Teenage Talks
Love Rider
No Attitude
Be My Angel
Get the Deal
Greek God
Aesthetic Minds
Love Lens
Your Minister
Attitude Station
Stop for Fun
Cool Monster
Feel Me
Crazy Cat
Rich Berry
Bitter Pulp
Real Rejoice
Slow Swag
Shout Out
Your Psycho
Love Heist
Dragon Donkey
Cherry Berry
Butter Boy
Mess with Me
Ott Lover
Toxic Friend
Piggy Boy
Megnetic Moon
Cookie Lover
PineLemon
Just Love
Pink Clouds
Weird Mind
danger Dove
Dragon Darling
Sugar Free Thoughts
Love Ocean
Veg Guy
Cool Buzz
Morning Monster
Aesthetic Room
Dirty Gentleman
Sense of Rumour
Cute Kitty
My Things
Aesthetic Attitude
Hyper Man
Calm Balm
Mystic Man
No Cream Cake
Butter Hater
Honey Bunny
Delicious Man
Light My Life
Man with No Millions
Pure Hater
Monkeytail
Sea Storm
Inner Man
Hate Guru
Bitter Soul
Extreme Lover
No Zoom
Native Boy
Normal Guy
Follow Me for Nothing
Dieting Panda
Cool Name has Taken
Flower Lover
---
Tips for Choosing Aesthetic Username
Keep it Short and Simple
Select a username which is short and simple don't for long usernames because people don't like lenghty usernames and also people easily forget lenghthy usernames. So remeber name should be simple yet beautiful.
Should be Meaningful
Pick a username which has some meaning, don't mix different and make a weird username. Username should indicate your charcacter or uniqueness.
User friendly
If you want to have a friendly relations with all users then go for a cool and aesthetic username don't go for weird and attitude usernames. Some people don't like over attitude persons.
Go for Suggestions
Don't hesitate to ask suggestions from friends and family. They may have better knowledge than internet. So try them
Try Other Theologies
Theologies other than Christianity, there are Greek, Islam, Jewish, Hindu and many more, so get some good words from them and make a creative username.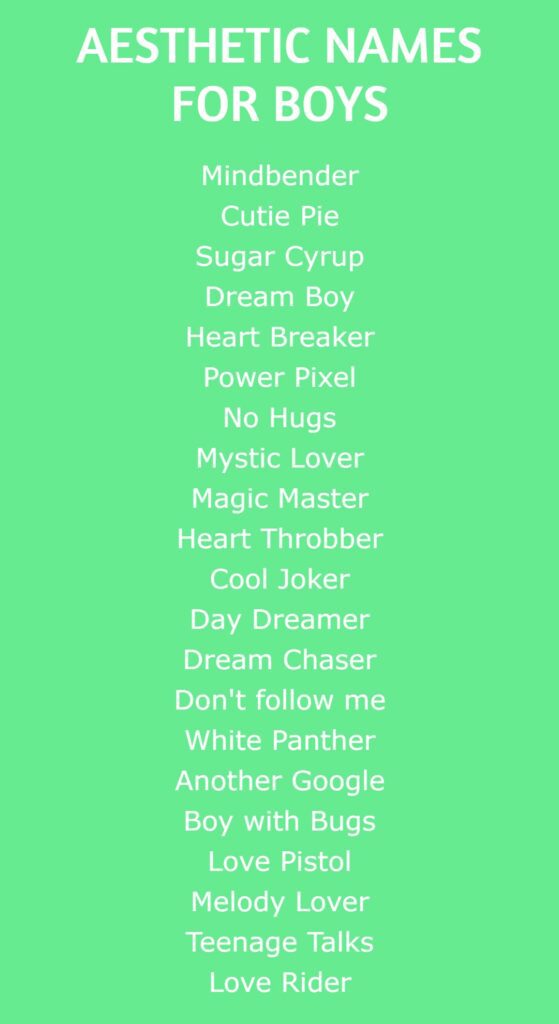 Conclusion
What is your opinion on this Aesthetic Usernames for Boys list. I hope you have got your username. Thanks for visiting. Good Luck.
Checkout other posts