120 Space Aesthetic Usernames 2023 [Space, Moon, Star, Planet]
Are you searching for space-themed usernames or celestial usernames? Don't worry; here, we have 100+ usernames inspired by space, including the moon, stars, and planets.
Space has stars, planets, constellations, comets, meteors, and many more, and our earth is one of them. They all have beautiful names, and you made a great decision to choose an aesthetic space username.
We already know about space, but the word aesthetic looks new and fresh. It is nothing but beautiful. This term is more famous on Instagram. So, I make sure all these usernames are aesthetic and inspired by Space.
I referred to many sources and made this beautiful list of usernames; I hope you will get your aesthetic space username. Without wasting time, let's get into the topic.
Space Usernames
In this article, we have listed star usernames, moon usernames, planet usernames along with space usernames or astronomy usernames.
Not only for usernames, but space-related names are also famous among baby names as they have beautiful meanings and look aesthetic.
Lyra: It is a constellation name, and it is a Greek-origin girl's name.
Orion: It is a famous constellation.
Taurus: It is an astrological sign and also a constellation
Ophelia: Greek girl's name, which means help.
Arpina: Girls' name, and it means sun's rising.
Sally: Sudden attack on the enemy.
Caelum: Means sky.
Phoebe: Means bright.
Despina: Neptune's moon, and it means lady in Greek.
Navi: It means kind to people.
Solaris: Related to the sun.
Aelius: Sun.
Danica: A girl's name of Slavic origin, and it means morning star.
Luke: The form of Lucas means bright one.
Cielo: Means sky in Spanish.
Alya: Sky, heaven in Hebrew.
Aurora: Coloured light in the sky.
Vulcan: Fire God of Roman origin.
Aries: A small constellation.
Mercury: A planet name.
Libra: Constellation name.
Astra: To the stars in Latin.
Hoku: This means star in the Hawaiian language.
Puppis: Constellation.
Hilda: Asteroid name.
Aerglo: Night sky's natural glow.
Felis: A constellation name.
Saros: A lunar cycle.
Cygnus: A constellation.
Nevaeh: Star.
Mensa: Constellation.
Carina: Constellation
Larissa: Neptune's satellite.
Altair: 12th brightest star in the night sky.
Pisces: Constellation.
Astrea: A large asteroid.
Vesta: Name of an asteroid.
Despina: Neptune's satellite.
Bianca: Uranus's satellite.
Gemini: A constellation.
Apollo: A group of asteroids name.
Janus: Satellite of Saturn, god of the Sun according to Greek mythology.
Aibek: Means master of the moon.
Auriga: A constellation.
Cosmos: Means universe.
Flora: Asteroid.
Lynx: A constellation.
Sitara: Means star in Sanskrit.
Zenith: Point of the celestial sphere.
Aster: Means star.
Canopus: Second brightest star in the night sky.
Phoenix: A small constellation.
Larissa: Inner satellite of Neptune.
Celestial: Relating to the sky.
Grus: Constellation
Adhil: A star's name.
ALSO READ: Soft Aesthetic Usernames
Moon Usernames
Are you looking for moon usernames for Instagram to make your username cool, like the moon? You are in the right place to get a set of aesthetic moon usernames.
Here we have listed different names of moons; you can use them as usernames directly or add some cool words to make them cooler.
Luna: Moon in Spanish.
Ainar: It has two origins; in Scandinavian origin, it means fire moon, while in Kazakh, it means male moon.
Miranda: Moon of Uranus.
Leda: Jupiter's moon.
Mayank: Moon of Indian origin.
Arche: It's Jupiter's moon, and it means beginning in Greek.
Gunay: Means moon in Turkish.
Jericho: Moon in Canaanite.
Elara: A small moon of Planet Jupiter.
Oberon: Uranus planet's moon.
Atlas: It's Saturn's moon, and it means enduring.
Hilal: Crescent of the moon.
Titania: Big moon of Uranus.
Hyperion: Saturn's moon.
Ariel: Moon of Uranus.
Kale: Jupiter's moon, and in Hawaiian, it means free man.
Helia: Another moon of Uranus.
Narvi: Saturn's moon.
Aitne: Jupiter's moon.
Artemis: Greek moon goddess, and it means butcher.
Callisto: Moon of Jupiter, and it means fair or good.
Bianca: Moon of Uranus, and it means white.
Dione: Saturn's moon.
Liviana: In Hebrew, it means white moon.
Neoma: New moon in Greek.
Sasi: Moon in Thai.
Selena: Moon goddess in Latin.
Elatha: Moon-god in Irish.
Luan: Moon in Portuguese.
Mayar: Glow of moon in Arabic.
ALSO READ: One Word Usernames
Star Usernames
Here you can get an amazing list of star usernames. All these are names of famous stars, so you can add some cool words to make a username.
Adhara: It is a star name and girl name of Arabic origin, which means virgins.
Nashira: Star name, it is also an Arabic girl name, and it means good news bearer.
Stella: It means star and is of Latin origin. Usually, this name is used for girls, and it is best suitable as a username with a combination of any other words.
Belinda: It means beautiful, and it is a feminine given name. It is a name of German and Spanish origin; it also means pretty one, serpent. It is a satellite of Uranus.
Estella: Variant of Stella. It is of Greek origin, which can be a better choice for girls as a username. You can even add your name to it.
Nova: New star.
Starla: Means star.
Lintang: Indonesian boy's name means star.
Alzir: Star of Leo constellation.
Tarique: Morning star.
Rigel: The brightest star in the Orion constellation.
Castor: A star in the Gemini constellation.
Alpha: Name of the brightest star in the constellation.
Vega: A star in the Orion constellation, the second brightest.
Alioth: A star name.
Procyon: The brightest star.
Atlas: A star name.
Hamal: A star in the Aries constellation.
Faye: Lunar impact crater.
Capella: A star in Auriga constellation.
Sirius: A star.
Pollux: Star of Gemini constellation.
Spica: Star name.
Crux: Constellation's name.
Alhena: A star.
Alula: Star name.
Arawan: A name of the star.
Ancha: A star.
Astrophel: Star lover.
Ain: A star name.
Ascella: It is a star's name.
Bellatrix: Star of Orion.
Sabik: A star.
Regulus: Star of Leo.
TRY: Short Usernames
Sky Related Usernames
Haven't you satisfied with the above-listed usernames? If so, here I have another list of usernames related to Sky.
SkyGazer
CloudChaser
Sunbeam
MoonWhisperer
StarryNight
HorizonSeeker
TwilightDreamer
DaylightWanderer
NightfallSerenade
SunriseExplorer
SunsetLover
BlueSkyAdventurer
ClearSkiesAhead
OvercastSoul
RainDancer
ThunderStriker
LightningBolt
StormRider
RainbowHunter
AuroraBorealis
CumulusCloud
StratusWanderer
CirrusSky
NimbusWatcher
DuskDreamer
DawnChaser
CelestialWanderlust
AtmosphereEnthusiast
NebulaObserver
GalaxyTraveler
CometSeeker
MeteorHunter
StarryConstellation
MilkyWayDreamer
PerseidsWatcher
SolarEclipse
LunarGazer
EclipsesExplorer
ZephyrWhisper
SkylightGlimmer
CanopyWanderer
FirmamentDreamer
HeavenBound
AirborneSoul
WindWhisperer
BalloonRider
ParachuteJumper
KiteFlyer
AvianSoarer
InfiniteJourney
SkyDiveAdventurer
CloudscapeArtist
SunflowerChild
MoonlitDreamer
StellarVoyager
HorizonChaser
TwilightHaze
DaylightRoamer
NightfallCraze
SunriseSerenade
SunsetSailor
AzureDreamer
CrystalClearSkies
NimbusRider
ThunderousRoar
LightningSpark
StormSailor
RainbowSeeker
AuroraSpecter
CumulusCrafter
StratusRoamer
CirrusSkimmer
DuskEnthusiast
DawnJourneyer
CelestialRoamer
AtmosphereWanderer
NebulaTracer
GalaxyGlider
CometTrail
MeteorStreak
Usernames for Sky Lovers
Hey sky lover! This is your list of usernames.
CelestialDreamer
NebulousGlow
StellarRadiance
LuminousSerenity
AstralEnchanter
RadiantTranquility
EtherealMesmerizer
SereneGalaxy
EnchantingSublime
TranquilAstronomy
MesmerizingCosmos
GalacticalMystic
MysticalSparkle
SublimeAstral
AstronomicalWonder
TranscendentBeauty
BreathtakingNebula
NebulaicGlimmer
SparklingAstronomy
AstralRealm
CosmicHarmony
ResplendentStar
InterstellarGaze
SupernovaShine
StarlitJourney
OrbitingDreams
DreamlikeEthereal
EffulgentGlow
TranscendentalStargazer
StargazingBliss
EclipsingRadiance
DazzlingCelestial
LunarWhisper
ZephyrOfStars
InfiniteCosmos
PhosphorescentGlow
MysteriousAstral
GalaxyExplorer
CelestialVelvet
VelvetySerenity
SoothingEclipse
EnigmaticWanderer
IridescentTranquil
AstralHarmony
HarmoniousGlow
IncandescentDreamer
AstronomicalJourney
SerendipitousSparkle
AstralWanderlust
CelestialInfinity
EtherealGlow
SereneRadiance
RadiantSerenity
LuminousDreamer
TranquilBliss
CelestialEnchant
BreathtakingAura
SerendipitousWhisper
EnchantingSerenade
ResplendentGrace
GracefulGlow
MajesticMelody
HeavenlyHarmony
SoothingSilhouette
BlissfulAzure
ScintillatingDream
DreamyRhapsody
CaptivatingLullaby
HarmoniousWhimsy
AzureSeraph
PastelTranquility
SeraphicGlimmer
SublimeEnchantment
WhimsicalRadiance
TranquilityMelody
SilhouetteGlow
EnrapturingEthereal
EffervescentDreamer
MelodicLuminosity
RhapsodicSerene
Planet Usernames
OrbitExplorer
CelestialTraveler
LunarAstronaut
StellarVoyager
CometHunter
MercuryMaven
VenusVoyager
EarthExplorer
MartianTraveler
JovianJumper
SaturnSeeker
UranusAdventurer
NeptunianNomad
PlutonianPioneer
LunarLover
SolarSystemSurfer
StellarStargazer
GalaxyWanderer
NebulaDreamer
CelestialVoyage
NovaSeeker
CosmicQuester
SolsticeJourney
ZenithExplorer
RocheLimitRider
AstrobiologyGeek
RedPlanetAdventurer
SolarSystemSailor
NeptuneExplorer
AtmosphereObserver
GalaxyGazer
LunarEclipseWatcher
GravityMaster
ExoplanetEnthusiast
IceGiantSeeker
InterplanetaryPilot
CelestialMechanic
RingsOfSaturn
AstronomicalJourney
TidalForcesSurfer
DwarfPlanetLover
PlanetarySystemExplorer
MarsMissionary
TransNeptunianTraveller
CosmologySage
HeliocentricPathfinder
MeteorChaser
SpacecraftPilot
AstroExplorer
SaturnianRingWatcher
InterstellarQuester
EarthAdventurer
TelescopeObserver
ExtraterrestrialQuest
CometCompanion
PlanetaryWanderlust
UranusUtopia
SolarEclipseChaser
PlanetariumFanatic
MarsMartian
AstralNomad
AstronauticDreamer
PlutoSeeker
TerrestrialTraveler
MoonbeamChaser
SatelliteObserver
EllipticalPathFinder
MeteoricWonderer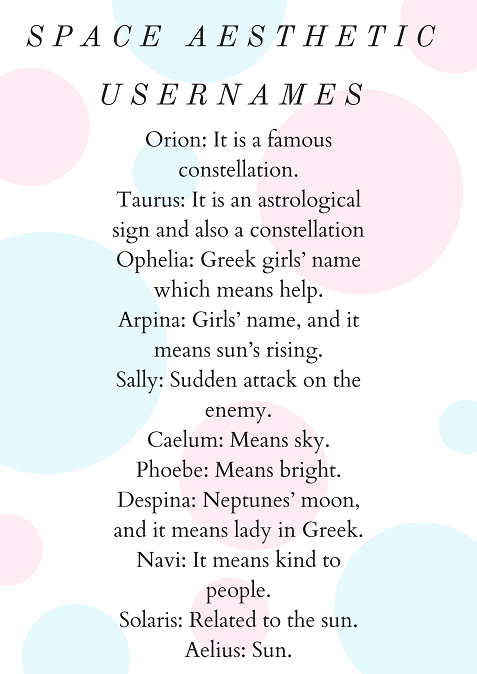 Tips for Selecting Space Aesthetic Usernames
Get Suggestions.
Before directly searching on the internet, first, have a try by asking for suggestions from your friends and family.
They may suggest better names, and one thing to mention here, space names are related to science; everyone cannot suggest space names, so ask persons who have good knowledge of science.
Do an internet search.
If you get a good suggestion from your family or friends, that's fine. But if you don't get any good suggestions, then you need to do an internet search. Here, you may find a good amount of space-related names, so make a list of names you like.
Shortlist the names.
After making a list of names, you now need to shortlist them. After that, you can select one of them, or if you are confused about what to choose, you can ask someone to pick one of them.
Check its meaning.
Don't forget to check the meanings of names after selecting them; sometimes, names look good but not their meaning.
Try other languages' names.
Stars, Planets, and things related to space have different words in different languages, so consider trying other languages like Greek.
Try combining two or more words.
Combine two or more suitable words to make an awesome username. You can try adding some names to space words to make it beautiful.
Conclusion: I hope you have liked all these space aesthetic usernames. Thanks for visiting.